How Lainey Wilson Really Got Her Role In Yellowstone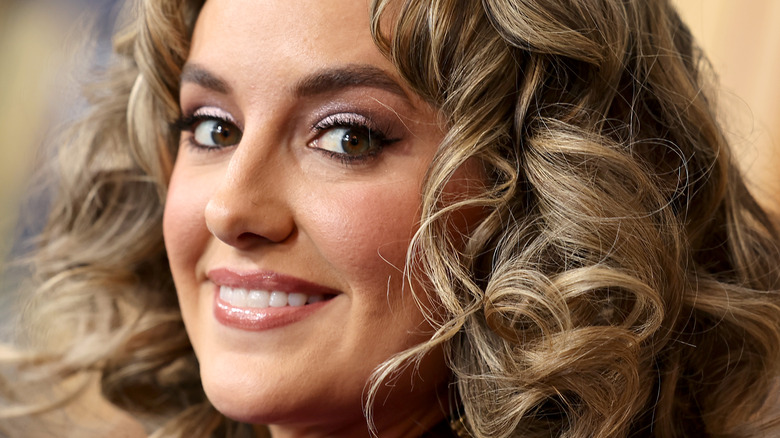 Rich Fury/Getty Images
If you tuned into the Season 5 premiere of "Yellowstone" then you likely noticed country singer Lainey Wilson appear on your television screen. The young star is making a name for herself following the debut of her first album, and her hit song "Things a Man Oughta Know," per Country Thang Daily. The singer, who hails from Louisiana is tearing up the charts and recently won the award for "New Artist of the Year" as well as "Female Vocalist of the Year" at the CMA Awards, via Men's Health. Just days later, she made her debut on "Yellowstone" as a character named Abby.
Abby, like Wilson, is a singer who was hired to perform at a party at the Dutton Ranch in honor of John's big win as Governor of Montana. During her first scenes, Abby is seen watching the cowboys from the bunkhouse show off and have fun and appears to show particular interest in the character of Ryan. Although Ryan does his best to charm her, she persists that she was just admiring the view, before reluctantly agreeing to dance with him.
However, the episode wasn't Wilson's first connection to "Yellowstone." The singer's music has appeared in past episodes of the show, which paved the way for her role in Season 5.
Taylor Sheridan wrote the role with Lainey Wilson in mind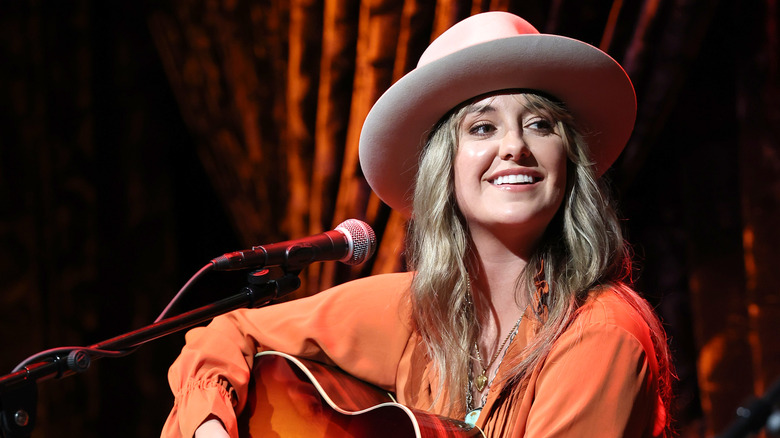 Terry Wyatt/Getty Images
During an interview with Fox News, Lainey Wilson revealed how she came to land a role in Season 5 of "Yellowstone," admitting that she had a previous connection with Taylor Sheridan, the creator of the hit show. "Taylor Sheridan, the writer and producer of the show, called me back in February ... and said, 'I want to create a role specifically for you,' and I said, 'If that means I get to share my music, you're dang right, let's do it,'" Wilson told the outlet, adding that she gets to show much of herself on screen. "I'm pretty much getting to be myself," she revealed. "I'm getting to wear my bell bottoms, I'm getting to sing my songs."
Wilson also told Express that she wasn't given much background about the character of Abby, so she had to create a backstory for her on-screen alter-ego. "I just kind of assumed, where is she from? Of course, she's going to sound like this [gestures at herself] and where's someone who sounds like this from? Louisiana," she stated. The singer added that she believes Abby may be hanging around Montana longer than other areas because she thinks that the people there connect to her music.
Meanwhile, Wilson reportedly enjoyed watching her "Yellowstone" debut and had a ton of fun watching the episode.
Lainey Wilson befriended Yellowstone actress Kelly Reilly on set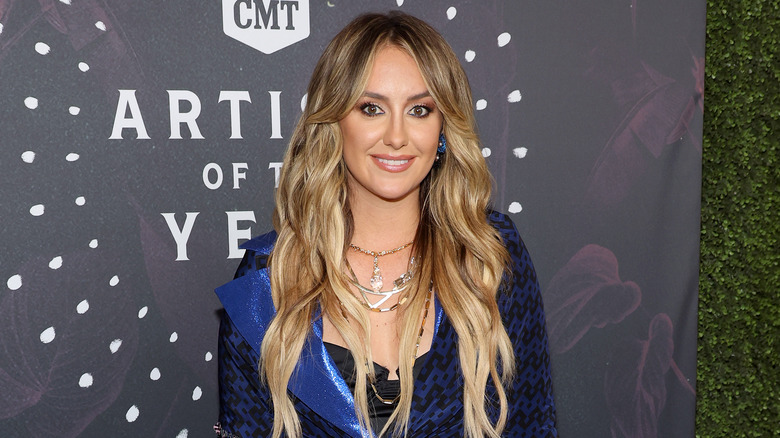 Jason Kempin/Getty Images
Lainey Wilson took to social media to share her excitement over watching her small screen debut during the "Yellowstone" Season 5 premiere on Nov. 13. "So fun getting to watch the season premiere together live," she commented on an Instagram post by CMT (via People Magazine) when the account shared a video to congratulate the singer on her latest gig.
In her scenes, Wilson's character Abby had some interesting dialogue with fan-favorite character Beth Dutton, played by Kelly Reilly. In reality, the singer admitted that she and Reilly became friends while filming Season 5 of the show, and the actress really helped her get her bearings on set. "I think she is the coolest person I have ever met," Wilson told Express of Reilly. "I didn't know what to expect. I knew she was going to be a spitfire, but when I tell you she was one of the kindest people I have ever met ... she is just a good person. She loves what she does, she takes it serious and I appreciate that," the singer added.
In addition, it seems that Wilson's debut was seen by many, as the Season 5 premiere of "Yellowstone" smashed viewership records with an impressive 12.1 million viewers, (via The Hollywood Reporter) making it the highest-rated scripted series premiere of the year.