The True Meaning Behind 'Things A Man Oughta Know' By Lainey Wilson
Shutterstock
There are many reasons Lainey Wilson is one of the hottest new country artists — not the least of which is her distinctive music, characterized by memorable lyrics and bold tunes. According to BBR Music Group, after the Louisiana native moved to Nashville, Tennessee, she became one of the most-talked about newcomers. Since coming onto the country music scene, Wilson's tracks have been featured on the Kevin Costner drama television series "Yellowstone." Wilson describes her own music as "country with a flare" and "fresh but also familiar," per her official site. Her goal is to create music that will make people "feel something."
"As an artist, we're there to create something that everybody can relate to, or to create something that will make people feel something at the end of the day," she says. "When I listen to music, whether it's making me laugh or cry, I just want to feel something...If I can bring light in any kind of way, I think I should try to do it."
Among the artist's most-popular tracks are "Rolling Stone," "Sayin' What I'm Thinkin'," and "Neon Diamonds." Her latest single, "Things A Man Oughta Know," is currently sitting on Billboard's Hot 100 Chart. She wrote the song along with fellow singer-songwriters Jonathan Singleton and Jason Nix. It was released in August 2020 as the lead single of her second studio album "Sayin' What I'm Thinkin." 
Keep scrolling to find out the real meaning behind Wilson's "Things A Man Oughta Know."
Changing tires and shooting guns aren't the only 'Things A Man Oughta Know'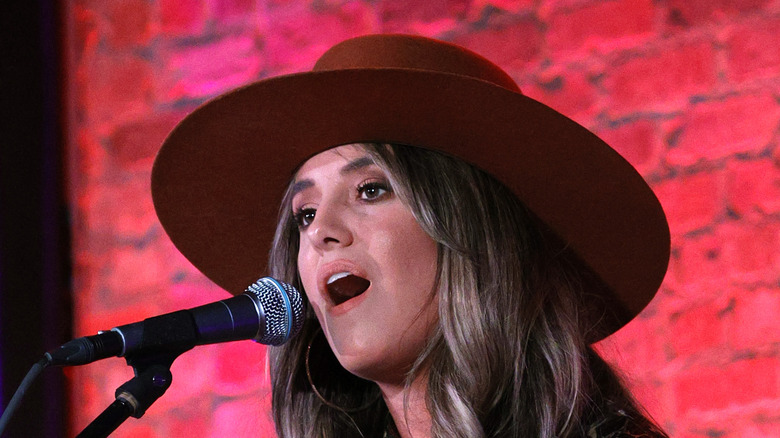 Jason Kempin/Getty Images
Lainey Wilson begins her fan favorite "Things A Man Oughta Know" with a list of things a man is traditionally taught to do, such as changing a tire and shooting a gun. However, this only scratches the surface of the song's true meaning. Throughout the track, Wilson sings of a woman who has been hardened by past romantic relationships that haven't lived up to her standards and she's learned a lot about relationships that she wants her future partner to know. In a recent interview with according to CMT's Cody Alan, Wilson revealed that at the heart of the lyrics is the message that a man should have "good character."
"It's not about if you can change a tire or start a fire. It's about having a good character," she explained. "It's about treating people the way you want to be treated. It's just about the golden rule, 'being kind.'"
The chorus of the song allows this hidden meaning to shine through. Wilson says that what a man oughta know is, "How to know when it's love / How to stay when it's tough / How to know you're messin' up a good thing / And how to fix it 'fore it's too late." She adds, "And yeah, I know a boy / Who gave up and got it wrong / If you really love a woman, you don't let her go."