Why General Hospital's Maurice Benard Feels 'Disrespected' By The Soap's Young Actors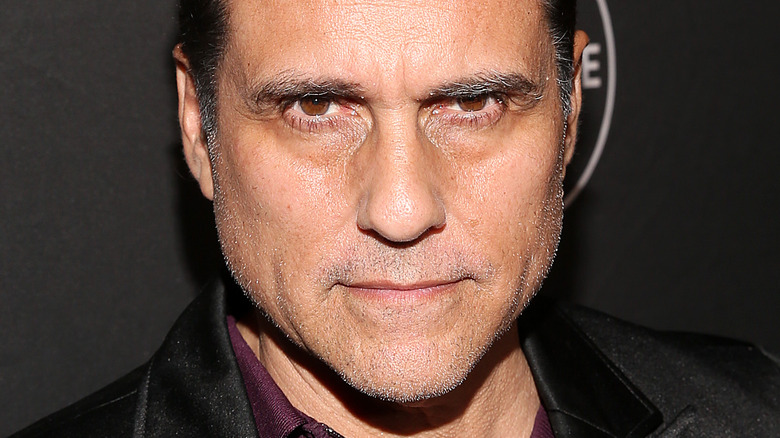 Jesse Grant/Getty Images
When a mob kingpin tells someone to do something, the most prudent response would be to do whatever they say. Sonny Corinthos has controlled the northeastern seafront for nearly 30 years on "General Hospital," ruling with violence, but has a strict no guns, no drugs, no prostitution policy. His portrayer, Maurice Benard, is quite the opposite in real life, as he has a reputation for being the nice guy. In fact, Benard, who has been open about his bipolar disorder, hosts a YouTube show called "State of Mind," in which he spreads mental health awareness.
SoapHub explains that Benard's reputation extends beyond discussing mental health issues. He's widely known for taking young actors under his wing and showing them the ropes. Throughout the years he's helped actors such as Steve Burton, Evan Hofer, Michael Sutton, and Ashton Arbab develop the necessary skills to improve their acting and understand what's required in the industry to further their careers. 
In 2019, Benard posted a picture of himself with his arm around then co-star Ashton Arbab on Facebook, saying, "I love working and helping the young actors-Sometimes they get out of hand, but most of the time they're fantastic. Nothing is more rewarding for me." While open about his personal life and being generous as a mentor, he also recently expressed his dismay at the attitudes some newer actors have exhibited over the years.
Maurice Benard admitted his poor treatment of Chad Duell
ABC/Craig Sjodin
Since 1993, Maurice Benard has worked alongside many young actors on "General Hospital," per Soap Central. His character, Sonny Corinthos, has taken in several wayward young men over the years, including street kid Stone Cates (Michael Sutton), and was there for him when the young man was dying of AIDS. He took in the brain damaged and alienated Jason Morgan (Steve Burton), who eventually became Sonny's righthand man. Benard has also acted with three iterations of his on-screen son, Michael Corinthos — actors Dylan Cash, Drew Garrett, and currently, Chad Duell. During an episode of Benard's YouTube series, "State of Mind," he interviewed Duell and Benard openly admitted that he was mad Michael was recast and wasn't interested in working with Duell. But he gave the young actor credit for dealing with him, "Because I wasn't nice," Benard said. "I admit my faults and I don't like it."
Benard and Duell have since become close in real life. Duell appeared on "State of Mind" a second time and Benard opened up about his perception of modern young actors, saying the new generation of actors lacks respect. In the 30 years he's been on "GH," Benard said, "I've seen, I've helped, I've worked with the young generation. There's always a lot of respect. We have lost that." 
Duell agreed with Benard's assessment.
Chad Duell shares his insights on the mentality of young actors
The disrespect that some young actors show toward older ones is increasing worldwide, as reported by Punch in Nigeria, as well as in Hong Kong (via Today). "General Hospital" star Maurice Benard chatted with co-star Chad Duell, who plays Benard's on-screen son, Michael Corinthos, about that topic on his series "State of Mind." Duell explained he was very humble when he started and observed what was going on, often asking questions of cast and crew alike. Benard said it was because Duell was taught respect.
Duell explained that younger actors who think they know everything about acting, and don't ask questions of any kind, can't improve themselves and their craft, stating, "The mentality they have does not help them in their life." Duell also explained that praise on social media is false validation, making the actor think they are great. Benard agreed and admitted that when he feels he's being disrespected, he responds poorly, taking ownership of the way he treated Duell when he was first cast as Michael. While actor Steve Burton took Duell under his wing during his first few months on "GH," Duell stated that he and Benard were able to get past everything and eventually became good friends.
"I was not good to you, and you were still respectful," said Benard, illustrating the difference between Duell's generation of actors and the up-and-coming one.