The Moment With Tupac That Jim Belushi Will Never Forget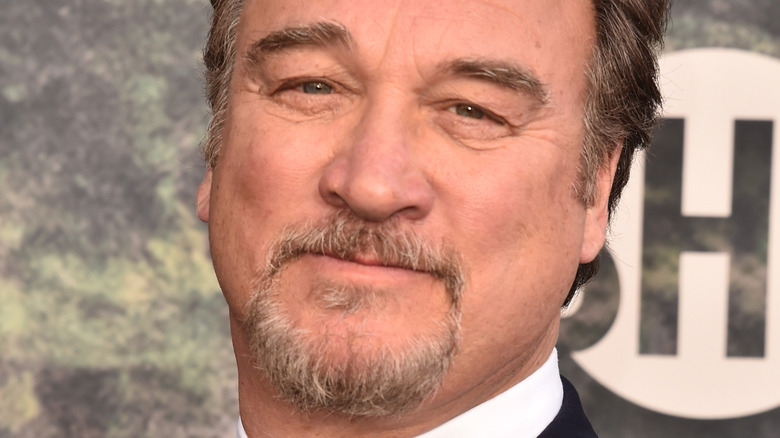 Alberto E. Rodriguez/Getty Images
Jim Belushi's name is not often associated with Tupac Shakur's, a fact the "According to Jim" alum is well aware of. "I guess a lot of people don't remember (it was a long time ago) but Tupac and I did a movie together," he tweeted. The actor and late rapper co-starred in "Gang Related," a crime thriller that came out in 1997, more than a year after Tupac's mysterious death. Shot in summer 1996, the film wrapped up just weeks before the infamous Las Vegas drive-by shooting, according to The Virginian-Pilot (via The Seattle Times).
For Belushi, Tupac's death was certainly tragic, but not all that unexpected. "I was shocked, but not surprised," he told the newspaper. "That isn't really logical, but that is the way I felt. He seemed bent in that direction." Belushi's first impression of Tupac was far from positive. "He was late for the first rehearsal, didn't show up for the second [and was] late for the third, so I turned to him and I go, 'Before we start, I want to get something straight,'" Belushi told the Los Angeles Times in 1997. 
Not one to accept a scolding meekly, Tupac became defensive. Executive producer Lynn Bigelow-Kouf was worried the fight would see the team in search of another lead. But in a pleasant turn of events, Belushi and Tupac patched things up on their own. "This is between me and Jim," Tupac told producers, Belushi recalled. And that was the beginning of their friendship.
Jim Belushi still lives by one of Tupac's philosophies
Jim Belushi and Tupac Shakur might be an unlikely pair, but they have quite a bit in common. When their paths crossed while filming "Gang Related," the two bonded over music. "We would rap together in the trailer," Belushi told Today in January 2022. While best known as an actor and comedian, Belushi has always dabbled in music. "I kept up with him, you know. I did the original rap on 'Saturday Night Live' in 1983," Belushi explained. "I told him that. I said, 'I was rapping when you were in grade school, man.'"
The long hours they spent on set created different opportunities for the two artists to connect on a deeper level. In one of those moments, Tupac offered a nugget of unusual wisdom. "Every time I watch the sunrise, I think of Tupac. We once watched the sunrise together after a long night. It was quiet for a second then he looked at me and said 'I'm a thug, I prefer the sunrise,'" Belushi tweeted in 2021.
After all this time, Tupac's cryptic message continues to inspire Belushi. "I really don't know what that means, but I still live by it to this day," he added. Belushi and Tupac may have worked together only once, but the rapper left a lasting impression. "It was one of the best working relationships I ever had," Belushi said on "Larry King Now" in 2017. 
Tupac was equally fond of Jim Belushi
Tupac Shakur is known for many things and being sentimental isn't one of them. But Jim Belushi's work ethic inspired a rare public manifestation of affection from the legendary rapper, who praised the actor's behind-the-scenes attitude. "I got, like, pet peeves that I can't get through a movie without," Tupac told a journalist in August 1996 (via Tupac Facts). "He's been able to, like, erase those hurdles, so it makes it easier, and that's a first." 
Through their close collaboration, Belushi and Tupac developed a friendship. "Not sounding corny, like, 'we're so close friends,' but it's not like a regular relationship in the movies where it's based on the movie," he explained. "It's based on really, like, I have a job to do, you have a job to do. What can I do to make your job better?" It might not be the warmest expression of endearment out there, but it is a lot coming from the incandescent rapper. 
Belushi, on the other hand, has no issues sharing his feeling for Tupac. "My heart jumps every time I hear his name," he told Today. "I love Tupac. We had a very special connection, you know." Belushi didn't just enjoy working with Tupac because of his larger-than-life personality. The actor also believed the rapper had a promising future. "I think if he had survived his 20's he would have had an amazing career as an actor," Belushi tweeted in 2021. "He was dialed in."