The Only Time Vanna White Ever Wore The Same Dress Twice On Wheel Of Fortune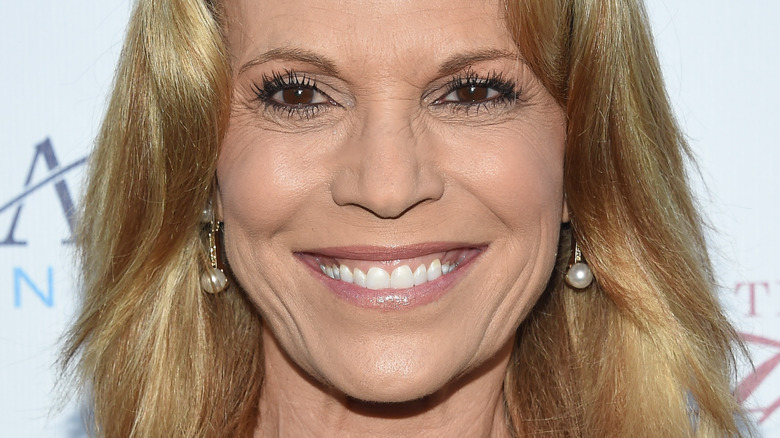 DFree/Shutterstock
Vanna White has been an integral part to "Wheel of Fortune" since she made her first appearance on the game show in 1982. After four decades with the series, she has appeared in a staggering 7,500+ episodes, per IMDb. "Wheel of Fortune" originally debuted in 1975, where contestants were tasked with trying to guess words and phrases one letter at a time. Overseeing these word puzzles was host Chuck Woolery. Susan Stafford, his co-host, would reveal correct guesses on the massive answer board. The formula was a hit and it went on to be known as America's Game, which the show even registered as its trademark.
Woolery left his hosting duty and a young weatherman for NBC in Los Angeles by the name of Pat Sajak stepped into the role. In 1982, Stafford also decided to leave the show. "I mean, for seven years I stood there and turned letters. I had to ask myself if that was any way for a grown woman to live her life," Stafford told the Chicago Tribune. This opened the door for White to fill in as the co-host. "I just showed her how to turn the letters, and told her that she should be grateful for this opportunity," Stafford explained about her replacement. White then became synonymous with the show in part for her golden smile and beautiful outfits. In fact, she wore a different gown in every single show. "Never the same one twice," White told ABC in 2017 — with one notable exception.
Inside Wheel of Fortune's big mistake
Eagle-eyed fans may have felt deja vu in 2020 after seeing Vanna White on an episode of "Wheel of Fortune" in a sleeveless blue dress. For the first time in her career on the show, White repeated an outfit, wearing the same dress twice. Even worse, it happened all in the same week of episodes. Up to that point, White had modeled more than 7,000 unique dresses on the game show with no repeats. Not trying to hide the fact, White posted a video inside her work closest while holding up the famous dress. "This is so 2020," White said with a frustrated sigh.
According to White, designers typically send dresses to the production studio. After she wears the outfit one time, she sadly doesn't get to keep the clothing, as it gets sent back to the original designer. As for why this process fell apart after more than 7,000 successful times, "it was just a mistake," White told TV Insider of the repeat. "I was so distraught over this," White added about the situation. "I don't know how it got lost in the shuffle because we take a picture of every dress and we have a list of everything. Somehow, I don't know if the description was different than the other description but it was the exact same dress," the game show co-host said. She also confirmed that a fan was the first to notice the "slip" up.
Vanna White dresses up 'like a Barbie doll'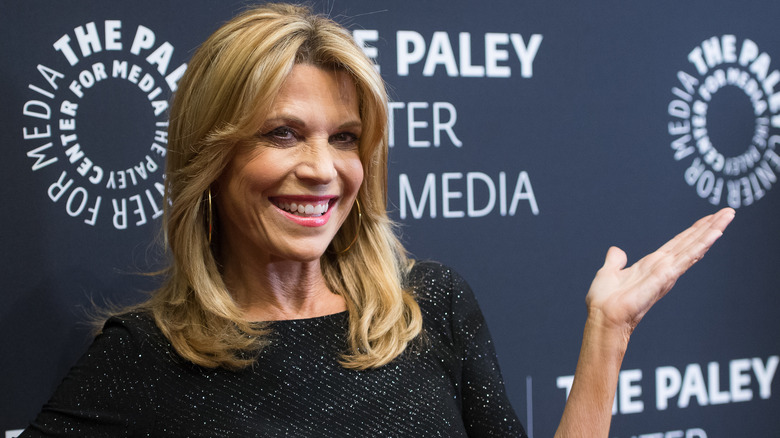 Mike Pont/Getty Images
While Vanna White was certainly thrown off after accidentally wearing the same dress twice, the game show personality admitted she loves showing up for work. "I get all dressed up like a Barbie doll. I go out. I give someone else's money away, make them happy, and we all go home," White told ABC about her "Wheel of Fortune" experience. On-set but off-camera from filming, White revealed she goes through outfit fittings every week, sometimes every other week. "I must try on at least 50 different dresses and I've been doing that for 40 years," she explained in a video, via The U.S. Sun. "I'm exhausted," she joked. Even with the dress mess of 2020 White shows no signs of stepping away from her role. "In show business, no, there's nothing else I want to do," she said. White has stayed true to her passion and has become a nearly permanent fixture to the game show. 
It all started when White moved to Los Angeles, working as a waitress while simultaneously pursuing an acting career. After auditioning alongside 200 other women for "Wheel of Fortune," White landed the job at the age of 25. During her impressive career, White's first big absence from the show followed the death of her fiancé, John Gibson, who died in a 1986 plane crash. White also missed two weeks of the series in 1990 for her wedding and honeymoon with George San Pietro, Grand Strand Magazine recapped.