Are Tiffany Trump And Naomi Biden Friends?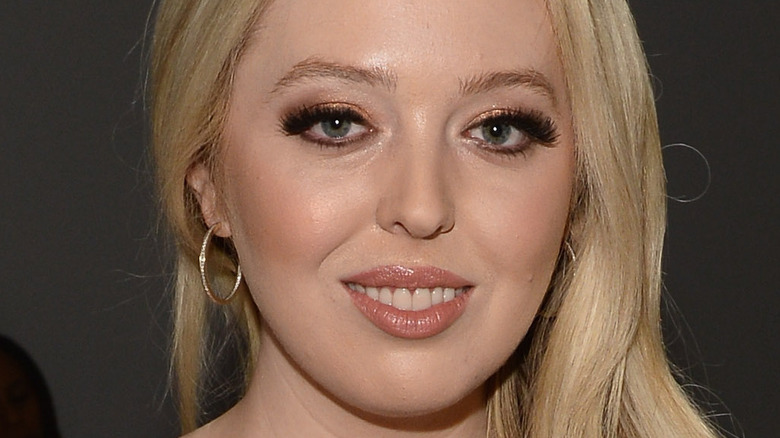 Noam Galai/Getty Images
Before the political landscape became quite so polarizing, politicians on both sides of the aisle put aside their differences to come together as working professionals and even friends. During the Obama administration, Barack Obama clashed with Republican house speaker John Boehner on policy, but the pair maintained close professional ties, per Cleveland.com. When Boehner retired, Obama expressed his best wishes for his friend. "We were having a nice conversation, and finally the president says, 'Boehner, man, I'm going to miss you.' And I said, 'Yes, you are, Mr. President," Boehner remembered. This theme of bipartisanship was additionally present at Senator John McCain's funeral in 2018, when prominent democratic figures like Obama and current President Joe Biden reflected on their relationships with McCain.
It's not unusual for political family members to cultivate friendships, too. Chelsea Clinton was famously friends with Ivanka Trump, before their relationship came under scrutiny during the Trump administration in 2016. And while the ladies were once close, this is no longer the case. "[Ivanka] is not the person I called when I was curious about something for my kids or if I was debating a life decision," Clinton said on "Watch What Happens Live" in September 2022. "But we were definitely friends ... and then she went to the dark side." Likewise, Ivanka's half-sister, Tiffany Trump, shares similarities with a young female member of the Biden family, Naomi Biden. But are Tiffany and Naomi friends, or just friendly?
Tiffany Trump and Naomi Biden experienced similar milestones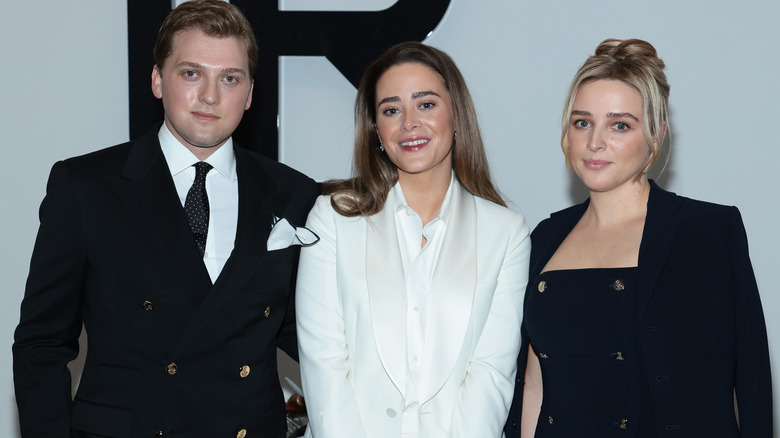 Dimitrios Kambouris/Getty Images
Tiffany Trump and Naomi Biden are not politicians, but they've long been thrust into the spotlight thanks to their famous family members. Tiffany is former President Donald Trump's second-eldest daughter, while Naomi is the granddaughter of current President Joe Biden. The women's political ties mean they run in similar socials; they even hung out together in the Hamptons in 2018 (via People). At the time, Tiffany posted a since-deleted Instagram Story (complete with interlocked hearts) that showed her chumming up to Joe's granddaughter.
Tiffany and Naomi may have gotten close in college, as they both attended The Don's alma mater, the University of Pennsylvania, per Insider. In 2016, both Donald and Joe made an appearance at the girls' graduation ceremony, although Tiffany and Naomi majored in different departments. Perhaps taking inspiration from each other, they went on to follow paths of higher education: Tiffany at Georgetown and Naomi at Columbia Law School. After graduating in 2020, they both shared news of their respective engagements. "It has been an honor to celebrate many milestones ... none more special than my engagement to my amazing fiancé Michael," Tiffany wrote on Instagram in January 2021. "Forever," Naomi captioned a September 2021 post that showed her flashing a sparkler and cuddling up to fiancé Peter Neal.
As if their life paths weren't already similar enough, Tiffany and Naomi also wed their respective husbands just one week apart in November 2022.
Tiffany Trump and Naomi Biden both got married in November 2022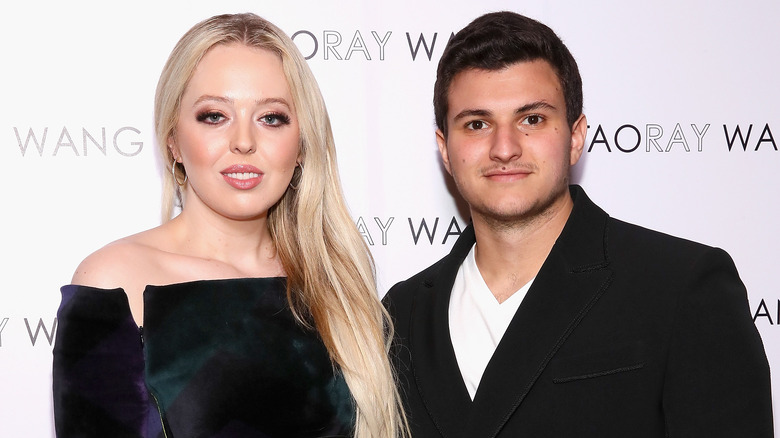 Astrid Stawiarz/Getty Images
Because Naomi Biden and Tiffany Trump's weddings took place so close together, the media drew comparisons to the two ceremonies. "The nuptials ... may have starred two happy couples, but they also reflected the two different stories that former President Donald J. Trump and President Joseph R. Biden Jr. tell the world about who they are," The New York Times wrote. Of course, there were distinct differences — location, outfits, timing — but there were also similarities. Strip away the guest lists, the politics, the flowers, and the wedding cakes, and at its core, this was a joyous occasion for both sets of families.
"My wonderful daughter Tiffany will be getting married today at Mar-a-Lago," Donald posted on Truth Social, speaking on the occasion. "She and Michael are a beautiful couple who will be very happy together." The president and First Lady released a statement of their own, telling the media, "It has been a joy to watch Naomi grow, discover who she is, and carve out such an incredible life for herself. Now, we are filled with pride to see her choose Peter as her husband, and we're honored to welcome him to our family."
They may not be "friends," but political affiliations notwithstanding, Tiffany and Naomi are not so different after all. Both women happen to be reaching important life milestones around the same time. Whether or not they'll choose to have children around the same time in the near future remains anyone's guess.