Why Things Got Awkward Between Will Smith And Rosario Dawson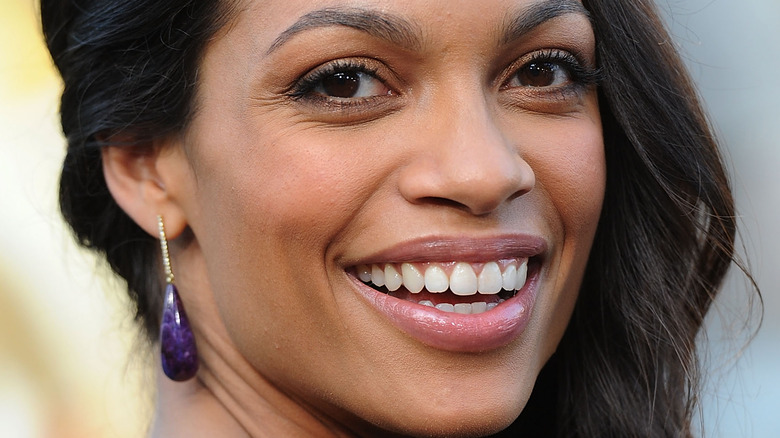 Frazer Harrison/Getty Images
"Rent" star Rosario Dawson went public in August with her new relationship, and it appears to be serious. Taking to her official Instagram, she posted a short clip of her and published poet Nnamdi Okafor riding on the back of a golf cart inside a venue. After hamming it up for the camera, he coos, "Love you baby," and she returns the sentiment with a big smile. According to Us Weekly, her ex-boyfriend, Senator Cory Booker liked the post.
Booker and Dawson broke up in February after two years of dating, per People, and according to Booker, their first encounter wasn't very suave or debonair. "I had trouble asking for her phone number," Booker told The Washington Post in 2019. "I think I said something really stupid like, 'Uh, how would I get in touch with you?' And she mercifully said something like, 'Oh, you want my phone number?' And my insides were like, 'Hell, yeah!' "
That wasn't the first (and possibly not the last) time a man was super awkward around Dawson. The most notable time wasn't in her personal life, it was in her professional life on a movie set. And the man in question was none other than Will Smith. 
Will Smith felt awkward about their movie sex scene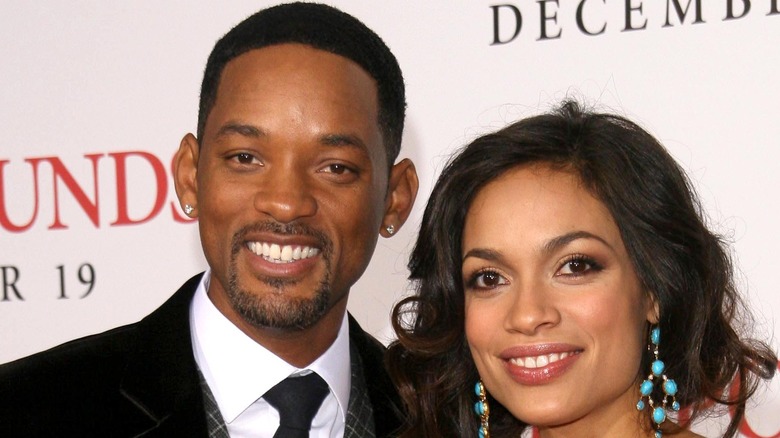 s_bukley/Shutterstock
In 2008, Rosario Dawson and Will Smith reunited on screen for the movie "Seven Pounds," after having previously worked together on "Men In Black II." For one important scene that follows the love story between their two characters, they had to have a poignant scene together in bed. As Dawson tells it, Smith was so awkward and nervous about that scene, he literally had to psych himself up. "Will was very nervous," she told Vulture in 2008, adding that their director had to tell Smith to calm his hands or it might seem like he was slapping Dawson. "It was funny and actually very precious to see how nervous and shy Will was about it." She goes on to joke that before their big kissing scene, she assured him that yes, her teeth were brushed and she was good to go.
Not only did the "Fresh Prince" star admit he was awkward, but he also needed to call in reinforcements to set just to make sure he could do the scene altogether. Speaking with Access Hollywood, Smith revealed that he actually called his wife, Jada Pinkett Smith, to be his hypeman. "I told Jada, 'I feel a little uncomfortable,'" he admitted, "and she was like, 'Boy, listen!' She was like, 'Don't you embarrass me! You better get on that screen and show them what you are working with!'"
Rosario Dawson and Will Smith have shared some emotional moments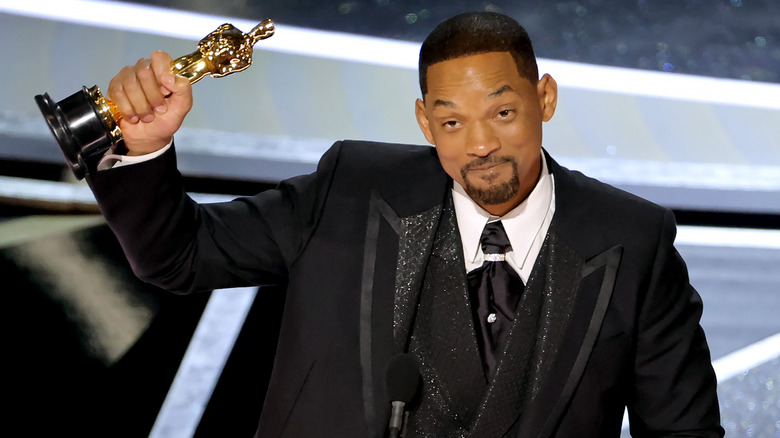 Neilson Barnard/Getty Images
For her part, Rosario Dawson, who became an actor by accident (she was discovered sitting on a stoop in NYC, per Buzzfeed), says working with Will Smith on "Seven Pounds" was a highlight for her because of the close friendship they developed on set. Speaking with The Philippine Star, she admitted that some Hollywood stars she has worked with have left a bad taste in her mouth, but not Smith. "Will is really honestly just an amazing man [...] he is so great with everybody," she said. She also admitted during an appearance on "The Oprah Winfrey Show" to promote the film that the two stars were very emotionally invested in their character's story. After viewing the completed film for the first time, she told the iconic talk show host that both she and Smith were misty-eyed. "We walked out crying. I was, like, 'Oh, thank God. 'It's not just me.'"
Emotions were also riding high for Dawson in March 2022 when Smith famously slapped Chris Rock on stage at the Oscars mere moments before winning the award for Best Actor. Afterward, Dawson told Vanity Fair that she was "still unpacking" her emotions from witnessing that event between two of her friends and colleagues. "These are two people that I've known and loved for years, so it was really upsetting," she told the outlet, before adding, "This wasn't normal; let's not normalize any of this."