Why Did Wayne Gretzky Really Retire?
Bryan Bedder/Getty Images
Wayne Gretzky's career is widely considered the greatest in the history of the NHL, but it was nearly cut short by early retirement. He finished his career in 1999 with 894 goals and 1,963 assists in 1,487 games, per Stat Muse. Those feats helped earn him nine Hart Trophy awards as the league's most valuable player, along with four Stanley Cup trophies. In addition to his goals and assists, he holds a slew of other records that are believed to be unbreakable.
The "Great One" almost prematurely hung up his skates in 1992 — seven years before his actual retirement — due to a chronic back injury. Doctors described it as "one-in-a-million" at the time, per The Seattle Times. "I'm a very positive, very optimistic person, but let's get rid of this pain," Gretzky said in '92 while playing for the Los Angeles Kings. There was serious cause for concern about the NHL's best player. "This problem ... has the possibility of being career-threatening," Dr. Robert Watkins told the Times. If the injury persisted, Gretzky may have been able to play, but it would not be to his all-world standards. "Wayne ... said he never wanted to be remembered as an average player," former teammate Steve Smith told the Chicago Tribune in '92.
Fortunately, Gretzky was able to recover and play a total of 20 seasons in the NHL. Even after two decades, many were surprised to see him step away from the game.
Players treated Wayne Gretzky different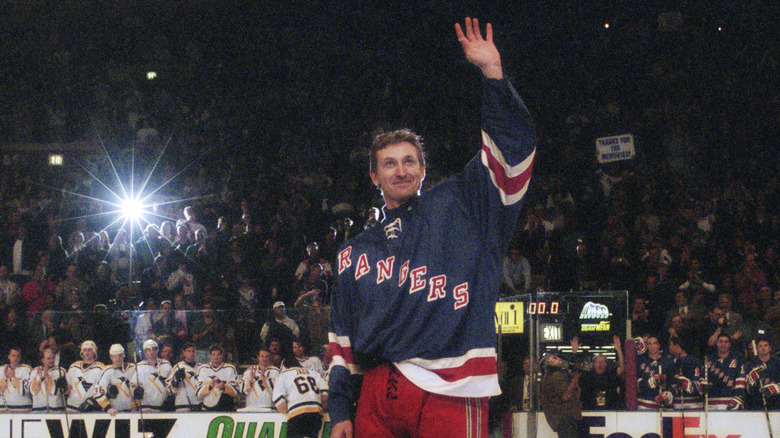 Ezra Shaw/Getty Images
In 1999, while a member of the New York Rangers, Wayne Gretzky called a press conference to announce his retirement. At the time, the Brantford native tried to make fans understand why he wanted to walk away from the game even though he seemingly had several good years left. "It's a gut feeling, something I believe is right," he said at his presser (via The Herald-Times). Playing 20 years in the NHL had taken a toll on the Hall of Famer. "I started to feel fatigue — mentally and physically — that I never felt before," he added.
Years later, Gretzky spoke about how opponents started treating him differently during games, and how that impacted his choice to step away from the ice. "But I knew it was time to retire when I was playing my last year and people I was playing against, before they would hit me, they would scream my name," he said on "Late Night with Conan O'Brien" in 2014 (via For The Win!).
There were multiple outside sources who tried to convince Gretzky to play a few more seasons. That included Rangers owner James Dolan, who apparently offered Gretzky $1 million to take an extra week to reconsider his retirement with no strings attached — although Number 99 had made up his mind. "You know in good conscience I just can't take your money because I know I'm done," he recalled telling Dolan during a 2016 interview on "In Depth with Graham Bensinger." Gretzky's playing days were over, but his career was not.
Wayne Gretzky describes playing hockey post-retirement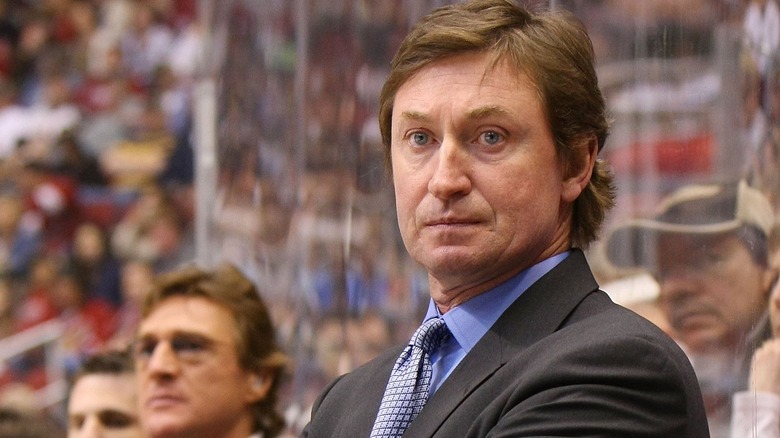 Bruce Bennett/Getty Images
While many believed that Wayne Gretzky could still have been a good player in the NHL after he retired, the "Great One" knew his body could no longer take the grueling punishment. During his 2016 interview on "In Depth with Graham Bensinger," Gretzky recalled training with younger players only a few years after retiring. "After the second day I was so sore I had to get a massage for two hours," he said. "I wish I could still play," Gretzky added while mentioning he was past his prime on the ice, but not in everyday life. 
Even though Gretzky was done as a player, his career in the NHL was far from finished. In 2001, he became part owner of the Phoenix Coyotes, and eventually became the team's coach from 2006 until 2009. He stepped down when the franchise was in financial turmoil while in between owners, and it was obvious the new ownership wanted to go in a different direction, per ESPN.
Gretzky returned to the Edmonton Oilers in 2016 in a front office role, but that was less of a hands-on role. By 2021, he stepped down and decided to give broadcasting a shot. "I don't need the stress of running a hockey team day to day. But this gives me an opportunity to talk about the game and try to take it to another level," Gretzky said at the time (via CBC), while adding that he still wished he could lace up the skates.