Wayne Gretzky Opens Up About Dustin And Paulina's Relationship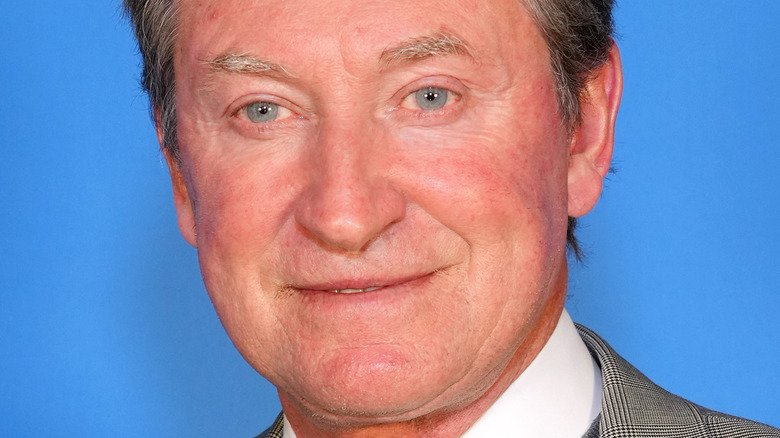 Kevin Mazur/Getty Images
Paulina Gretzky and Dustin Johnson have been a couple for what seems like a lifetime. But the daughter of ice hockey legend Wayne Gretzky and the pro golfer didn't actually seal the deal until nearly a decade after announcing their engagement in 2013. On April 23, Paulina and Johnson tied the knot in Tennessee, she announced on Instagram. "Even though Paulina and Dustin have been together for years, there is definitely a feeling of a sense of renewal in their relationship since getting married," a source told HollywoodLife.
Paulina and Johnson's long engagement didn't mean they weren't serious about the relationship from the get-go. The two were quick to start their family, welcoming their first son, Tatum, in January 2015. "We are so blessed to have a happy and healthy baby boy," Johnson gushed on Instagram. They expanded their brood two years later, giving Tatum a little brother. "I'm so thankful for my family and the new addition River Jones Johnson," he announced.
While the two prefer to keep their relationship private, they sometimes can't help but publicly show off their affection for their children. In September 2020, Tatum and River FaceTimed their dad after he snagged the FedEx Cup. "Did you win the trophy?" they ask in the clip shared by TOUR Championship. The parents can hardly hide their proud smiles. Throughout their relationship, Paulina and Johnson also ensured their own families were involved. In fact, Wayne was one of the first to encourage Paulina to invest in Johnson.
Wayne Gretzky knew Dustin Johnson was the one for his daughter
Paulina Gretzky and Dustin Johnson may have taken their sweet time to get married, but Wayne Gretzky hoped it would happen early on in the relationship. After Wayne learned about Paulina's interest in the golfer, he had one piece of advice for his daughter. "He told me I should marry him," Paulina revealed on June 12 in a Q&A session on her Instagram Story, according to the New York Post.
Paulina also received the best dating advice from her hockey icon father. "He told me to weigh the pros and cons of dating someone. If there are few cons and many pros, then don't rule them out right away," she replied to another fan. "If the cons outweigh the pros, then don't try to be the person who thinks they can change them."
Wayne and his wife, Janet Gretzky, even played a role in how Paulina and Johnson met way back in 2009, though they didn't start dating then. Janet and Johnson were paired for a Pro-Am event, so he ended up having dinner with the Gretzkys, GOLF reported. "That's how it goes in our family," Wayne said. "Janet and I go out to eat, and we somehow always wind up with seven or eight people at the table." Wayne was even present when Paulina and Johnson finally went out in 2012. "I don't know if you can call it a date since my dad tagged along," she said.
Wayne Gretzky shares a special bond with Dustin Johnson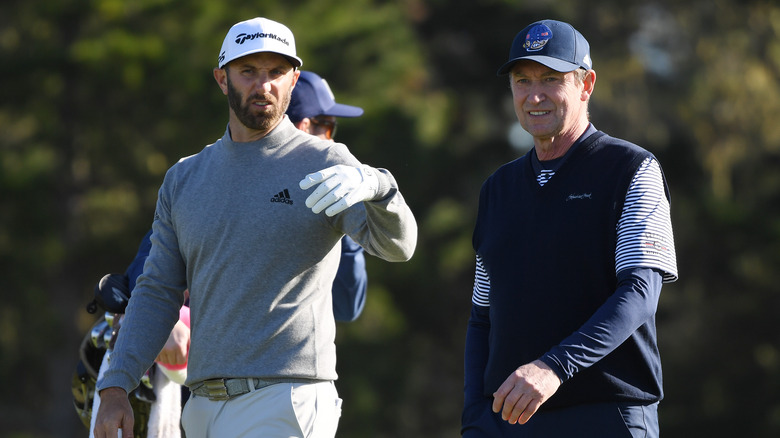 Harry How/Getty Images
Wayne Gretzky and Dustin Johnson may share a love for sports, but their relationship goes way beyond. "I am not the DJ Whisperer. I'm not some guru or anything like that for Dustin," Wayne told Golf Week in March 2021. "People think I give him advice all the time. I don't." Through Johnson's relationship with Paulina Gretzky, Wayne and Johnson are family — and that's the role Wayne prefers to play in his son-in-law's life. 
"We just talk about the family, the kids, scheduling, TV shows, sports, just things most people talk about," he detailed. "We're friends." Johnson has also enjoyed the opportunity to have Wayne around. "Having his support and just being able to spend a lot of time with him has been one of the best things ever," he said.
Paulina is most likely a-okay with how much Wayne and Johnson hang out together. While Paulina mainly keeps her private life away from Instagram, she makes an exception for her dad, often celebrating her love for him. "Every little girls first love.. Their Dad. HAPPY FATHERS DAY DAD," she wrote on Instagram in 2013. She also made clear where Wayne stands among the men in her life. "99 on the ice but number 1 in my heart," she captioned a January 2018 post in honor of his birthday. Sounds like Wayne holds a special place in the Johnson household!