The Awkward Comments Daniel Radcliffe Made About Kissing Emma Watson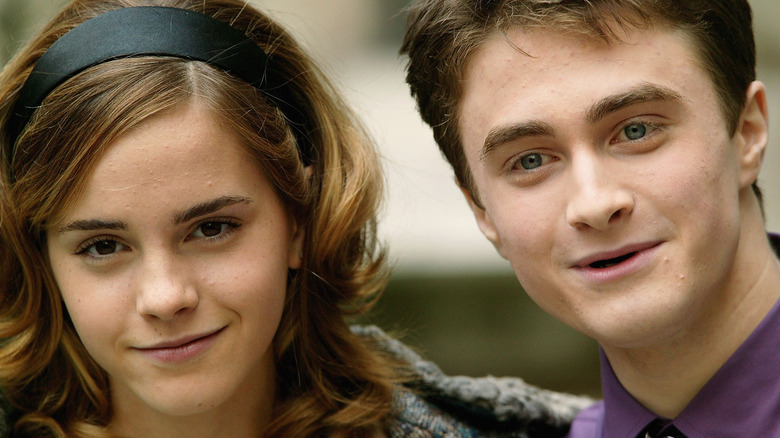 Dave Hogan/Getty Images
Sparks didn't just fly from wands in the "Harry Potter" movies. As Hogwarts students grew up, the threat of a certain genocidal wizard rising to power didn't stop them from experiencing magical life moments such as crushes and first kisses. But for actors Emma Watson, Daniel Radcliffe, and Rupert Grint, creating those lighter moments in a world facing a dark fate was more difficult than brewing a forgetfulness potion under the critical eye of Professor Snape.
Author J.K. Rowling told the Press Association (via Digital Spy) that Watson predicted that she would have to film a kissing scene with Grint before fans of the "Harry Potter" books got to read about Hermione Granger and Ron Weasley's romantic lip lock. However, learning that her character and Harry Potter would also make out in a future book and movie hit the actor like a stupefy spell. Rowling recalled, "I told her, 'If I write it the way I think I'm going to write it, you're going to have to snog both of them, [Radcliffe and Grint],' and she was absolutely mortified and rolled off the sofa laughing."
Grint told People that his on-screen kiss with Watson was so awkward that he doesn't remember much about it, and he has a good reason for using an obliviate spell on himself. "We had this very brother-sister relationship," he explained. "It just felt very surreal." Watson agreed that her sisterly bond with her co-stars made kissing them difficult — but Radcliffe felt differently.
Emma Watson really attacked her kissing scene with Daniel Radcliffe
When Emma Watson and Daniel Radcliffe's characters, Hermione Granger and Harry Potter, share a fiery kiss in "Harry Potter and the Deathly Hallows: Part 1," the friends aren't really making out — it's all in the head of a jealous Ron Weasley (Rupert Grint). But the actors still had to film the scene. "It's a figment of Ron's imagination, the worst possible thing he could ever imagine," Watson explained during a press conference (via Digital Spy). "The kiss obviously had to be passionate." In Radcliffe's opinion, Watson succeeded in delivering a snogging scene steamy enough to make Ron's blood boil. "I always thought it was going to be this soft, sensual sort of moment, and suddenly there was this vigorous kissing happening to me," he said during a 2010 "Daybreak" interview. "She is a bit of an animal." 
Speaking to MTV News, Radcliffe admitted that his sibling-like relationship with Watson made filming the scene feel somewhat strange. "It is a bit like kissing your sister," he said. "But, you know, I don't have a sister, so that's why I can say that and I'm not creeped out by it." He added, "It was great, I'm not complaining."
Director David Yates told The Associated Press (via Telegram) that Watson didn't need much direction while filming the scene. After he told the actor that her first attempt lacked the intensity he was looking for, she nailed the second take.
How Emma Watson felt about kissing Daniel Radcliffe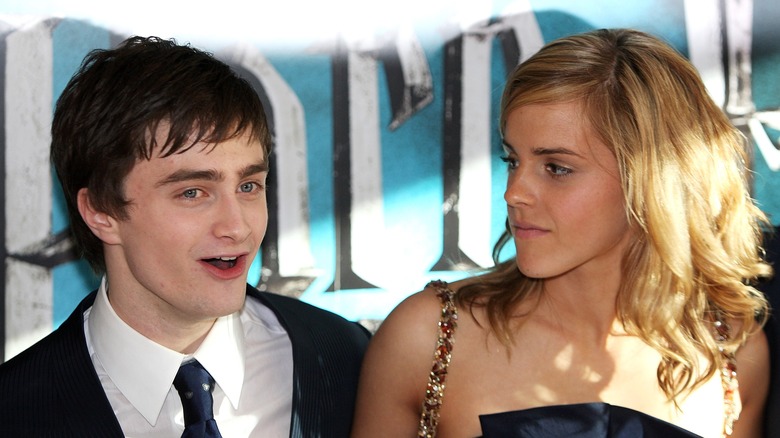 Dave Hogan/Getty Images
Even though Emma Watson took Daniel Radcliffe by surprise by attacking their kissing scene so ferociously, he was able to match her passion. "He is a good kisser. I can definitely vouch for that," Watson told TV Guide. But in an interview with The Associated Press (via Telegram), she confessed that she wanted to finish filming the scene in as few takes as possible, which is why she gave it her all.
According to Radcliffe, his comments about the "Beauty & the Beast" star being a downright beastly kisser didn't go over so well with her at first. "Emma hit me on the arm as soon as we came off the red carpet (at the film premiere) and said 'What have you been saying to people about me?'" he recalled in a 2010 interview with Reuters. But Watson later told the Daily Record, "I guess I should just take it as a compliment."
As Watson was getting in touch with her animalistic side for her on-screen make-out session with Radcliffe, she was also doing her best to cope with other circumstances that raised her level of discomfort. "I was half naked and covered in silver paint — so that was pretty awkward," she revealed. However, she told The Associated Press (via Telegram) that she was happy with the end result, saying, "I'm really impressed that we managed to make it look anything other than awkward."