Are Daniel Radcliffe And Emma Watson Friends In Real Life?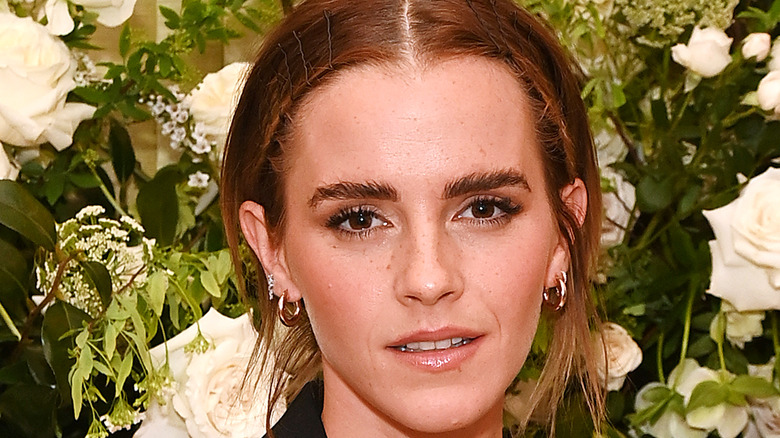 David M. Benett/Getty Images
The "Harry Potter" series, at its core, is a tale about friendship. As readers know, Harry wouldn't have defeated Voldemort if not for the support of the friends he made in Hogwarts, in particular his pals Ron and Hermione. The story revolved around the golden trio's adventures and their journey to overthrowing the Dark Lord.
Both the books and the films are built on the solid bond between Harry, Ron, and Hermione. Fans have always wondered if Daniel Radcliffe, Rupert Grint, and Emma Watson have a real-life friendship that is just as strong. According to Radcliffe, he treats them like they're his own siblings, and he finds it absurd that there were rumors that he and Watson were dating. "We know it'd be everything the fans ever wanted," he told Esquire, via The Independent. "I'm sorry guys, it's not happening. It's just not. There's something really incestuous about the idea of it."
Dating rumors aside, Radcliffe and Watson have often shared how much they bonded behind the scenes of "Harry Potter" growing up. Fans will be delighted to know that they have always been close, and they still cherish each other to this day.
Daniel Radcliffe and Emma Watson used to be butt heads all the time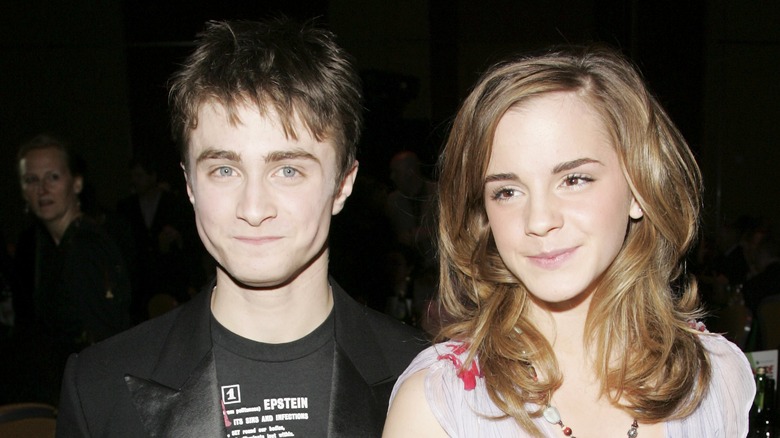 Dave Hogan/Getty Images
Daniel Radcliffe once shared that he and Emma Watson used to fight each other like true siblings. What they were arguing about you ask? Just about everything.
In an interview with Radio Times, Radcliffe explained how they always found things to debate about. There was even a time when they gave each other the silent treatment for having opposing views on a subject. "Oh, God. We used to argue about everything. Religion. Politics," he said, to Britain's Radio Times, via Contact Music. "I remember one of the big arguments we had on the fourth film — we didn't speak to each other for a couple of days — was about ... She was arguing about the Latin language, that nobody knows what it sounds like, what a Latin accent should be. And I was like, 'Yeah, but it's still spoken a lot in the Catholic church.'"
Of course, just because they had frequent disagreements doesn't mean they're not friends. In fact, it's quite the opposite complete opposite. "Such a w***** argument, looking back, and it got totally out of hand. She was furious; I was livid," the actor said. He added a piece of advice for anyone who may engage in a debate with Watson: "I certainly would advise anyone, if you're going to debate with her, know your s***."
Daniel Radcliffe and Emma Watson turned to each other for comfort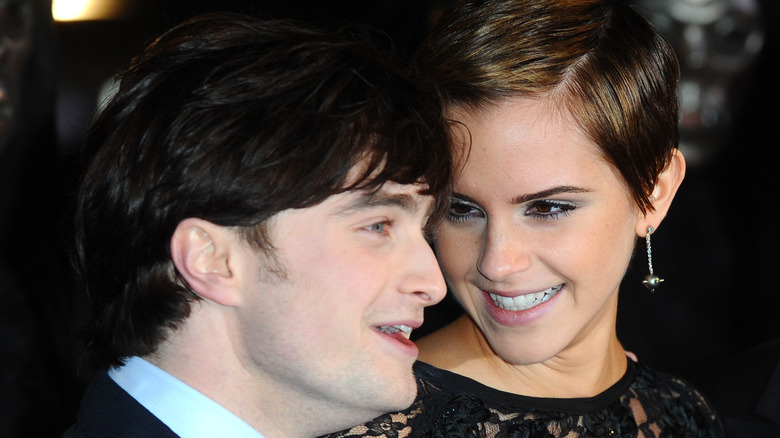 Anthony Harvey/Getty Images
While Daniel Radcliffe and Emma Watson used to fight like crazy as they grew up together on the "Harry Potter" set, they've learned to be each other's pillar of support. In an interview with Vogue U.K., Watson shared that while the three of them don't talk as much as fans would like them to, they are still major fans of each other.
"They both hate WhatsApp and their phones in general. Actually, as a three, we really try and stay off electronics so that doesn't help for a massive amount of back and forth. We aren't on a group chat but we speak individually," Watson said of Rupert Grint and Radcliffe. "Rupert sends me pictures of [his daughter] Wednesday and I die. Dan and I generally try and calm each other's nerves. We both mainly try and stay out of the limelight so it's been nice to have each other's support, knowing there was going to be another wave of attention coming."
And while Watson and Radcliffe never dated in their youth, they did give each other dating advice. "The amount of prep and coaching Emma and I would give each other on texting to the opposite sex," Radcliffe recalled on HBO Max's "Harry Potter 20th Anniversary: Return to Hogwarts" special. "Like if she was texting a boy or if I was texting a girl, I would be like, 'She sent me this many kisses back, what do I do? This is a nightmare.'"