The Harry Potter Cast Confirmed What We Suspected About Their Feelings For JK Rowling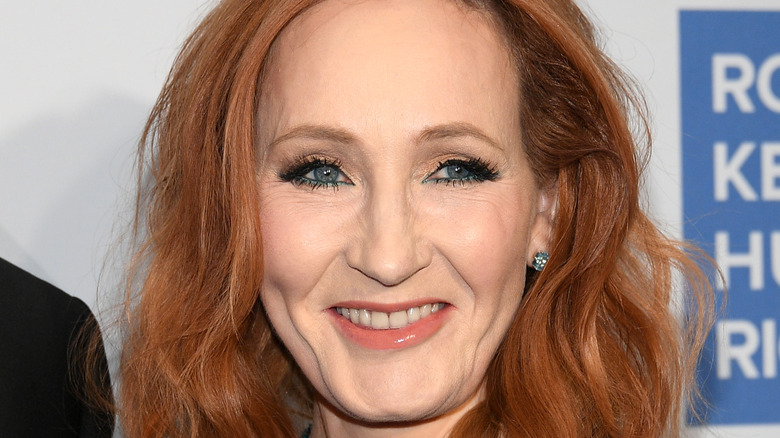 Dia Dipasupil/Getty Images
"Harry Potter" fans everywhere were treated to a heartwarming reunion of the cast and crew of the films when HBO Max aired its "Harry Potter 20th Anniversary: Return to Hogwarts" on January 1. The nearly two-hour documentary brought together the core cast — including Daniel Radcliffe, Emma Watson, and Rupert Grint — as well as the movies' directors and producers. Featuring behind-the-scenes clips that had never been seen and touching moments between all these people two decades after the movie series started, the HBO Max special was a tear-jerker for Potterheads, to say the least.
JK Rowling is the author who created the wizarding world of Harry Potter decades ago, publishing the first book — "Harry Potter and the Philosopher's Stone" — in 1997, followed by six more novels in the years after. She kicked off what has become a literary phenomenon that transcends generations, spilling over into every corner of the world. You can find Harry Potter everywhere, including in video games, theme parks, toy stores, apparel stores, libraries, and anywhere else you can think of. The boy who lived has become a best friend to many, thanks to Rowling's creativity so many years ago. However, her input in the HBO Max special was very limited, which seemed telling of how she's perceived by not just the public these days, but by those involved in the "Harry Potter" world as well.
JK Rowling has been accused of being transphobic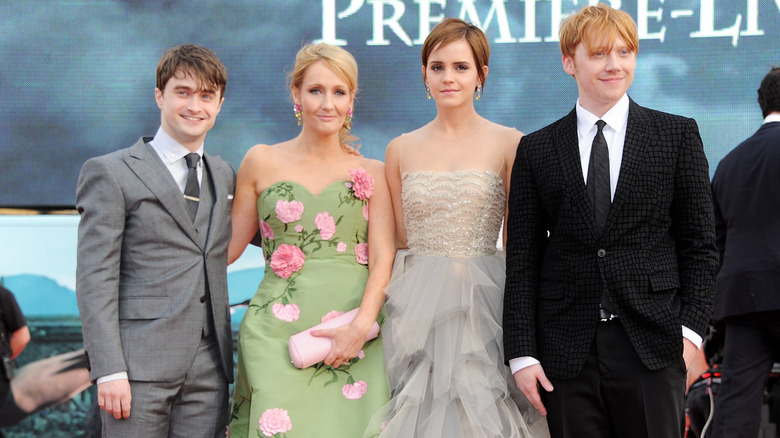 Dave M. Benett/Getty Images
Eagle-eyed fans watching the HBO Max special for the 20th anniversary of when the "Harry Potter" movies first premiered probably noticed that not only was JK Rowling barely included, but the few snippets of her speaking were actually archive footage. There was a small bug in the corner of the screen each time she was on that said it was filmed in 2019 — meaning she had zero input in this particular documentary. 
If you haven't kept up on the news surrounding Rowling in the past couple years, you might have missed her transphobic comments that angered a lot of people. As the Daily Beast outlines, Rowling initially ruffled feathers when she backed anti-trans activist Maya Forstater. Forstater had lost her job for saying men can't change into women, and Rowling tweeted related sentiments standing up for Forstater's statement. She then went on to list a number of things interpreted as transphobic, subsequently getting called out by the trans community and plenty of people who weren't willing to stand for her comments.
It didn't end there, though. Rowling has continued this line of thought, stoking the flame and continuing to, as the Daily Beast puts it, reframe "trans rights as an assault on feminism." The more Rowling shared her misguided opinion on the matter, the more she was called out by the LGBTQ+ community, fans, and, most significantly, the "Harry Potter" family.
The Harry Potter cast has been outspoken about their opinions on JK Rowling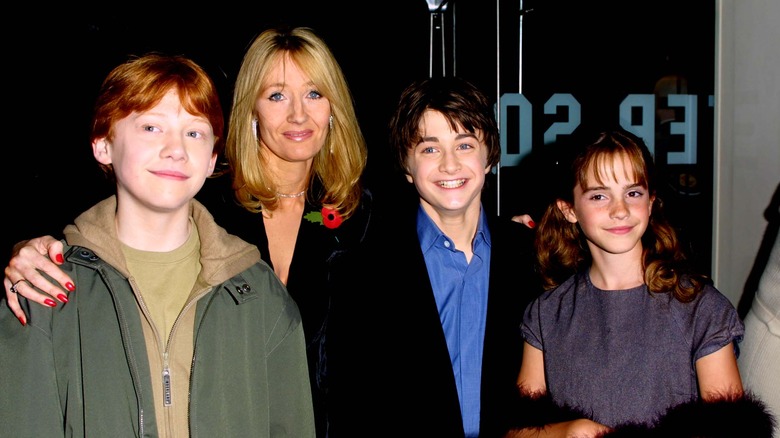 Gareth Davies/Getty Images
Though no one specifically linked JK Rowling's lack of participation in the HBO Max special to her previous comments, it is possible that there's a correlation. An HBO spokesperson told the Los Angeles Times in December that Rowling was approached to participate in the special. However, it's not clear if the interview with the author ever happened. The LA Times did note, though, that producers of the reunion special felt that her archived footage was "adequate" for the purpose of the documentary. 
And while the cast didn't say anything within the reunion about Rowling's controversial comments — choosing to keep the documentary warm, inviting, and positive — they have spoken on the matter in the past. Daniel Radcliffe, who plays Harry Potter, shared with the Trevor Project in 2020, "Transgender women are women. Any statement to the contrary erases the identity and dignity of transgender people and goes against all advice given by professional health care associations who have far more expertise on this subject matter than either Jo or I."
Rupert Grint, who plays Ron Weasley, told the Sunday Times in 2020, "Trans women are women. Trans men are men. We should all be entitled to live with love and without judgment." And Emma Watson, who plays Hermione Granger, wrote on Twitter in 2020, "Trans people are who they say they are and deserve to live their lives without being constantly questioned or told they aren't who they say they are."