How Emilia Clarke Got Back At Sam Claflin After His On-Set Prank
David M. Benett/Getty Images
The following article contains spoilers for "Game of Thrones."
Actor Emilia Clarke is perhaps most well-known for her breakout role as "Game of Thrones'" Daenerys Targaryen. Armed with her trademark white-blonde locks and trio of dragons, the would-be Queen of the Iron Throne carved out a Westeros-sized place in fans' hearts over the course of eight seasons. Though the show ultimately ended [SPOILER] with Daenerys' death at the hands of Jon Snow, there was no overlooking the role she played in making the fantasy world a little bit better for all its citizens.
Clarke's Khaleesi was often delivering fiery speeches in Dothraki, or giving her dragons the order to burn her enemies alive, but the fun-loving actor couldn't be more different from her onscreen counterpart. Per TooFab, she once dressed up as Jon Snow and ran around in Times Square — and no one recognized her. Vulture further reported that even Clarke's co-stars weren't safe from her antics on set. "I had my dessert sitting on the table, and [Clarke] decided to smear the dessert on me. She put caramel fudge all over my fingers, all over my costume, and she was about to feed it to me, but I woke up," actor Joseph Naufahu recalled, of a prank that Clarke played on him while he slept.
While "GoT" was still on-air, Clarke also starred opposite Sam Claflin in the 2016 tearjerker, "Me Before You," per IMDb. Despite the heavy nature of the film, Clarke and Claflin had lots of fun pranking each other behind-the-scenes.
Emilia Clarke and Sam Claflin engaged in a prank war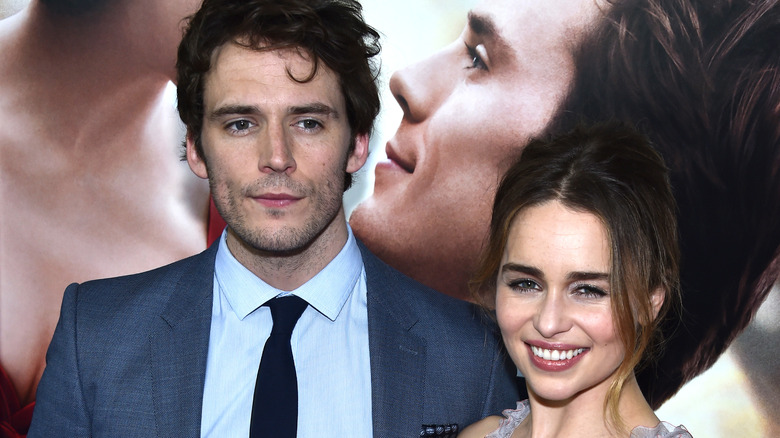 Dimitrios Kambouris/Getty Images
Emilia Clarke instigated the pranks on "GoT," but Sam Claflin did some instigating of his own while the pair were filming "Me Before You." In response, Clarke resorted to some fishy tactics, literally (via E! News). "I put fish in his socks, but that was just one of them, the fish that we had for lunch," Clarke explained. "I had limited resources. [Claflin] had just pranked me and I was like, 'I've got 20 minutes until the end of the day so I have to get this done.'" Understandably, Claflin was horrified, especially because they were new socks! Admitting to disliking the smell of fish (as one does), the actor told USA Today, "I had worn [the socks] for only three minutes in the morning. I just remember as I picked up my socks, I was like, 'That feels odd.' So I pulled them apart and went to put one [foot] in, and I fully gagged."
The "Hunger Games: Catching Fire" star wasn't about to take Clarke's joke sitting down. Claflin retaliated by stealing the furniture out of her room, but Clarke may have had the last laugh, when she framed her co-star for taking her Daenerys Targaryen doll. "[Clarke] put it in my bag [when] I got in the car to go home. The next morning, there were posters all over saying, 'Wanted: Doll Thief,' with my image," Claflin recalled, per USA Today.
Emilia Clarke likes making people laugh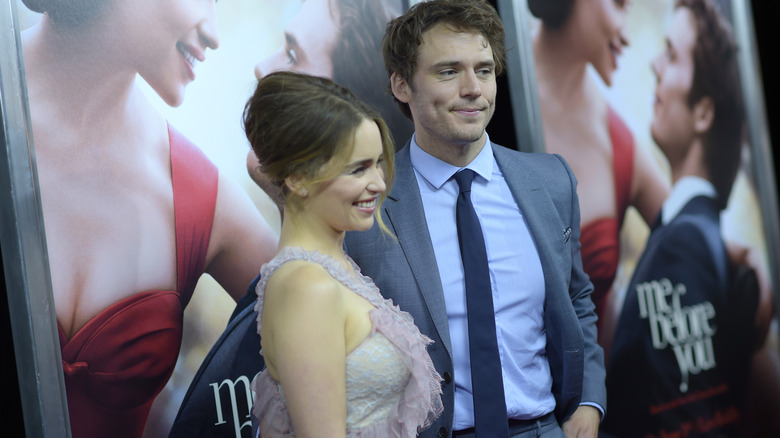 Dimitrios Kambouris/Getty Images
The doll theft and fish joke may have been some of Emilia Clarke's best work, but they weren't her only pranks. Us Weekly reported that the Emmy winner once startled Claflin by putting a fart machine in his wheelchair. And instead of keeping their on-set hijinks under wraps, the duo chose to broadcast their prank war as a means of promoting "Me Before You." "One year on from filming, one week into this tour. And the pranks continue," Clarke captioned a 2016 Instagram post that showed her pretending to pick Claflin's nose. Not to be outdone, Claflin posted a still shot of their respective characters gazing into each other's eyes, captioned, "No really I have 3 dragons," in a nod to Clarke's "GoT" persona. "Always good to know what pets your someone has," he jokingly added.
For Clarke, it's important to maintain a sense of humor. The actor suffered two brain aneurysms, in 2011 and 2013 respectively, giving her a new outlook on life. "Having a brain [hemorrhage] that coincided precisely with the beginning of my career and the beginning of a show that became something quite meaty, it gave me a perspective that I wouldn't have otherwise," she told The Observer in 2019. Humor can be a wonderful tool in the face of adversity, and it's nice to see Clarke embrace her fun-loving personality at work. As she told Time, "I like people, and I like laughter, joy, happiness, I like making other people laugh."