Who Is Elizabeth Debicki's Real-Life Boyfriend, Kristian Rasmussen?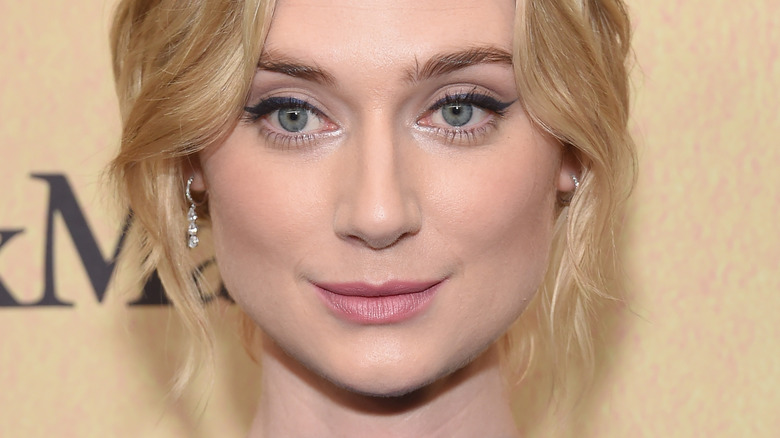 DFree/Shutterstock
Elizabeth Debicki is so good as Princess Diana in Netflix's "The Crown" that royal biographer Andrew Morton, who knew the former Princess of Wales closely after writing her biography "Diana: Her True Story," was stunned at Debicki's performance. ​​"It left me breathless, and it took me back all those years," he told "Good Morning America" on November 11, 2022. "I mean, I don't say this very often, but I was shaken." If Morton was left shaken, the rest of us are absolutely mesmerized by Debicki's acting. 
The Australian actor landed her first major part playing Jordan Baker in Baz Luhrmann's production of "The Great Gatsby." She continued working throughout those years until she landed arguably the role of a lifetime playing Diana. Debicki stars alongside Dominic West, who plays her on-screen husband, Prince Charles, in the tumultuous demise of their marriage. West is carrying on the torch from Josh O'Connor, who played a younger Charles, while Debicki is taking the baton from Emma Corin, who played Diana as a new bride and burgeoning royal. While we see Debicki in a rather unsatisfying on-screen relationship, the actor has arguably more satisfying romance IRL, thanks to boyfriend Kristian Rasmussen.
Elizabeth Debicki and Kristian Rasmussen walk their first red carpet together
Elizabeth Debicki attended the premiere of "The Crown" at London's Theatre Royal Drury Lane, per the Daily Mail, with boyfriend Kristian Rasmussen. It was their first red carpet walk. The two wore slick, black looks; Debicki was in a floor-length black gown while Rasmussen was in a black suit. Prior to the premiere, Debicki and Rasmussen were spotted walking around London together, hand in hand. They were shopping and paused to enjoy some light PDA.
Fans clearly have "The Crown" on their minds because users have noted how much Rasmussen resembles Matt Smith, who played a younger Prince Philip in earlier seasons. While Rasmussen seems to hit all the boxes, especially for enthusiasts of Netflix's masterpiece, the one challenge in getting to know more about him is that he's rather mysterious. He doesn't have social media and he seems relatively unknown, which, for Debicki, who is blowing up right now, might be a win.
Elizabeth Debicki keeps her relationship status private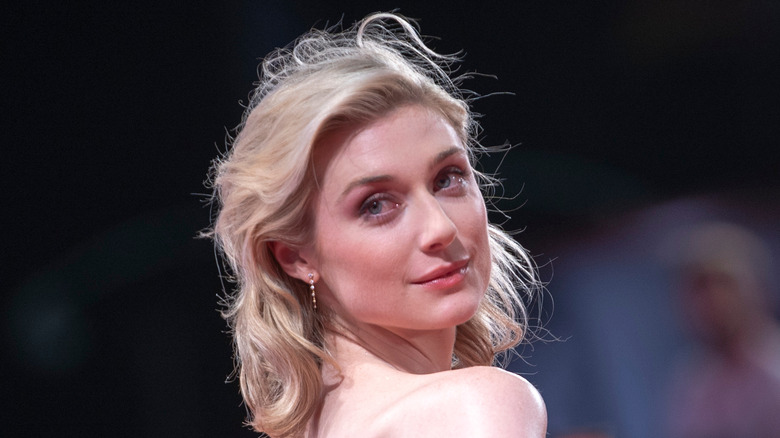 Denis Makarenko/Shutterstock
"The Crown's" golden star, Elizabeth Debicki, is famous for being private about her dating life, long before Kristian Rasmussen came into the picture. In October 2016, she told The Guardian when asked about her dating life, "Have I got a boyfriend-slash-girlfriend? That's very liberal of you. I don't want to say anything. I'm really private." Not only is she private, but Debicki is always traveling because of her career, which makes relationships harder. "As an actor, you're nomadic. You never settle," she said. "And that can be very trying on the sense of self, when who you feel you are shifts all the time."
But privacy is crucial for Debicki. In 2018, she spoke with Vogue Australia and stressed that she wants her acting in the public eye, but no other part of herself. "I've always been a private person," Debicki began. "I feel like the thing I want out in the world is my work and I've always believed — and it's the way I approach my work — that me and the work are separate." She said that she has "respect" for people who can bring engagement on social media but that ultimately, it's not her.