Here's What Candace Cameron Bure Really Looks Like Without Makeup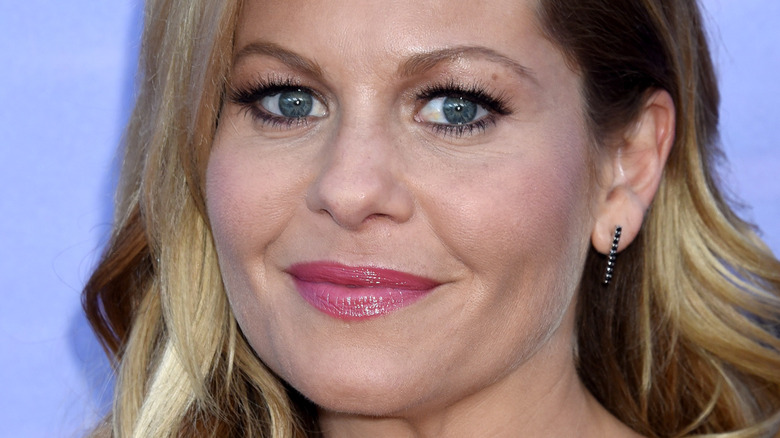 Ga Fullner/Shutterstock
Candace Cameron Bure is a natural beauty, we know that much, but the "Full House" and "Fuller House" star has also been pretty open about what helps to keep her looking and feeling so young. Bure has revealed how important working out is to her lifestyle on a few occasions, telling Parade in 2019 that she likes to workout an impressive four or five times a week. "I mix it up a lot, so it stays interesting to me," she explained, revealing she likes to mix in some HIIT exercises, goes running, does strength training, and plyometrics. "I swear by push-ups: wide grip, tricep, dolphin, inclined, declined, you name it. My arms, shoulders, and back have really changed from constantly doing them," she added, noting that she usually chooses bodyweight workouts and skips expensive equipment. But it's not just all about how the workouts make her body look, as she told Good Housekeeping in 2020, "As a mom of three, body image is something I'm aware of. In my family, we place emphasis on being healthy and fit rather than on how your body looks."
In addition to consistent workouts, Bure has also gotten candid about the skincare routine she swears by and her makeup must haves that keep her looking so youthful. But what does she actually look like without makeup? Well, this star has gone sans cosmetics in the public eye a few times before, and it turns out she's gorgeous with or without a little help.
Candace Cameron Bure shared an important makeup-free message
Candace Cameron Bure is no stranger to ditching the makeup on social media, as she's proudly showed off her cosmetic-free complexion on a few occasions. Back in September, Bure went for a stripped back look as she piled her blonde locks onto her head to share an important message with her Instagram followers. "Who needs to hear this? I may not know what the day will bring, but I know who brings the day. Mmhmm! God bless," she said in the clip as her blemish-free skin glowed. "I may not know what the day will bring, but I know who brings the day!!!!! My beautiful husband sent me these words this morning. May they also be a reminder to you," she wrote in the caption.
As for how she got that stunning makeup-free glow? Well, skincare surely plays a big part! Bure told E! News all about her skincare routine in 2021, when she took fan step by step through her routine. She revealed that she got help from dermatologist Dr. Harold Lance and also uses masks weekly to keep her skin looking its best.
But that's not all it takes to look this good. In 2020, she told Good Housekeeping that she tried to get a minimum of eight hours of sleep a night and drinks plenty of water. "I take my 32oz thermos with me everywhere and aim to drink two of those," she shared.
Candace Cameron Bure never sleeps in her makeup
Another tip that keeps Candace Cameron Bure looking gorgeous without a drop of makeup? Making sure it all comes off! Of course, this star has to wear plenty of makeup when she's on camera, but she's revealed on multiple occasions that she never goes to bed looking like she stepped off a red carpet. "I take off my makeup every single night. Whether I've had on only a touch of mascara or a smoky eye with a full set of lashes, my eyes need to rest," she told Feeling The Vibe Magazine in 2019. She shared the same message during an interview with Us Weekly two years earlier, telling the outlet, "I never go to bed without taking my makeup off. The best investment you can make is your skin because it's really the first thing that people see."
Similarly, before bedtime is a great time to get cleansed! Bure told Feeling The Vibe Magazine that she always, always, always cleanses her skin before bed, sharing, "This step really helps to keep my skin healthy, since it removes any remaining makeup and dirt particles during my sleep."
All those tips are certainly working, too! Understandably, with such incredible skin, Bure had no problem showing off her bare skin and gave us another look at her makeup-free face on Instagram in September when she posed while getting her hair colored. Clearly, this star loves to keep it real!