The Reason Behind David Lee Roth's Exit From Van Halen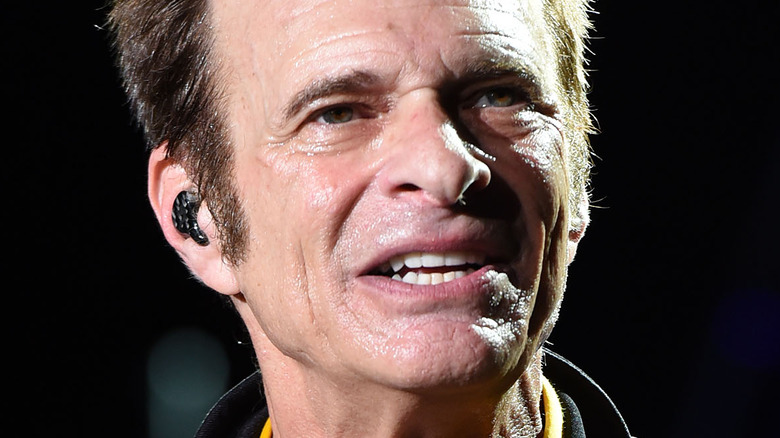 C Flanigan/Getty Images
Van Halen is undoubtedly one of the biggest names in music. Even 50 years after their formation in 1972, the rock band remains instantly recognizable. In fact, their legacy is so strong that the city of Pasadena officially dedicated a stage at Playhouse Village Park to Van Halen in September 2022. There's even a character suspected to be named after Eddie Van Halen in the hit series "Stranger Things."
Between David Lee Roth's energetic lead vocals and Eddie Van Halen's amazing guitar solos, it's not hard to see why the band penetrated pop culture. However, the synergy was not as strong backstage, and Roth chose to exit the band in 1985. His decision to leave was the subject of a lot of media scrutiny at the time. The band just released their highly popular album, "1984" — so why leave?
According to a variety of sources — including KISS's Gene Simmons — Roth and Van Halen always butted heads creatively, and hair metal was never the same!
Diverging paths between Roth and Van Halen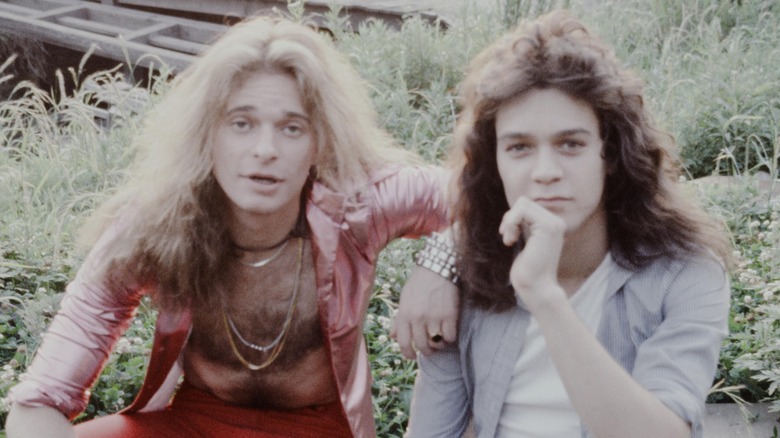 Koh Hasebe/Shinko Music/Getty Images
David Lee Roth and Eddie Van Halen's creative partnership wasn't effortless. While they made great music together, their visions were totally different.
"Why did I bail?" Roth said to CNN in 1986, answering that he is "a workaholic" and enjoyed traveling and touring. He continued, "I read in the Beatle magazines ... when I was in 4th grade: 'The Beatles recorded their new album in Paris, France. Then they argued about it in London, and re-mixed it in Southern California, and went on a vacation to Tahiti to celebrate.'" That kind of nomadic lifestyle was exactly what Roth wanted out of life, and at first, that was exactly what the others wanted as well. "After a while, the activity slowed down a little bit, some folks got married, some folks found other interests. I kind of skipped a groove."
While Roth's account sounded largely amicable, Van Halen recalled a different reason, per Ultimate Classic Rock: "Dave left to be a movie star." At the time, Roth set his sights on a movie career, hoping to produce and star in a film called "Crazy From the Heat," based on his solo EP of the same name. Van Halen confirmed that Roth "even had the balls to ask if I'd write the score for him." He then clarified that he was looking for a new frontman, a role that ultimately went to Sammy Hagar. Van Halen made his thoughts on Roth very well known, lamenting spending "twelve years ... putting up with [Roth's] bulls***."
Inside David Lee Roth's reunions with Van Halen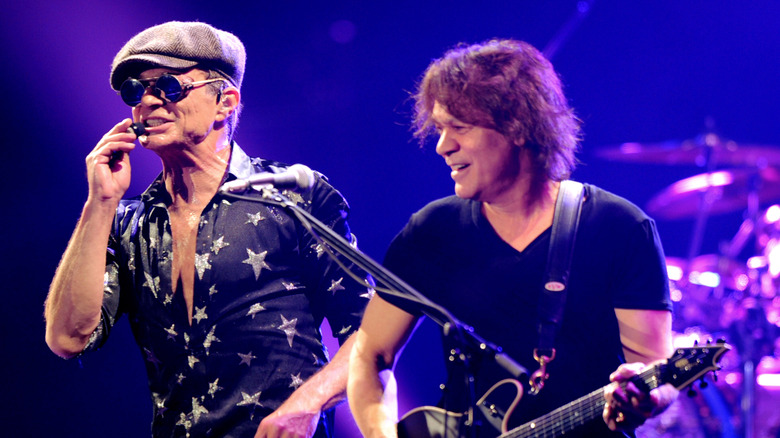 Kevin Winter/Getty Images
While he spent roughly a decade away, David Lee Roth would rejoin Van Halen in 1996. Alongside Eddie Van Halen and the rest of the band, Roth recorded two new songs for the band's album, "Best Of — Volume I." Unfortunately, this reunion was short-lived, as Roth behaved in an "embarrassing" way while presenting the Best Male Video award at the MTV Video Music Awards that same year.
"I felt his onstage antics were ... disrespectful to Beck [the award winner]," Van Halen explained (via Rolling Stone). "Backstage he basically spit in my face. After Roth was unresponsive at a subsequent press conference, Van Halen told him "Look, here's what is happening: two songs for 'Best Of Volume One.' Warner Bros. would like us to do two videos and that is it." He then added: "If you think we're going on tour in the summer, forget it." Naturally, it escalated from there, and ultimately Roth exited the band once more.
They did, however, mend fences in the mid-2000s when Roth once again decided to play nice with the other band members. This time, he stayed with the band all the way up until they disbanded due to the death of Van Halen on October 6, 2020. At the time of Van Halen's death, Roth tweeted, "What a Long Great Trip It's Been" alongside a smiling photo of the two rockstars. Whatever happened in the past between the two was seemingly water under the bridge.