The Tragic Death Of Flashdance Singer Irene Cara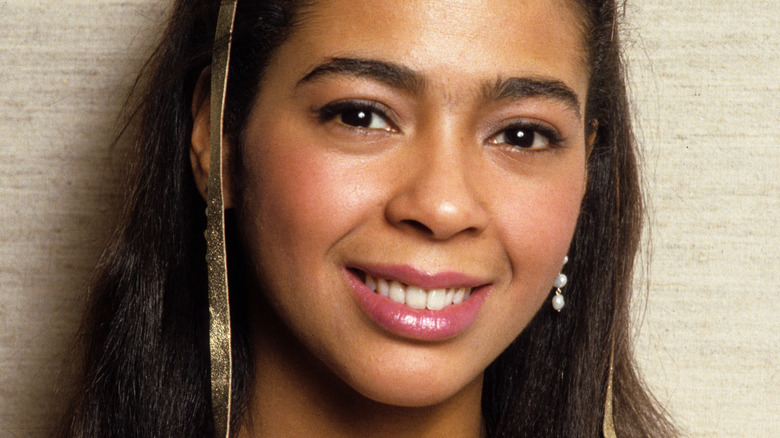 Michael Ochs Archives/Getty Images
Oscar-winning singer and actor Irene Cara has died at the age of 63. Per the Daily Mail, the "Flashdance... What a Feeling" singer was found dead in her Florida home in the early hours of November 26, joining the long list of stars who have died in 2022.
Her publicist, Judith A. Moose, confirmed the sad news in a statement posted to Cara's Twitter account. "It is with profound sadness that on behalf of her family I announce the passing of Irene Cara," she wrote. "She was a beautifully gifted soul whose legacy will live forever through her music and films." Though a cause of death has yet to be announced, Moose assured new information will be released to the public. The publicist also requested privacy for Cara's family and loved ones as they mourn the tragic loss.
Throughout the course of her career, which spanned more than 50 years, the singer racked up a collection of hit songs including "Out Here On My Own," "Fame," and "Breakdance." Cara also co-wrote and sang "Flashdance... What A Feeling," the titular soundtrack for the 1983 romantic flick, "Flashdance" — a project which later won two Grammys and a Best Original Song award at the Oscars, per BBC. No doubt, Cara's sudden death leaves a huge void in the entertainment industry, and fans are finding it difficult to believe — but only because of a recent hoax about the singer.
Fans thought Irene Cara's death was another hoax
Following the announcement of Irene Cara's death, fans flooded Twitter, sharing their thoughts on the singer's death, which they originally believed to be a hoax. "Is this true???? did she really pass? Sorry to even ask social media can be inaccurate," one fan tweeted. "Sorry if this is true but I'm afraid after the hoax, it's difficult to believe." another fan added.
Moose, however, laid people's doubts to rest, noting that she "was made aware of the hoax shortly after I received the call from her business manager." The publicist added that while she understands fans' doubts, as Cara's death was as much of a shock to her as it is to them. Since news of her death broke, tributes have continued to roll in for the late legend. "Irene Cara is missed already! Ms. Cara was a talented, genuine soul whose music and presence will live on through those of us who truly respect & cherish her," one person tweeted. A second fan wrote, "Rest easy Irene I was just saying to my family how she needed her flowers, credits, and funds. Her songs and artistry is iconic and she will be missed."
Per Mirror, Cara was working on new material at the time of her death — a project which will now be completed by her publicist and manager.