Inside Gillian Anderson And Peter Morgan's On-Off Relationship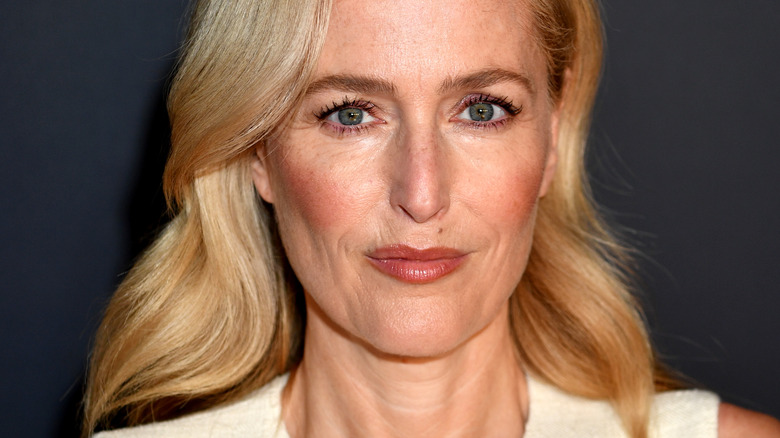 Gareth Cattermole/Getty Images
Gillian Anderson first landed in our consciousness playing Dana Scully in "The X-Files." Despite their famous on-screen chemistry, she and co-star David Duchovny didn't always get along on set. Apparently, they were too alike to make the process an easy one. She's gone on to have an illustrious career, landing "Sex Education" and, of course, the role of Margaret Thatcher in Netflix's "The Crown." Anderson was so good as Thatcher that other cast members found it almost scary that they were so similar, so clearly Anderson nailed the part.
Anderson spoke with Harper's Bazaar UK about her process for getting into character and spoke specifically about playing Thatcher. "When we were doing 'The Crown,' whenever I would find a place, I'd take a chair and put it in a room somewhere, in some dark dusty corner or in an abandoned room or something and we always referred to it as my 'elsewhere,'" Anderson explained. "If the director wanted to talk to me to have to come to my 'elsewhere' to find me or that they needed to find me to come to set or something so I'm quite fond of an 'elsewhere' and I highly recommend it." 
Anderson worked on "The Crown" with her partner, Peter Morgan, creator, and writer of the beloved Netflix series, and the two have discussed the challenges of working together and their subsequent breakup.
Gillian Anderson and Peter Morgan had a rule on 'The Crown' set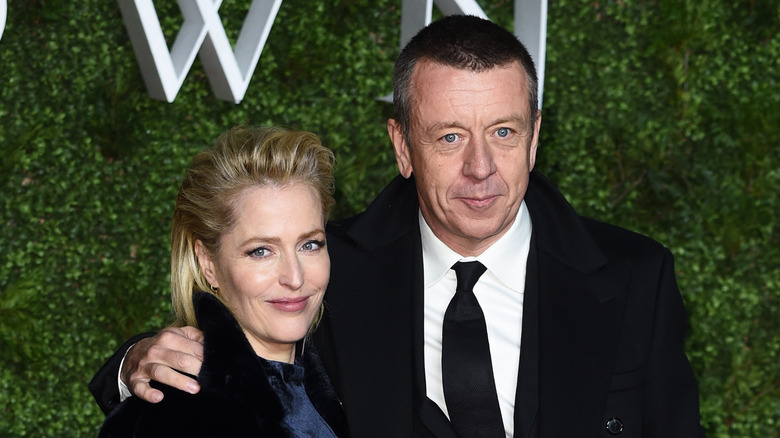 Featureflash Photo Agency/Shutterstock
Gillian Anderson and Peter Morgan began dating in 2016 and conveniently, the two ended up collaborating on Morgan's major Netflix project, "The Crown." While he was looking for someone to play Margaret Thatcher in Season 4. "Pete and I were just sitting around one day, and I think he asked me, just out of the blue, whether I thought it was something that I could do," Anderson told The Hollywood Reporter about how she landed the part. "And under usual circumstances, with anything in life, you kind of scan your sense of intuition, and I thought, 'Actually, that makes sense to me. I don't know a huge amount about her, but I feel like I get her on a level and it would be fun — a huge stretch but fun.'"
It was a huge production, though, working with one's significant other. Anderson spoke with Harper's Bazaar about the very clear lines they had to draw in order to make things work on set. "For our own sanity, and actually for the benefit of the relationship, we had very clear boundaries," Anderson explained. "I am not going to comment on the script, but you are not allowed to comment on the performance!" That's certainly a solid way to work together and it obviously proved successful. Anderson won an Emmy for her performance of Thatcher.
Peter Morgan moved on quickly after Gillian Anderson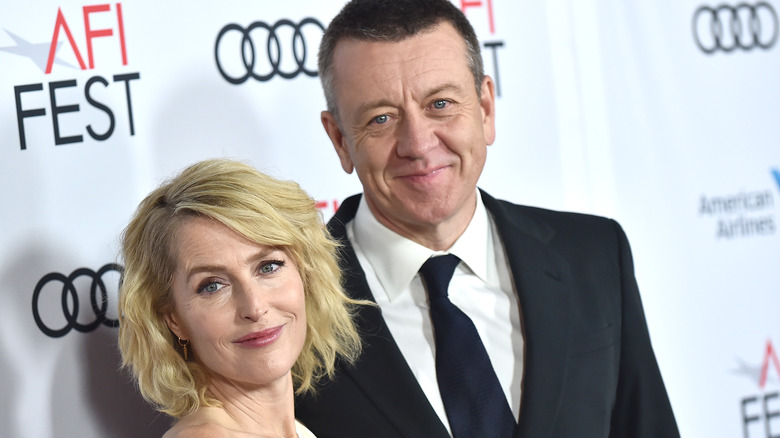 DFree/Shutterstock
In December 2020, the Daily Mail announced that Gillian Anderson and Peter Morgan had split after dating for four years. Interestingly, Anderson almost hinted at the possibility before their split to The Times, when she dished that she and Morgan decided never to live together. "If we did [move in together], that would be the end of us. It works so well as it is, it feels so special when we do come together," she said. "And when I am with my kids, I can be completely there for them." But Anderson also referred to their potential split. "There is nothing locking us in, nothing that brings up that fear of 'Oh gosh, I can't leave because what will happen to the house, how will we separate?'"
Well, they certainly got that figured out. Things got a little weird for the two as Morgan moved on really quickly. Only weeks after news broke that they split, Morgan moved on with producer Jemima Khan and the two moved in together, the Daily Mail reported. However, by February 2021, Anderson and Morgan were back together, The Sun reported. Despite this brief wave of hope, the two called it quits again in May 2021 and appear to be done for good. Hey, at least we'll have that incredible portrayal of Margaret Thatcher thanks to Morgan and Anderson.