The One Thing That Hurt Mariah Carey The Most In Her Divorce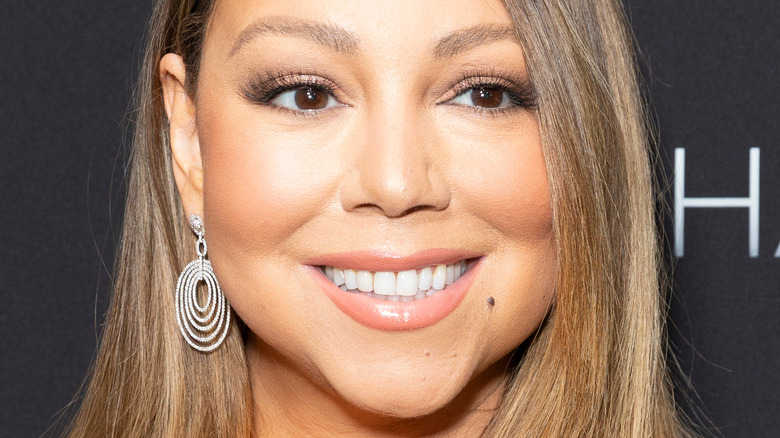 lev radin/Shutterstock
Mariah Carey once found her dream lover in Nick Cannon. The two were each at the height of their careers in 2005, with Carey releasing her hit album "The Emancipation of Mimi" and Cannon creating and hosting the popular MTV show "Wild N' Out." That year, they met at the Teen Choice Awards, where Cannon handed Carey the surfboard award for Choice Music R&B Artist, per Brides. Apparently, the interaction was as sweet as ever. In her memoir "The Meaning of Mariah Carey" (via People), Carey reminisced about their romantic introduction. She wrote, "With a genuine beaming smile and a flame in his eyes, he replied, 'If you give me a chance, I'll prove all of it is true.' A cute moment—very."
The lovebirds got married in 2008 and had a set of twins in 2011. According to Carey, Cannon sparked a major shift in Carey amid their developing relationship. In fact, Cannon inspired Carey to become a mother. She claimed that their mutual desire to have kids actually propelled them to tie the knot. However, in 2014, the star-studded couple separated. Two years later, Cannon and Carey finalized their divorce.  But out of the entire divorce process, there was one specific thing that hurt Carey the most.
Why Mariah Carey and Nick Cannon got divorced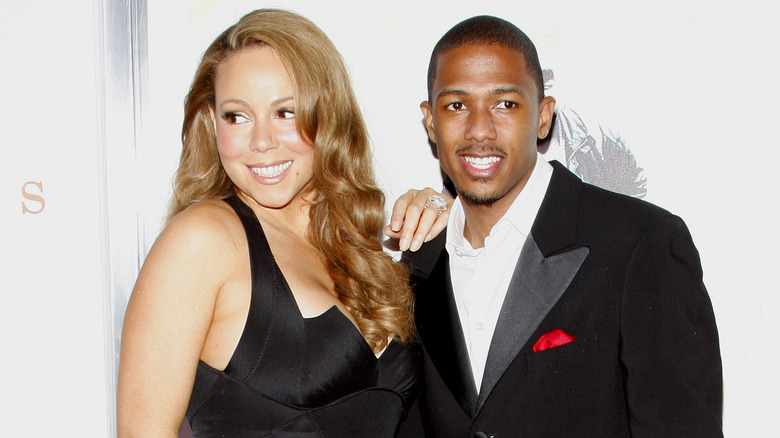 Tinseltown/Shutterstock
So, why did Mariah Carey and Nick Cannon actually get divorced? In an interview with Vlad TV, Cannon called the reason for their split "simple." With this celebrity pair, there were no claims of infidelity or abuse. The break-up came down to unavoidable differences, as Cannon explained, "It got to a place where I wasn't able to step into that next realm of my existence by trying to work within her existence." In addition, Cannon felt that he would be a better role model for his kids outside of their marriage. With disparate beliefs, it ultimately made sense for Cannon and Carey to go their separate ways.
In this case, being a famous couple had its downsides. According to Republic World, Carey shared details about her crumbling marriage to Nick Cannon in her memoir "The Meaning of Mariah Carey." She wrote, "Making the necessary adult adjustments to being working parents in entertainment took its toll on our relationship, and the end of our marriage came fast, as it began." But once they called it quits, their situation became even messier.
'Egos and emotions' hurt Mariah Carey in her divorce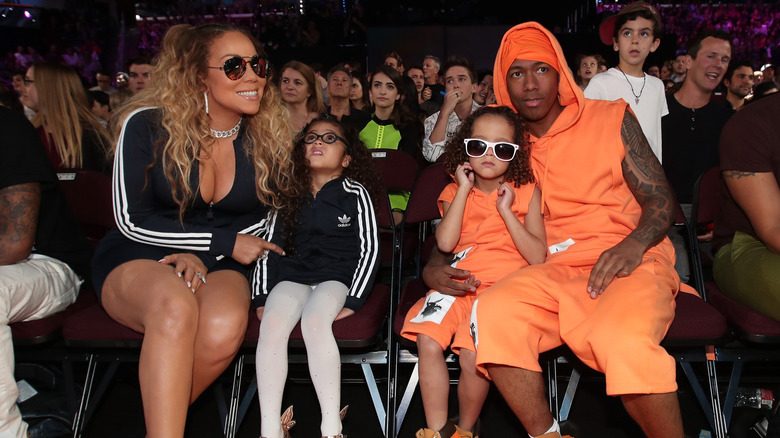 Chris Polk/kca2017/Getty Images
As it turns out, there's a lot that we don't know about Mariah Carey and Nick Cannon's divorce. But we do know the one thing that possibly hurt Carey the most. In her book "The Meaning of Mariah Carey," (via People) the star described how their rocky divorce was complicated by intense feelings. She wrote, "Honestly, I think Nick and I could have worked it out between the two of us, but egos and emotions got inflamed (which can translate into many billable lawyer hours, and ultimately it did)." We may never know what exactly went on behind closed doors, but we do know there was drama.
However, both Cannon and Carey had their priorities straightened out. Over the years, they've been vocal about maintaining a cordial relationship as they co-parent their kids. But that doesn't come without challenges. Carey wrote, "It was tough. We both wanted to make sure everything was cool for our family. We will always be family, and we make it work.″ Cannon hasn't been shy about showing his support for Carey. In 2014, at the time of their separation, he took to Twitter to stand up for his ex-wife and shut down rumors regarding their split. He tweeted, "I will always love her unconditionally for this and so much more. @MariahCarey is an amazing Mother and I trust her wholeheartedly..." Although they've had their share of struggles, it doesn't seem like Cannon or Carey are holding grudges.