Barron Trump Had Quite A Lavish Living Situation Growing Up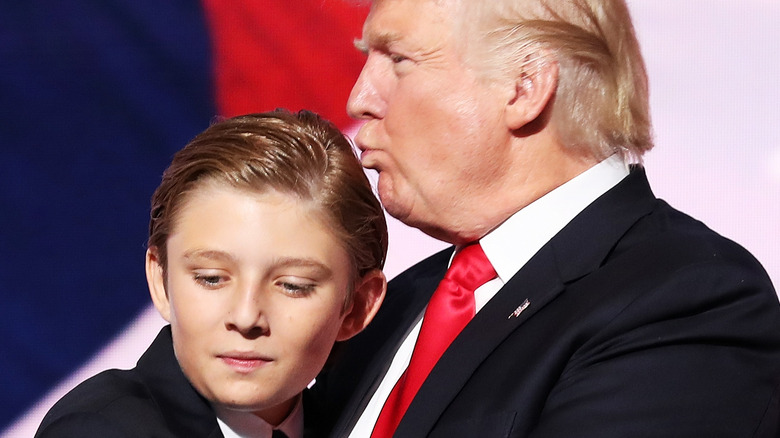 John Moore/Getty Images
Compared to the rest of the Trump children, Barron Trump has lived life mostly out of the spotlight. While cameras are typically trained on him whenever he goes out with his parents, Donald and Melania Trump, not much is known about the youngest member of the Trump bunch. Only when his parents share tidbits of his life does the public know what he's really like.
Melania takes great pride in being a hands-on mother to young Barron, telling People that she makes an effort to be present as much as possible. She helps him finish his homework and encourages him to partake in extracurricular activities. Most importantly, she remains supportive of whatever her son puts his mind to. "He wants to be a golfer, a businessman, a pilot. It's that age when you introduce him to stuff," she explained.
Of course, Barron is unlike most kids, given how he has a former president as a father and was born into a wealthy family that's been in the middle of controversies for as long as he can probably remember. And, while Melania claims that he enjoys the same things most children his age does, he was raised differently thanks to the resources he's been afforded from the get-go.
Barron Trump had a floor all to himself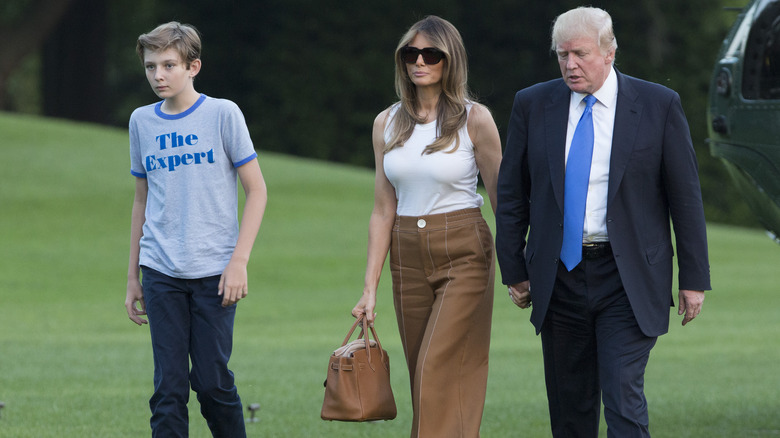 Pool/Getty Images
According to CNN, Barron Trump was the first son to live in the White House since John F. Kennedy Jr. But he probably didn't enjoy living there as much as he did in the Trump Tower penthouse, where he reportedly had an entire floor to himself, per Town & Country. Melania Trump apparently called it "Barron's living room," as it had a kitchen, living room, and quarters for his nanny (via People). But it's not like his room in the White House was something to balk at, either. Inquisitr noted it was set up just as he liked it — from the color of the walls down to the type of furniture. Barron's room was also reportedly stocked with all his favorite drinks and foods, as well as the specific toiletries he liked using. 
Right from when he was born, Barron already had access to the finer things in life. In fact, following his birth, he was gifted a golden stroller by Ellen DeGeneres. "It's fun," Melania said of the gift. "It makes you laugh." She also slathered him with caviar moisturizer when he was younger. "I put it on him from head to toe. He likes it!" Plus, suits had become somewhat of a uniform for the former first son. "He's not a sweatpants child," she noted. "He doesn't mind putting on [a suit] — but not every day — and he likes to dress up in a tie sometimes like Daddy."
Is Barron Trump spoiled?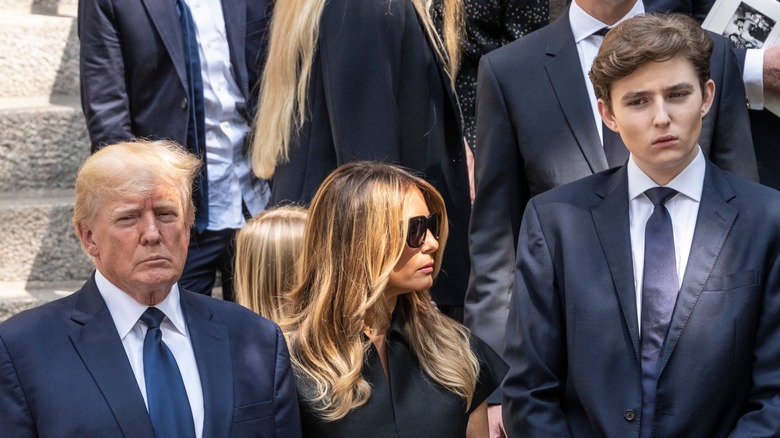 lev radin/Shutterstock
Even though Barron Trump is living the life most people would be envious of, his parents, especially Melania Trump, ensured that he wouldn't grow up spoiled. In an interview with Parenting, the former first lady shared that, while she's in full support of her son, she also gives him room to make mistakes so he can grow.
"I think it's important to give a child room to make mistakes in order to learn. Mistakes build wings so later in life they can fly and go on their own," Melania shared (via Redbook). "Let them fall once in awhile. When they do, they will learn how to pick themselves up on their own when you aren't around."
Donald also has nothing but praise for his youngest kid, noting that his mini-me is a hard worker. "Barron's terrific," he told E! News in 2015. "He's a great boy, he's working hard, he's starting the school thing — you know, the beginning of the process, and he's going to be a very good boy," Trump continued, adding that he hoped Barron would soon realize how great he truly is. "I don't know what he's aware of, but he is a fantastic young boy — so I hope he becomes aware fast."