Are Tia And Tamera Mowry Close With Their Brother Tahj?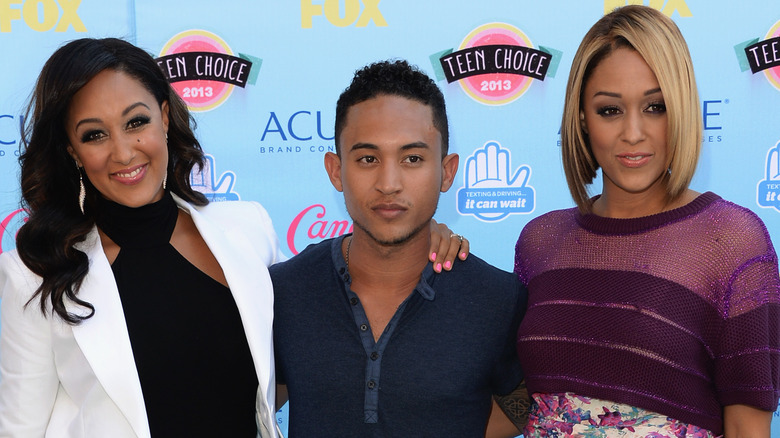 Jason Merritt/term/Getty Images
We may receive a commission on purchases made from links.
As the stars of the 90s hit show "Sister, Sister," Tia Mowry-Hardrict and Tamera Mowry-Housley are easily the most recognizable Mowry siblings. However, their little brother Tahj Mowry has also enjoyed a long career in Hollywood that actually preceded theirs. Long before Tia and Tamera became fixtures of our childhoods, Tahj had already landed a reccurring role on "Full House," where he played Michelle Tanner's best friend, Teddy, per IMDb. Tahj's stint on the long-running comedy helped land Tia and Tamera a guest spot on the show, as well. Because the twins were often on the "Full House" set, they also gained the unique experience of briefly babysitting the Olsen twins. "It was half a day," shared Tamera in her memoir, "You Should Sit Down For This." "It was so much fun. I forgot where the mom had to go, but I love the fact that she trusted my sister and I to take care of them," she added (via People).
Since then, the Mowry siblings' careers have all flourished in different ways. Mid-way through "Sister, Sister's" six-year run, Tahj landed a starring role on "Smart Guy," which ran from 1997-1999, per IMDb. After both shows wrapped, the Mowrys teamed up for 2000's "Seventeen Again," a TV-movie produced by Showtime, before eventually transitioning into the more mature roles of the aughts and beyond. And while it's clear that Tia and Tamera are super close in real life, can the same be said for their brother, Tahj?  
Tia and Tamera Mowry have a strong bond with brother Tahj Mowry
Tia Mowry-Hardrict and Tamera Mowry-Housley might have that whole twin thing going on, but they're super close with their brother Tahj, too. Over the years, the famous siblings have basically used their social media accounts to rub their super close bond in all of our faces (in the sweetest way, of course). From Tahj's heartfelt birthday posts to Tia and Tamera and their family get-togethers, to Tia and Tahj's chic photoshoots and an adorable "just because" selfie — and that's just tip of the iceberg — it's clear these siblings are as close as ever. However, Tia's Instagram throwback post from June, which features old and new photos and videos of the trio, really cements how deeply their sibling bond runs.
And while pictures (and videos) may be worth a thousand words, the things that Tia, Tamera, and Tahj have said about each other definitely help paint a picture of their super close bond. For instance, Tamera once admitted that Tahj (not her twin sister Tia) was her favorite sibling. "Seriously guys, I think my mom has a favorite [child]" Tamera shared during an episode of "The Real." "It's Tahj! Everyone knows it, he knows it... We're cool with it. he's my favorite too," Tamera added (via OK! Magazine). Apparently, Tia feels the same way. "Y'all, don't tell anyone, but @tahj_mowry is seriously my favorite!!!" Tia wrote via Instagram in May. "Today is my brother's birthday  and I can't help but feel incredibly lucky."
Tahj Mowry would work with Tia and Tamera again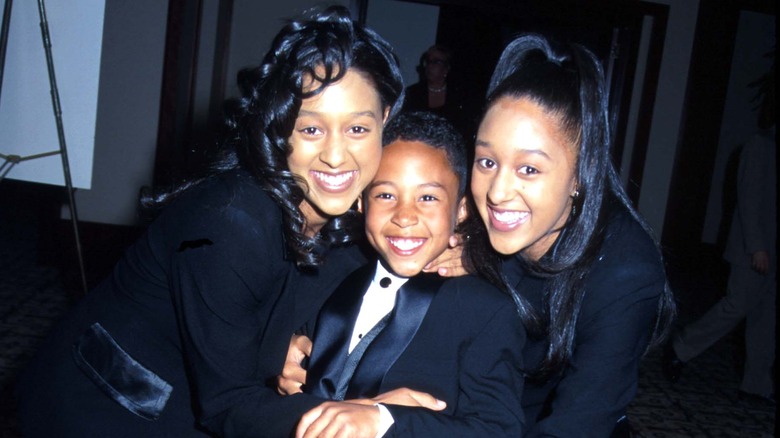 Barry King/Getty Images
The Mowry siblings' careers have seen them venture down different lanes and carve out their own paths. Aside from "Sister, Sister," Tamera Mowry-Housley is best known for her work on "The Real," prior to her 2020 departure. Tia, on the other hand, played a big part in the success of "The Game," a show chronicling all of the hardships and hilarity that comes with being a professional football player's wife and girlfriend. As for Tahj, well, he found great success on "Baby Daddy," which helped extend the fame gained from "Full House" and "Smart Guy.". 
And while it's great they've all become successful in their own right, the siblings are especially great when they work together. In addition to "Full House" and "Seventeen Again," Tahj has also guest-starred on Tia's projects, "The Game" and "Family Reunion," and "Tia Mowry's Quick Fix." He also appeared on "The Real" before Tamera left. According to an interview Tahj gave to Entertainment Tonight, he's excited about teaming up with his sisters again in the future. "Working with my sisters has always been fun," he shared. 
'It's not even work, you know what I mean? And it's sort of that built-in chemistry that we have already just from being siblings. So yes, definitely down the road, we all would love to do something together."