Lana Del Rey: The Untold Truth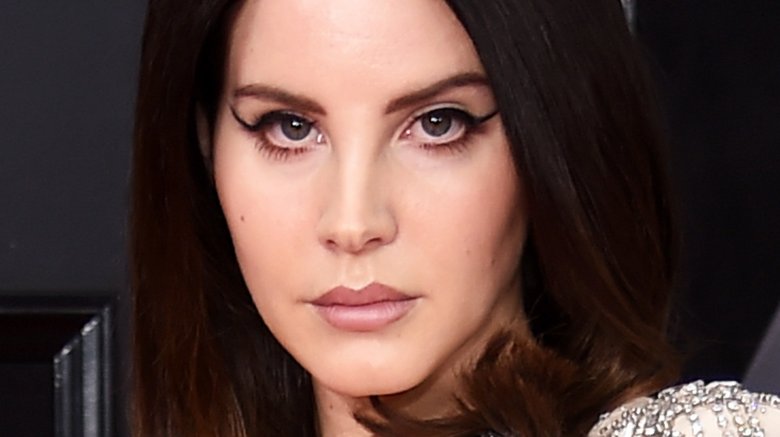 Getty Images
Before there was Lana Del Rey, there was Elizabeth Woolridge Grant — an awkward, shy, blonde and a rather plain singer with a failing career in New York. Grant released an LP to little fanfare in 2008, before being basically scrubbed from the internet entirely, save for a June 2009 performance uploaded to YouTube. What later emerged was superstar Lana Del Rey, debuting an entirely new fashion and music style. But there is a lot more to the dream pop crooner than what meets the eye. From addiction struggles to romantic troubles to witchcraft — yes, witchcraft — there is a lot that most hardcore fans don't even know about about Kim Kardashian and Kanye West's wedding singer.
So strap in and get ready for a wild ride of celebrity feuds, hidden health issues, and lots of lawsuits. Here's everything music lovers and pop culture fanatics need to know about Lana Del Rey.
Rewriting the past
Given Del Rey's less-than-successful beginnings, there are some that don't believe that the singer is more than an industry creation. "There are a lot of things that don't seem organic about it," Billboard writer Steven Horowitz admitted to The Guardian. "She's putting on a show. She's here to entertain us."
However, David Nichtern of Five Points Records, the label which gave Del Rey her first deal, insists she's legit and that she created her new persona herself, not at the hands of a record label svengali. "This story that it was anyone but her making the decision is complete fiction," Nichtern told Spin in 2012. "If she is 'made up' — well, she is the one who made herself up. She has very strong ideas about what she does. The idea someone could manage her into a particular shape — it's impossible."
So is Del Rey sincere or a sham? We'll let her fans decide.
Calling out Harvey Weinstein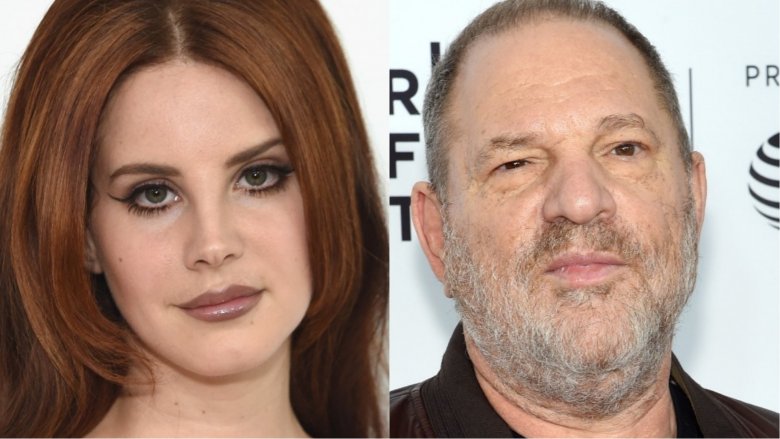 Getty Images
Del Rey had to completely retire one of her tracks from live performances after decades worth of allegations of rape, sexual assault, and sexual harassment came out against Harvey Weinstein in October 2017.
Her 2012 song "Cola" originally included the lyrics, "I got a taste for men who are older / It's always been, so it's no surprise / Harvey's in the sky with diamonds and he's making me crazy / All he wants to do is party with his pretty baby / I know your wife, and she wouldn't mind." 
A source told Page Six that Weinstein pursued Del Rey in the past but that "she rebuffed him." When Weinstein found out his name was in the track, he allegedly "went bananas and insisted Del Rey change the lyrics, which she did, removing Harvey's name, so the line now goes, 'Ah he's in the sky with diamonds and he's making me crazy.'"
Del Rey told MTV News in November 2017, "When I wrote that song, I suppose I had a Harvey Weinstein/Harry Winston-type of character in mind. I envisioned, like, a benevolent, diamond-bestowing-upon-starlets visual, like a Citizen Kane or something. ... I thought it was funny at the time, and I obviously find it really sad now."
Taking on Mother Monster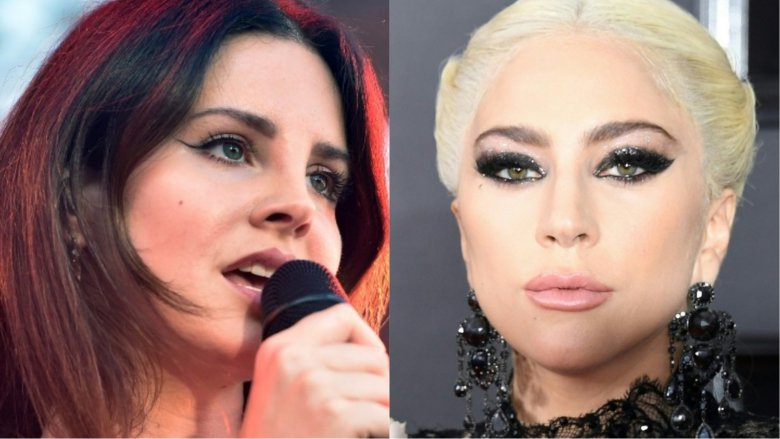 Getty Images
Big Apple native Del Rey dissed fellow New Yorker Lady Gaga in a leaked song called "So Legit" that leaked online in 2013. In the song, Del Rey sings of the artist formerly known as Stefani Germanotta, "Stefani, you suck / I know you're selling twenty million / Wish they could have seen you / When we booed you off in Williamsburg ... What happened to our scene? Have we all gone Gaga crazy?"
A year later, she told Rolling Stone of Mother Monster, "Her manager, Bob Leone, was a confidante of mine, and he ... put me on a list of Monday night lineups at the Cutting Room. We played a couple of shows together, but never met." When asked about the diss track, she called it a "misunderstanding," but declined to elaborate. Gaga never publicly responded to Del Rey.
Fortunately, Gaga and Del Rey seemed to get along gorgeously at an Academy Awards party in February 2016, so it looks like the crooning beauties put their beef behind them for good.
'SNL' struggles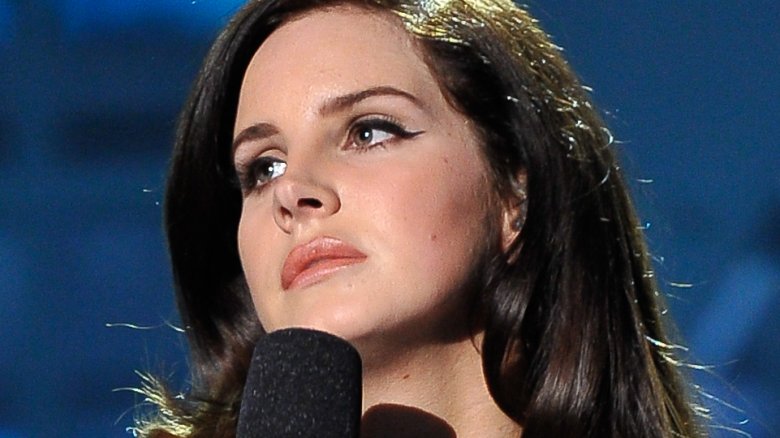 Getty Images
Del Rey became notorious overnight for her dead-eyed, awkward performance on Saturday Night Live in 2012. But, at the time, she didn't think she did too poorly. She told Rolling Stone, "[The performance] felt OK. The cast and crew said they loved it. I know some peo­ple didn't like it, but that's just the way I perform, and my fans know that ... I'm nervous. I'm not a natural performer or exhibitionist. ... There's backlash about everything I do. It's nothing new. When I walk outside, people have something to say about it. It wouldn't have mattered if I was absolutely excellent."
She later told the magazine, "[The performance] wasn't dynamic, but it was true to form," adding that her colleagues and record labels bosses were uncertain what to do afterward. "Everyone I knew suddenly wasn't so sure about me," she said. "They were like, 'Maybe I don't want to be associated with her — not a great reputation.'"
Personal passion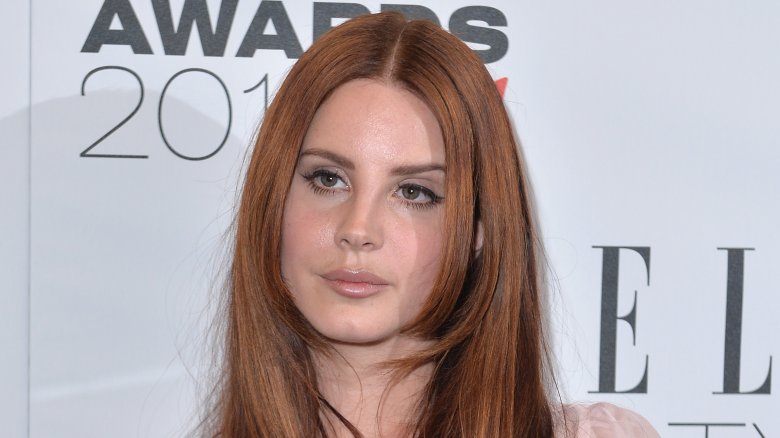 Getty Images
Well, that's awkward. Del Rey's third album, Ultraviolence, debuted at No. 1 on the Billboard 200 in 2014, but she claimed she didn't want anyone to listen to it.
"It's not pop music," Del Rey told Rolling Stone in 2014. "I mean, I just don't ... I'm very selfish. I make everything for me, kind of. I mean, every little thing, down to the guitar and the drums. It's just for me. I want to hear it, I want to drive to it, I want to swim in the ocean to it. I want to think about it, and then I want to write something new after it. You know? It's just ... I don't want them to hear it and think about it. It's none of their business!"
Given that Del Rey released her music to the public, we'd say that she gave up her right to keep her music private a long time ago.
Trailer park life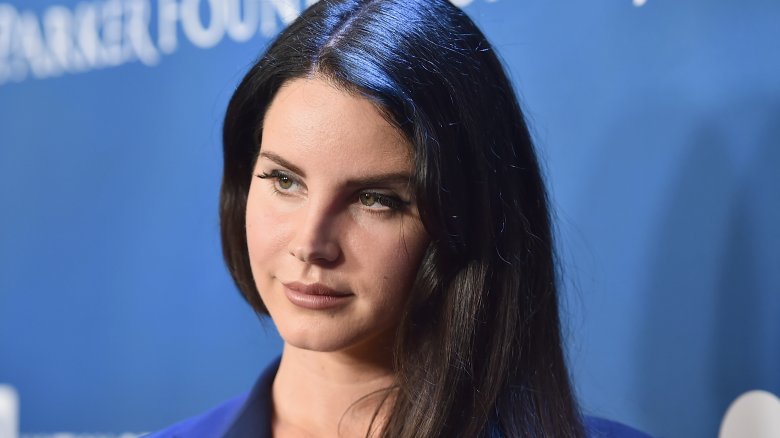 Getty Images
Talk about low maintenance! Before mansions and stints at the Chateau Marmont in Los Angeles, Del Rey resided in a mobile home.
"I did move into a trailer park when I made my first record. I got ten grand from Five Points Records and moved into Manhattan Mobile Home in New Jersey," she told Electronic Beats in summer 2013. "And I was happy, because I was doing it for myself. There was a white trash element in the way there was a time that I didn't want to be a part of mainstream society because I thought it was gross. I was trying to carve my own piece of the pie in a creative way that I kind of knew how. And I thought it was cool to be living by myself and working with a famous producer. I was excited about the future at the time."
Subject of one's affections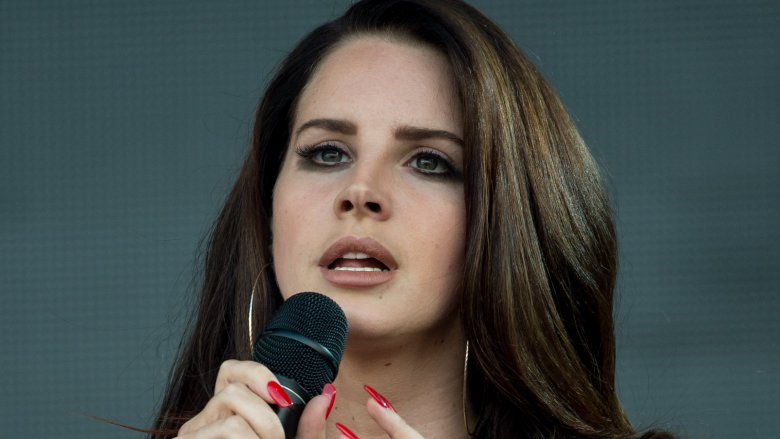 Getty Images
In February 2018, a 43-year-old man named Michael Shawn Hunt was arrested on charges of attempted kidnapping with a weapon and aggravated stalking with a criminal threat, The Orlando Sentinel reported. Police received a tip that Hunt shared "cryptic and threatening" social media posts about the chanteuse leading up to Del Rey's concert in Orlando, Fla., including missives about marrying her and continuing her tour with her. In one social media post, Hunt reportedly claimed that Del Rey "knows my face in her dreams" and "she's my always and forever to be." Another post allegedly read, "I want to see my queen on Friday and from that day forward our decisions will be as one." Pretty darn creepy.
Thankfully, Del Rey was unharmed. Police apprehended Hunt, who was armed with a three-inch folding knife, before he could ever set foot at the Amway Center where she was slated to perform.
Lusting for love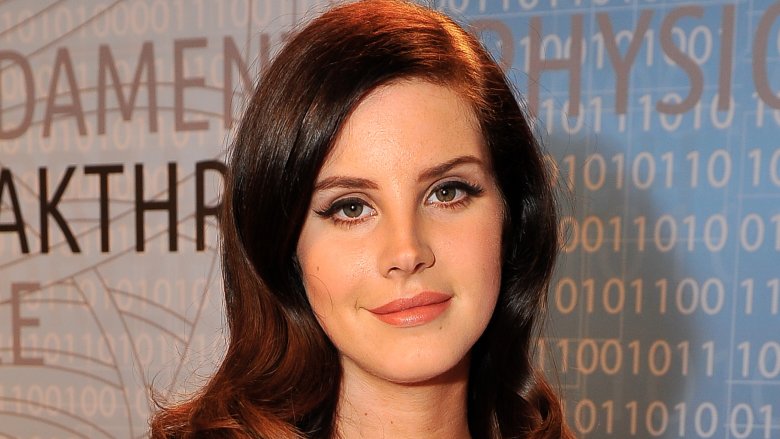 Getty Images
Lana Del Rey revealed to Rolling Stone in 2014 that she hooked up with a higher-up at a record label, but she insisted it had nothing to do with furthering her music career.
"He wasn't married. It was a love affair. But, I mean, I saw him off and on for seven years, and I'm still close with him," she said. "He's someone who really influenced the way that I saw things, just in terms of not being able to have what I wanted. And just being close to a life that I really envisioned and loved."
Claiming that their tryst wasn't about her career, she noted that it was, instead, all about "being close to what I loved, but not really having it." She explained, "Which I felt was just symbolic for the way things had been for so many years, standing right next to something that was so beautiful, but never quite having it."
Did she rip off Radiohead?
In January 2018, Del Rey revealed that she was embroiled in a lawsuit with Radiohead over similarities between her song "Get Free" and their breakout hit "Creep."
"It's true about the lawsuit," she tweeted. "Although I know my song wasn't inspired by 'Creep,' Radiohead feel it was and want 100 percent of the publishing — I offered up to 40 over the last few months but they will only accept 100. Their lawyers have been relentless, so we will deal with it in court."
Unfortunately for Del Rey, experts believe Radiohead has a legitimate case against Del Rey.
"I would say this case does cross the line," Bill Hochberg, an attorney at Greenberg Glusker, told Variety. "This Lana Del Rey song is way too close to what is a rather unusual set of chord changes and a very distinctive melody line." Attorney James Sammataro concurred, "I don't think you would offer 40 percent of your publishing if you believed the claim was frivolous."
As of February 2018, the case is still pending.
Hexing Donald Trump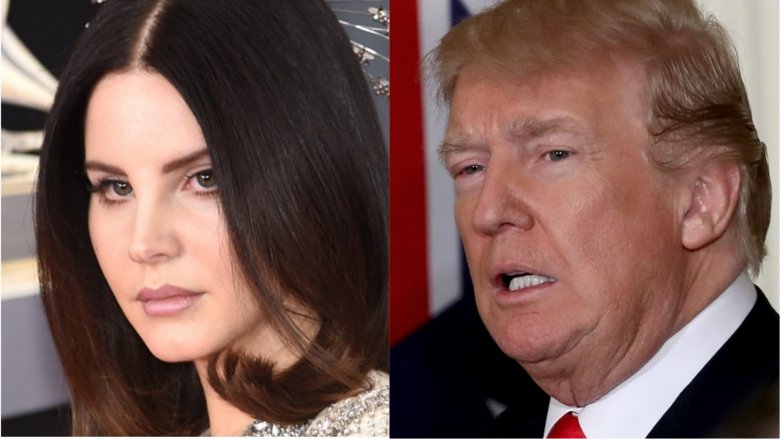 Getty Images
In February 2017, Del Rey tweeted (via Page Six), "At the stroke of midnight Feb 24, March 26, April 24, May 23 ... Ingredients can b[e] found online." Her tweet referenced a now-defunct Facebook group, "Mass Spell to Bind Donald Trump," which instructed that the spell be performed at midnight on the dates Del Rey tweeted and included ingredients necessary to complete the spell in order to, presumably, prevent him from taking office. (As of this writing, the mass spell's efforts didn't work, as Trump is still President of the United States.)
"Yeah, I did it. Why not? Look, I do a lot of s**t," she told NME later. "I'm in line with Yoko [Ono] and John [Lennon] and the belief that there's a power to the vibration of a thought. Your thoughts are very powerful things and they become words, and words become actions, and actions lead to physical changes."
Slighted by Shady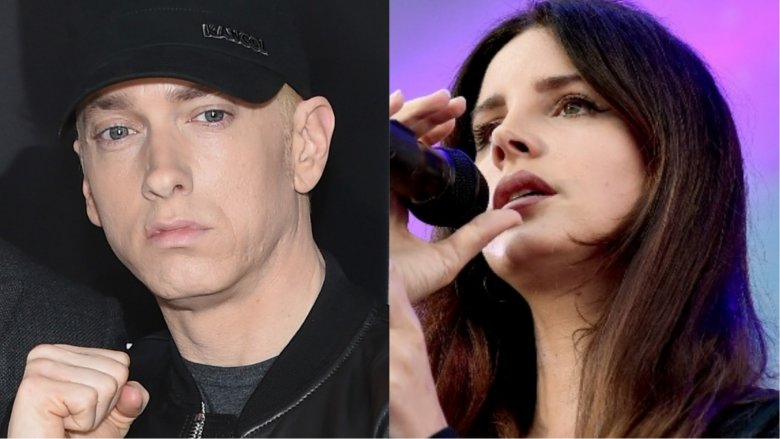 Getty Images
Perhaps Del Rey knew she'd made it when, in November 2014, she joined the ranks of Christina Aguilera, Fred Durst, Chris Kirkpatrick, Carson Daly, and more and became the subject of a vulgar Eminem lyric. This time, Eminem (real name Marshall Mathers) apparently threatened to domestically abuse Del Rey in the style of Baltimore Ravens running back Ray Rice and his former fiancee Janay. For those unfamiliar, Rice was captured on video hitting Janay, who appeared to lose consciousness, in an Atlantic City casino (via SB Nation).
In a freestyle titled "SHADY CXVPHER," Eminem spits, "But I may fight for gay rights especially if they d**es / It's more of a knockout than Janay Rice /  Play nice, b***h, I punch Lana Del Rey right / In the face twice like Ray Rice in broad daylight / And in plain sight of the elevator surveillance / Til her head is banged on the railing / Then celebrate with the Ravens." Classy.
Franco gets flirty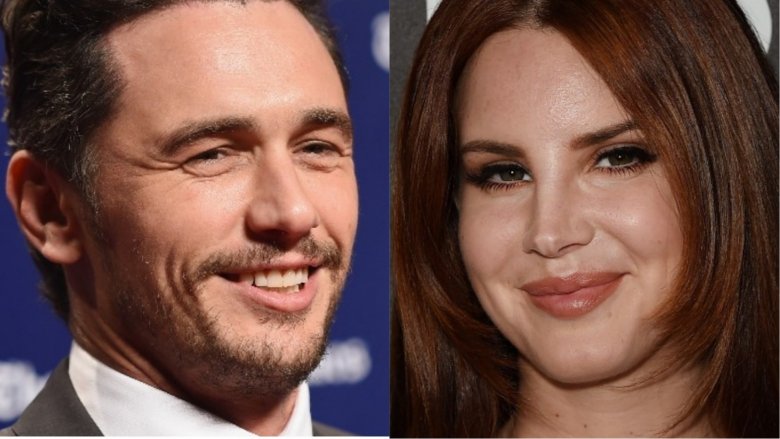 Getty Images
James Franco was so publicly intrigued by Del Rey that there were rumors they were a couple, and he even proposed writing an entire book about her. However, he denied the whispers in a December 2014 interview with Howard Stern (via E! News), insisting they were just friends and swearing "on [his] life" that they never hooked up.
"There's a weird thing with creative types. Sometimes I love a person's work and, like, I'm just so enamored with that and their persona in their work," he insisted. "But outside of that, it's like, our dynamic is we're just kind of friends, we get along so well. But all this sexual attraction is for the person and the work ... We go to Coney Island and hang out. I would have sex with her music."
Despite there not being a romantic relationship between them, Franco's ferocious passion for Del Rey got him into hot water in October 2016, when TMZ reported that a photographer sued the actor for allegedly head-butting him during a Lana Del Rey concert two years earlier.
Battling her demons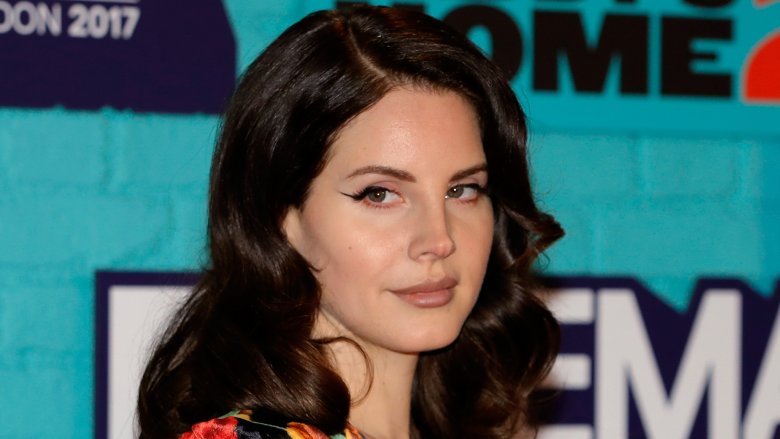 Getty Images
In September 2012, Del Rey opened up to British GQ (via NME) about her struggle with alcoholism as a teen, which drove her parents to send her to a Connecticut boarding school when she was just 14 years old.
"I was a big drinker at the time. I would drink every day. I would drink alone. I thought the whole concept was so f**king cool," she said. "My parents were worried, I was worried. I knew it was a problem when I liked it more than I liked doing anything else. I was like, 'I'm f**ked. I am totally f**ked.' Like, at first it's fine and you think you have a dark side — it's exciting — and then you realize the dark side wins every time if you decide to indulge in it ... It was the worst thing that ever happened to me."
Her experience helped her to help other addicts with their recovery. She told Electronics Beat in 2013, "I've been sober for ten years, so it was drug and alcohol rehabilitation. It was more traditional twelve-step call stuff. Just people who can't get it together, me and groups of other people who have been based in New York for a long time working with people who need help and reached out."
A secret engagement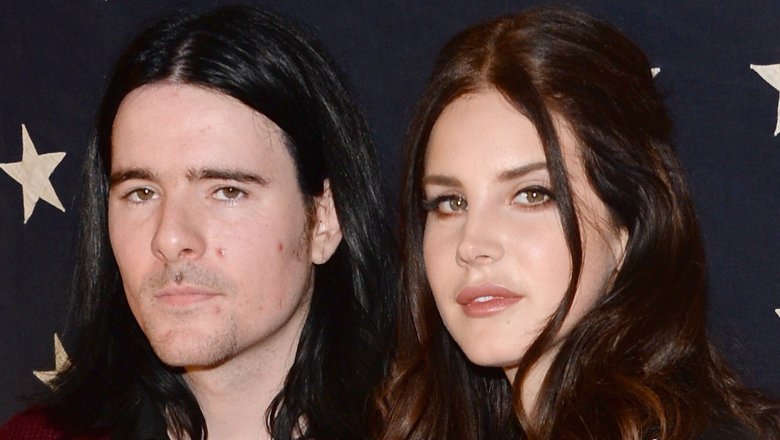 Getty Images
Lana Del Rey rarely confirms anything about her personal life, but she was quite open about and smitten with former flame Barrie-James O'Neill, whom she dated from 2011 to 2014 — and they were so serious that they were rumored to have become secretly engaged in summer 2013, which sources confirmed to Us Weekly in January 2014.
However, it wouldn't last. She told press in June 2014, "We are currently not together ... He is a wonderful person. But there are some things he has to deal with. I will not explain it in detail. This was hard on our relationship. I no longer felt free. We'll see how it goes."
She specifically told The Guardian of O'Neill, "We have a very difficult road. He's a very dark character. He has months on end where it's a really dark stretch of writing and waiting, he has his total own world, so..."
A mysterious illness
Del Rey revealed to The Fader in June 2014 that she'd been battling a medical condition that had yet to be diagnosed for her at the time, and it severely affected her ability and desire to perform live for a long time. It manifested itself in a tearful performance in Ireland in May 2013.
"I'd been sick on tour for about two years with this medical anomaly that doctors couldn't figure out," she explained. "That's a big part of my life: I just feel really sick a lot of the time and can't figure out why ... I'd gotten these shots in Russia, where we'd just been. It was just heavy. It's just heavy performing for people who really care about you, and you don't really care that much about yourself sometimes. I thought it was sad. I thought my position was sad. I thought it was sad to be in Ireland singing for people who really cared when I wasn't sure if I did."
Frances Bean Cobain isn't a fan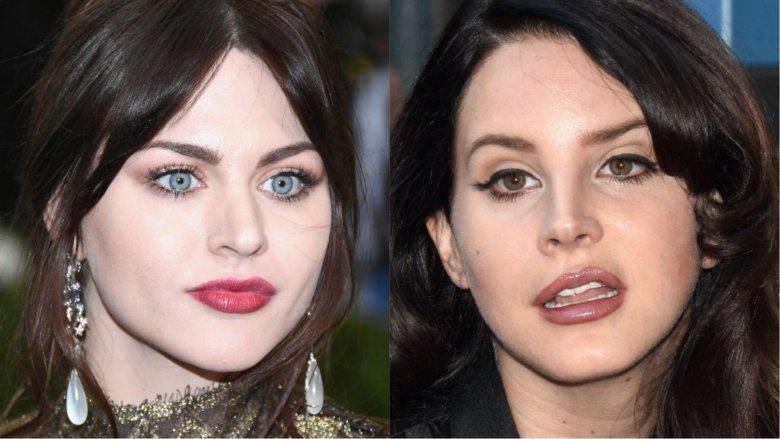 Getty Images
In a June 2014 interview with The Guardian, a melodramatic Lana Del Rey discussed her heroes being the late Kurt Cobain and Amy Winehouse and giggled, "I wish I was dead already ... I don't want to have to keep doing this, but I am."
This didn't sit well with Cobain's daughter, Frances Bean, who tweeted to Del Rey, "The death of young musicians isn't something to romanticize. I'll never know my father because he died young and it becomes a desirable feat because people like you think it's 'cool.'" She added, "Well, it's f**king not. Embrace life, because u only get one life. The ppl u mentioned wasted that life. Don't be 1 of those ppl."
In a series of deleted tweets (via Page Six), Del Rey blamed The Guardian for allegedly taking her quotes out of context ... but her interviewer posted the audio from the segment online, and, well, he pretty much wrote exactly what she said as she said it.