Inside Jack Wagner's Relationship With His Ex-Wife Kristina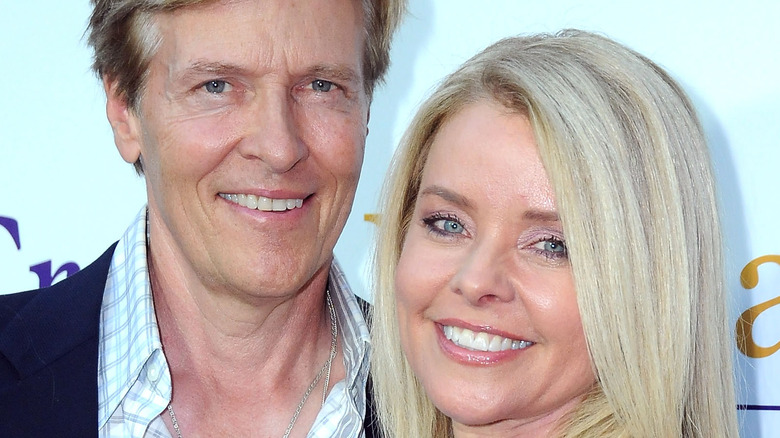 Barry King/Getty Images
Jack Wagner has been a staple on television since the 1980s, thanks to his role in the longest-running soap opera in American TV history, "General Hospital." Jack joined "General Hospital" in 1983, as musician Frisco Jones. A year after Jack joined the popular show, Kristina Wagner was added to the fold, as Frisco's love interest, Felicia Cummings.
Jack had several stints on the popular soap series — with his final run ending in 2013. In an interview with Access Hollywood, Jack revealed that before he returned to the series for his final curtain call, he consulted with his ex-wife, Kristina Wagner, about his big TV comeback. "I said, 'Listen, they called and wanted me to come back for the 50th anniversary. How are you with that?'" Jack recalled. "She's like, 'Good.' I'm like, 'OK.' Keep it simple in life, right?" Jack went on to reveal that he has a great relationship with Kristina and that the two have even practiced lines together.
And while fans are of course familiar with Jack and Kristina's on-screen romance, the former couple's marriage in real life was just as eventful.
Jack and Kristina Wagner's marriage failed, but their friendship remains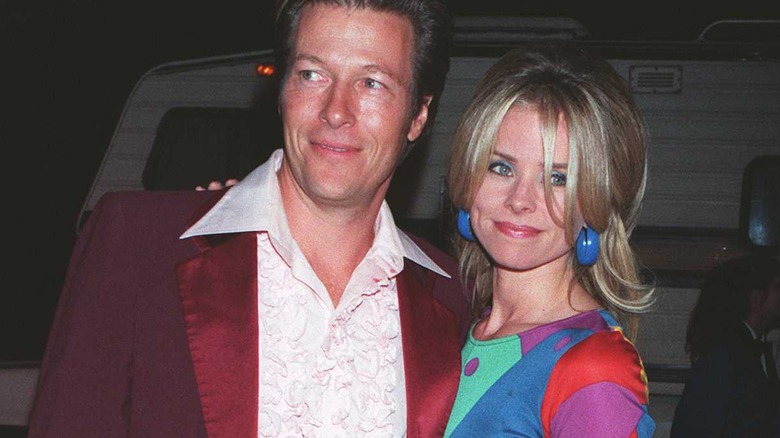 Denny Keeler/Getty Images
Jack Wagner and Kristina Wagner's romance may have begun on "General Hospital," but their love for one another extends far beyond their television roles. According to Us Weekly, the pair announced their off-screen relationship to the world in 1990, the same year they welcomed their first child, Peter. The soap stars officially tied the knot in 1993, just a year before the birth of their youngest son, Harrison. After briefly separating in 2001, the couple called it quits for good in 2006.
Despite their inability to maintain their romantic relationship, Jack and Kristina appear to have a strong friendship. Jack's ex-wife even made a guest appearance on his Hallmark series, "When Calls The Heart" — an experience he jokingly called "frightening." "It was very frightening to work together again," Jack told City News in 2015. "We know each other from that one format, which is General Hospital, and we knew exactly what to do there. These are new characters. But we really worked through it and we have a great chemistry."
Jack and Kristina Wagner recently lost their son
"General Hospital" stars, Jack Wagner and Kristina Wagner, recently suffered an unimaginable family tragedy. On June 6, the couple's son, Harrison Wagner, was found dead at the age of 27. According to Entertainment Weekly, the youngest son of the former soap stars struggled with drug addiction for some time — which was documented on Jack's social media pages. In the wake of their son's death, Jack and Kristina partnered with New Life House Recovery Community to create the Harrison Wagner Scholarship Fund.
"We are heartbroken that he ultimately lost his battle with addiction," the dedication read. "And we hope that Harrison's memory will live on through this scholarship and will help other young men get help for their addiction that would not otherwise be able to afford it."
In addition, it appears as if Jack and Kristina's "General Hospital" co-stars have been showing the pair an abundance of support during this difficult time. When speaking to Entertainment Tonight, Kelly Monaco emphasized the closeness of the "GH" cast. "I had a similar experience in November with my best friend and the 'GH' cast was amazing," Monaco said. "It's a family, and the same grace has been extended to Kristina and Jack."