The Strange Way Donald Trump Got His Cameo In Home Alone 2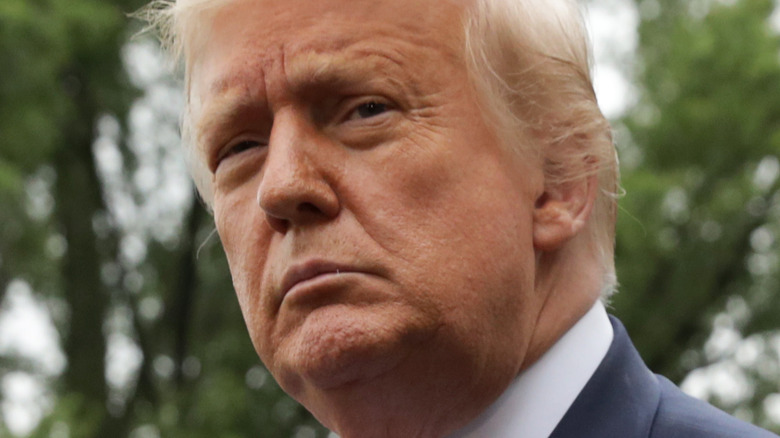 Alex Wong/Getty Images
Before he was president of the United States, Donald Trump was nothing short of a media sensation. Apart from being a successful New York City real estate magnate — success which was largely inherited from his father — Trump was known to bask in the limelight, and arguably took any chance he could at increased recognition. 
Perhaps one of the most famous examples of this was a brief cameo he made in the 1992 film "Home Alone 2: Lost in New York," in which, as the title suggests, a 10-year-old Kevin McAllister, portrayed by Macaulay Culkin, gets lost in New York City, and finds his way to the Plaza Hotel. Once inside, Kevin asks Trump, who happens to be in the front hallway, where the lobby is, and Trump kindly points him in the right direction. Though seemingly insignificant, Trump's 7-second cameo went viral in 2015 and 2016 during his initial run for the presidency. 
However, many might wonder, how did Donald Trump, hardly known for his acting chops, actually obtain the role in the first place? Well, as it turns out, the answer is very characteristically Trumpian. 
Donald Trump bullied his way into Home Alone 2
As actor Matt Damon told The Hollywood Reporter in 2017, flattering Donald Trump's ego by granting him a brief cameo in the film was a common way to get permission to shoot scenes at his properties. 
"The deal was that if you wanted to shoot in one of his buildings, you had to write him in a part," Damon recalled, adding that director Martin Brest had to do the same thing for his 1992 film, "Scent of a Woman." "The whole crew was in on it. You have to waste an hour of your day with a bulls*** shot: Donald Trump walks in and Al Pacino's like, 'Hello, Mr. Trump!' — you had to call him by name — and then he exits." However, most of the time his scene would simply be cut out. 
The situation was similar for "Home Alone 2." As director Chris Columbus told Insider in 2020, Trump, who owned the Plaza Hotel at the time, essentially "bullied" his way into the scene. "We paid the fee, but he also said, 'The only way you can use the Plaza is if I'm in the movie,'" Columbus recalled. "So we agreed to put him in ... but he did bully his way into the movie." 
Donald Trump's scene initially received a positive reaction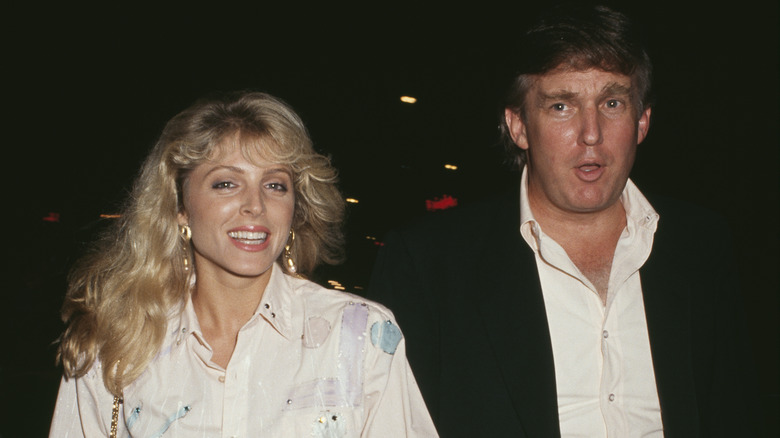 Michael Ochs Archives/Getty Images
As Matt Damon implied, the normal course of action with Donald Trump would be to humor him by filming the scene, and then cutting it from the final cut. However, the reason that was different with "Home Alone 2" is for one surprising reason: the test audience's reaction to Trump — who at the time was going through a messy and scandalous divorce with his first wife, Ivana Trump — was incredibly positive. 
"When we screened it for the first time the oddest thing happened," director Chris Columbus recalled to Insider in 2020. "People cheered when Trump showed up on-screen. So I said to my editor, 'Leave him in the movie. It's a moment for the audience.'"
Naturally, however, as Trump set foot into the political arena and began his long string of controversial public statements, public reaction to the scene became less positive, even prompting a petition for the then-president to be retroactively removed from the movie entirely. In fact, "Home Alone" star Macaulay Culkin seemed to endorse the idea of actually replacing Trump. In January 2021, he congratulated one fan for replacing Trump in the scene with an empty and silent blob. Simultaneously, he also responded "Sold" to the idea of digitally replacing Trump — who was then 45 — with a now 42-year-old Culkin himself. Of course, with the digital technology at our disposal today, anything is possible.