Here's Where The Cast Of Sister Wives Really Lives Now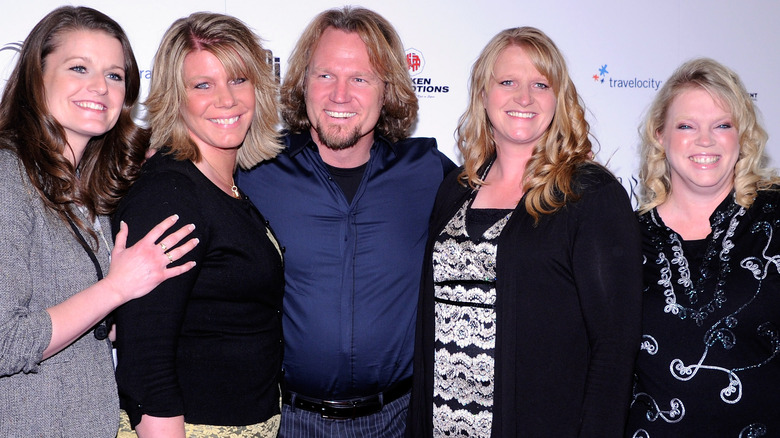 Ethan Miller/Getty Images
Since the premiere of "Sister Wives" in 2010, it's safe to say that we've borne witness to many of the changes that have occurred within the Brown family. Kody Brown and his wives, Robyn, Meri, Janelle, and Christine, operate in an unconventional setup, so there were more dramatic moments than we could count. A part of the drama is where the family lived.
In the first season of the show, the polygamous family had a home base set up in Utah, but they uprooted their life and moved to Las Vegas after they had a run-in with the law. At the time, they were under the threat of prosecution for violating Utah's bigamy statute, although most of Kody's wives are only "spiritually" married to him, per InTouch Weekly. However, it didn't seem like Las Vegas was for the long haul as the family moved to Arizona not too long after. "As much as we've loved making our home and memories here in Las Vegas, we are excited to embark on a new adventure in Flagstaff, Arizona!" the Brown family shared in a statement to People. "We are looking forward to cooler temperatures, the mountain air, scenic views, and the slower lifestyle of Flagstaff."
Kody had long wished for his entire family to live under one roof, and he hoped to achieve that in Arizona. However, that appears to be a dream deferred. 
The Browns live in separate properties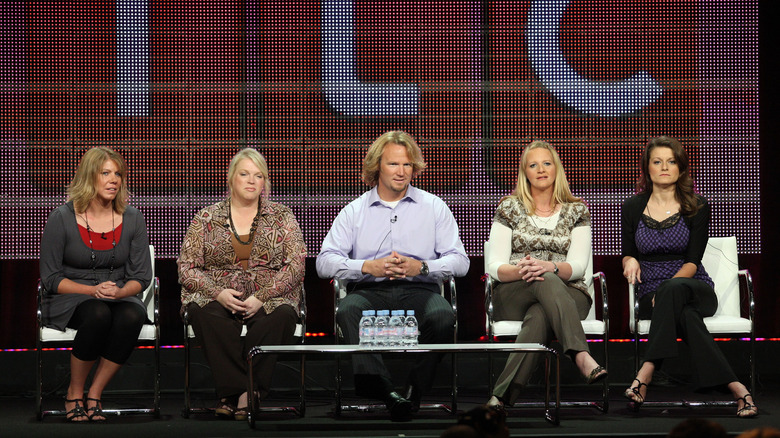 Frederick M. Brown/Getty Images
As of this report, the Brown wives still have separate living spaces. Refusing to live in the same house all while sharing one husband may seem ironic, but Kody Brown's wives have legitimate reasons. For Christine, who left Kody for good in 2021, it was all about maintaining her privacy while she was married. "For a lot of people, living under one roof makes the most sense because it's one big family," the "Sister Wives" star said on the show (via Cheat Sheet). "But I can't tell you how good it feels to be in charge of my own domain." Meanwhile, Meri's refusal has to do with the fact that her relationship with Kody is complicated. According to InTouch Weekly, Meri confessed behind the scenes of the show that the distance between her and Kody is "easier for me to avoid" by being in her own space. 
Janelle, for her part, decided to move onto an RV to the family's shared land in Arizona — dubbed "Coyote Pass" by the family. It was Kody who didn't want to live with her. "She wanted this RV, so now there's an inclination for me to go, 'Oh there's hot water at Robyn's house. Why am I going to sit here with you and suffer with your choices?'" he stated in a sneak peek of the TLC series shared with Entertainment Tonight.
Inside the Browns' Coyote Pass plans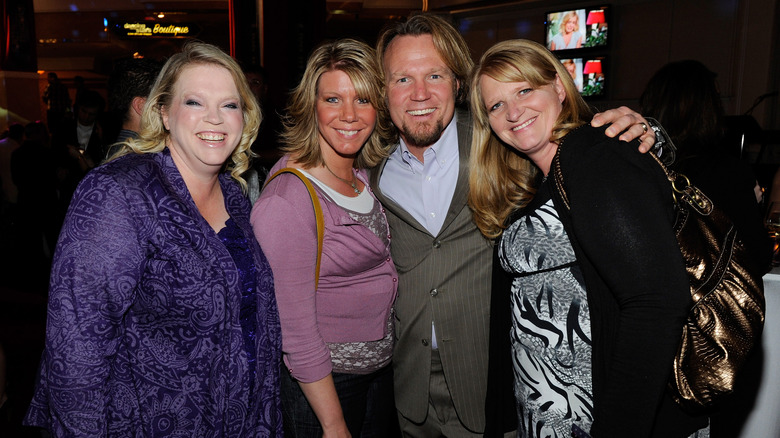 Ethan Miller/Getty Images
Despite his wives vetoing his proposal for all the Browns to live under one roof, Kody Brown has held on to hope that they would eventually agree. In 2020, when he first proposed the idea to Janelle, Christine, Robyn, and Meri, he tweeted that he "felt totally lonely in that presentation." In another tweet, he said that he only wanted it to happen for the sake of his kids. "I'm so emotionally attached to this one home idea," he penned. "It would be wonderful for my children."
The family had managed to buy into Coyote Pass, but eventually, Kody relented and agreed to buy separate lots for each family. But building separate houses is easier said than done. The family initially bought four lots of land. "Now, we're trying to take our four lots [and] reconfigure them into five lots," he said in a "Sister Wives" confessional. "In doing that, we basically have to go through a process of paying off the property, surveying, [and] changing lot lines." Then, the family would be able to build homes on the property.
It will likely still take a while for the Browns to figure out their living situation, but Christine is spared from all the headache. After leaving the plural family for good, People reported that she sold her share of the land to Kody for $10 as a "gift" and moved back to her home state of Utah.