The Sad Story Of Macaulay Culkin's Failed Marriage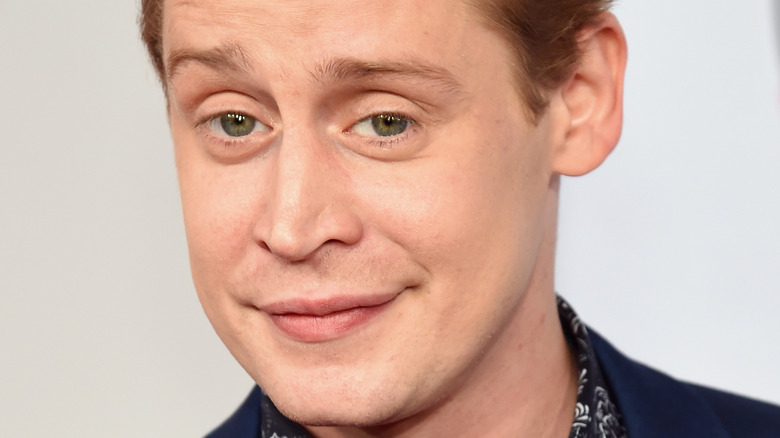 Kevin Mazur/Getty Images
No matter what actor Macaulay Culkin does these days, he will always be known for his iconic child star roles. Frankly, Christmas would be unbearable without watching him slapping his hands to cheeks and screaming in "Home Alone." Or that intense interrogation at the kitchen table of John Candy in "Uncle Buck." And honestly, none of us have recovered from the "he can't see without his glasses" scene in "My Girl" (and we never will). Culkin may be forever associated in the public eye with his immense stardom in the early '90s, but privately, he has definitely grown up and moved on.
In 2015, all grown up and willing to laugh at his child-star days, Culkin starred in the pilot episode of "DRVRS." He parodied "Home Alone" by describing the long-lasting traumatic effects of having to fend off his home from Joe Pesci (or as he calls him "Yosemite Sam") — and how his mother didn't care because she was a "groupie to a polka band." Then in 2021, he announced the happy news that he and partner Brenda Song, who starred in "The Social Network," were expecting their first child, per Esquire. In 2022, they announced their engagement after their son Dakota was born, per People. But some might forget that this isn't the first time the man with Kevin McCallister's face has walked down the aisle. 
Macaulay Culkin got married when he was still a teenager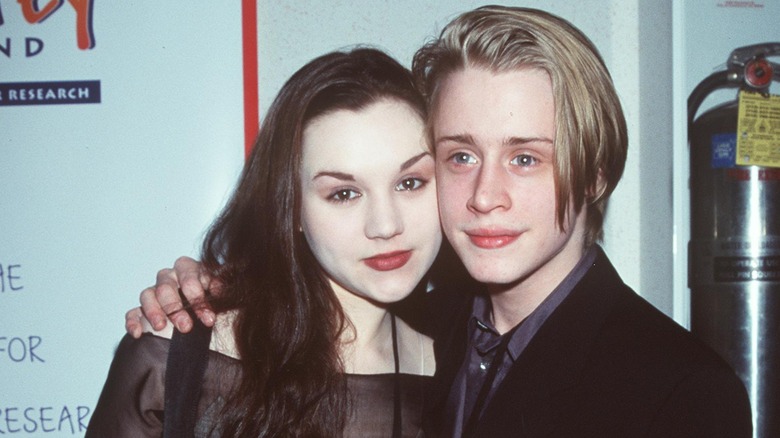 Robin Platzer/twin Images/Getty Images
In 2004, Macaulay Culkin described to Spin magazine all the tropes he contended with as a child star. "Either you're going to lose all your money, you're going to be addicted to drugs ... or you're going to get married young. Okay, guilty on that count," he admitted. The young marriage in question was to fellow actor Rachel Miner, who had a recurring role on the soap opera "Guiding Light," and, more recently, in "Californication." According to ABC News, they met while attending New York's Professional Children's School. On top of being young Hollywood stars, the pair were also young Hollywood lovers, as they tied the knot in 1998 at just 17 — which is just young enough to turn heads. 
What is even more likely to turn heads is that Culkin became a divorcee before he was even legally allowed to drink. In 2000, at the age of 19, he and Miner divorced. At the time, Culkin's rep told ABC News, "It is very amicable, and they remain best of friends." However, years later, Culkin described a lack of emotional maturity on his part for why the marriage didn't work out. "I had to learn to talk and how to communicate," he told "20/20's" Barbara Walters, "and I should've done it more" (via ABC News). Perhaps the breakup was inevitable, as Culkin freely admitted to New York magazine that Miner had dumped him three times before they got engaged.
His eight-year romance with Mila Kunis also came crashing down mysteriously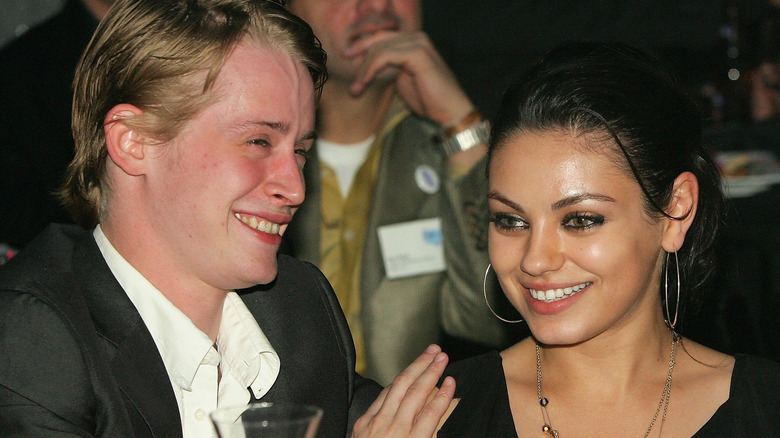 Ethan Miller/Getty Images
Not long after his divorce from Rachel Miner, Macaulay Culkin started dating "That '70s Show" star Mila Kunis in 2002, per W magazine. During their eight-year romance, the "Black Swan" star noticed how "Mack's" level of fame was different from other celebrities. "You couldn't walk down the street," she told Howard Stern about Culkin's fan responses. "He always had this weird attraction, like fans just screamed when they saw him! They didn't know how to react. It wasn't like a normal response to a celebrity."
In 2010, after almost a decade together, the pair called it quits. Kunis's rep told Page Six that the split was "amicable" — but in 2018, she blamed herself for sending their relationship up in flames. "It's f***** up what I did," she said on the "Armchair Expert" podcast. "It's f***** up what I did, and it's f***** up how I did it. When I got to be single, I said, 'I just need to figure myself out.' I genuinely need to know why I did what I did and, like, regroup myself as a human being." (Kunis never went into detail about exactly what she did, but she makes it sound like she tried to rob Culkin's house during Christmas while he was home alone or something.) With Kunis now married to Ashton Kutcher, and Culkin engaged to Brenda Song, we think she can forgive herself now.