Nicki Swift Asks: Which Chrisley Kid Is Your Favorite? - Exclusive Survey
Paul Archuleta/Getty Images
The reality television show "Chrisley Knows Best" first burst onto the scene in 2014 and quickly garnered an almost cult-like following with the cast of characters' larger-than-life home and personalities. 
In 2017, patriarch of the famous fam, Todd Chrisley, told TV Insider that he credited the show for keeping his big family united. "It has forced us to stay together to deal with whatever issues our kids are having," he explained. "I say the show in retrospect has been the best babysitter I've ever had because I've got six million eyeballs a week telling me what my kids are doing," he added. "There are some situations that you are going to see that we had to struggle to get through and make it to the other side," Chrisley confessed. "I say the hardest job I've ever had is raising young adults."
But which one of Todd and Julie Chrisley's five children is the people's favorite? Fortunately, Nicki Swift is here to break it all down for you!
Savannah Chrisley is the fan favorite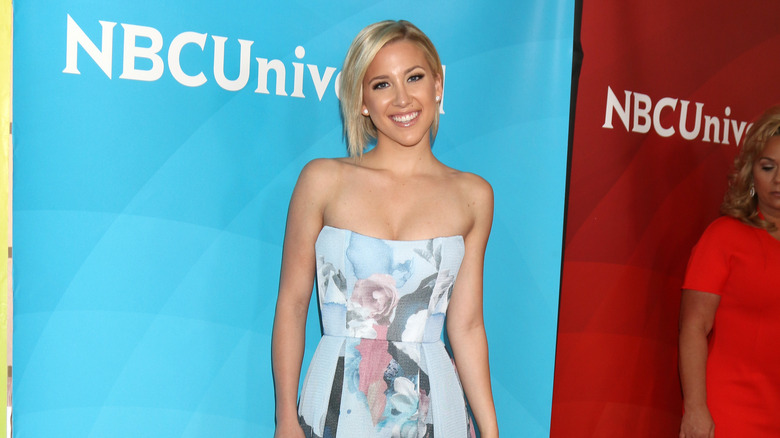 Kathy Hutchins/Shutterstock
Daddy's little girl turned beauty brand owner Savannah Chrisley is the people's champ!
In a survey completed by nearly 5000 participants, Nicki Swift found that an overwhelming 54% voted that Savannah was their favorite among all the Chrisley kiddos. It should be noted, however, that the survey took place on November 25 — directly on the heels of the November 21 episode of Savannah's "Unlocked" podcast, wherein she revealed that she had custody of her 16-year-old brother, Grayson Chrisley, and her 10-year-old niece, Chloe Chrisley. As you may recall, Savannah's parents, Todd and Julie Chrisley, were convicted of tax evasion and fraud and sentenced to 12 years and 7 years in prison, respectively. Perhaps, the recent developments had the survey participants feeling some type of way...? Following the news that Savannah stepped in as guardian of her brother and niece, she was met with loads of support and encouragement on social media. "My prayers & love goes out to the chrisley family i have cried so hard watching Savannah on access and how she took the responsibility of her family and esp all this at this time of the year breaks my heart," one Twitter user penned.
As for the rest of the survey results, Chase Chrisley came in a not-so-close second with 18% of the votes, Grayson with 15%, Lyndsie Chrisley with 7%, and Kyle Chrisley with a meager 6%. And there ya have it, folks!