Lea Michele's Grandfather Had An Unexpected Connection To The Mob
Featureflash Photo Agency/Shutterstock
Lea Michele has a family connection to the mob, apparently. That may not have been something you expected to read today, but it turns out it's true. Before we get into the details though, let's focus on a few things you need to know about the controversial former "Glee" star. Michele, whose full name is Lea Michele Sarfati, was born in The Bronx, New York, and has made no secret of how much she loves her hometown. In fact, she loves the Big Apple so much that she considers one of "Glee"'s early episodes set in the city as her favorite. "My favorite episode to shoot was the first time we ever went to New York, so I think it was the last episode of Season 1. It was so fun, coming from New York and then getting to go back to my hometown," she shared on "Watch What Happens Live" in 2017.
But it turns out there was a lot that happened in Michele's hometown for her family that you may not believe, as her longtime bestie Jonathan Groff revealed her grandfather actually had a connection to one of the big city's most infamous criminal gangs.
Jonathan Groff claimed Lea Michele's grandfather had Gambino family connections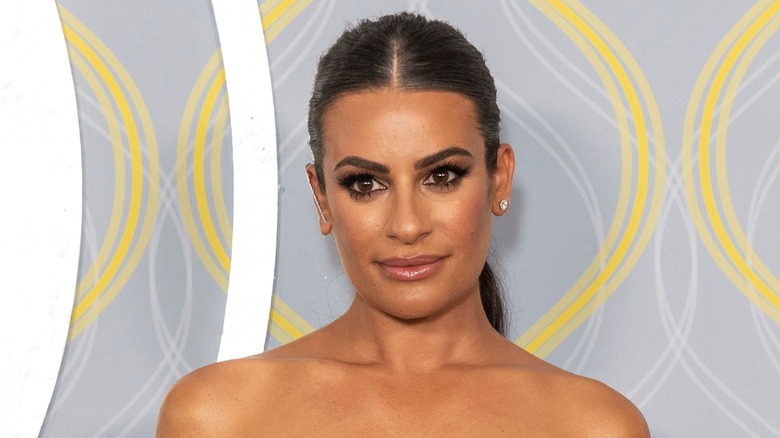 lev radin/Shutterstock
Actor Jonathan Groff spoke about his "Spring Awakening" and "Glee" co-star Lea Michele in an October essay written for Variety, where he claimed her grandfather apparently went to prison for his connection to the criminal Gambinos. Really. Throwing things back to the year 1995 when Michele was cast in a production of "Les Misérables" as a child, he shared that, at that time, "Her grandfather, Porky, was still in prison for his ties to the Gambino crime family." Erm, what? Groff stopped short of going into detail about what those ties actually entailed, but he claimed Michele still had a relationship with him and would go to the prison once a month to pay him a visit when she had a day off from performing.
Of course, the revelation made for some pretty surprised tweets, as plenty took to Twitter to share their shock over Groff's revelation. "Wait what," one person tweeted, while another jokingly responded, "i sincerely hope they never stop oversharing about one another."
For those that don't know, the Gambino crime family were one of the most notorious criminal families in New York with their domination beginning in the early 1990s. The New York Times reported their history is rife with murders, racketeering, money laundering, extortion, and so much more.
Is Lea Michele close with her grandparents?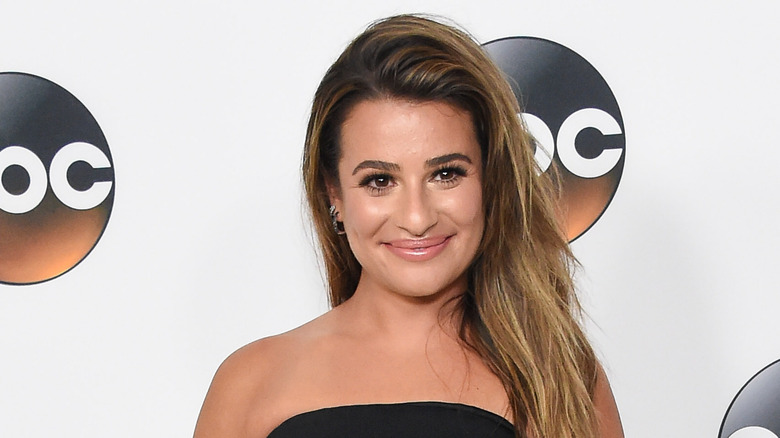 DFree/Shutterstock
Lea Michele herself doesn't appear to have spoken publicly about her apparent criminally connected grandad, though she does seem to have had a close bond with her family. While Johnathan Groff claimed she would visit her grandfather in prison as a kid, Michele shared a touching tribute to her grandmother on Facebook after she died in April 2016. The star revealed she'd gotten a small tattoo of a cup of coffee from a Bronx tattoo shop on her right-hand ring finger in her honor, though she didn't confirm which side of her family her late grandmother was on. "She wasn't your typical grandma. She gave me my first cup of coffee when I was 8 years old. She said something inappropriate to every boyfriend I've ever had. She never made pie or knit me a sweater," Michele wrote in the caption. "But she was my grandma and I loved her... More than anything.. I love you Grandma."
That came after Michele opened up about how much she'd been leaning on her family in the wake of her late boyfriend and "Glee" co-star Cory Monteith's death in 2013. "My family has experienced a lot of loss in their life and they've been so wonderful in being there for me and giving me the strength I need," she told People.