Evan Peters Went To Extreme Lengths Preparing For Viral Jeffrey Dahmer Role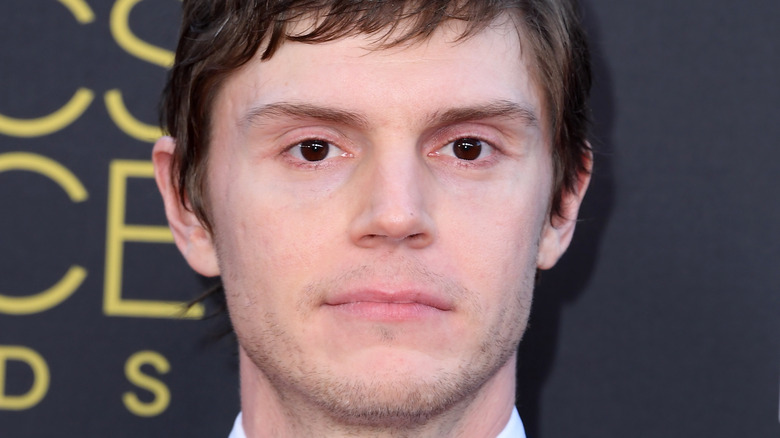 Steve Granitz/Getty Images
Amongst the critical reception for "Dahmer — Monster: The Jeffrey Dahmer Story" was a ringing consensus that Evan Peters was almost too good in the titular role. Best known for myriad characters on nine seasons of "American Horror Story," Peters has carved a place for himself among Hollywood's best chameleons. 
Transforming dramatically to portray the infamous serial killer, Peters was hailed as a scene-stealer for every second onscreen in "Dahmer." Collider described Peters' take on Dahmer as being "uncanny as it is eerie," while Movieweb opined that Peters made the Milwaukee Cannibal "come across as both unassuming and intimidating, all the while delivering his lines in a pitch-perfect Midwestern accent."
With Deadline reporting that "Dahmer" racked up almost 300 million hours viewed in its second week after release, it became second only to "Stranger Things 4" as Netflix's most-watched English-language series. Undoubtedly, Peters' rave-worthy performance contributed heavily to its positive word-of-mouth. Recently, in a conversation with castmates and show creator Ryan Murphy, Peters elaborated on how far he was willing to go to prepare for the role.
Evan Peters wore Jeffrey Dahmer's actual clothes
To portray the titular serial killer in "Dahmer — Monster: The Jeffrey Dahmer Story," Evan Peters took some extreme measures in getting it just right. In a newly released roundtable discussion with the hit Netflix series' cast, creator Ryan Murphy disclosed how Peters wore lead weights around his hands to mimic Dahmer's stiff posture. "He had a very straight back," Peters explained. "He didn't move his arms when he walked." The "American Horror Story" star also worked with dialect coaches to remain in Dahmer's voice and speech patterns, even when not shooting. "He has such a distinct voice and that dialect ... it was too hard to go in and out of it," Peters continued. For some, no doubt, the most shocking preparation Peters did for the role was actually don clothes previously worn by Dahmer. In October, The Hollywood Reporter teased snippets from the roundtable, including the revelation that Peters wore Dahmer's actual shoes, jeans, and glasses for months. 
Luckily, when the intense filming process was done, Peters was able to unwind with a stretch of downtime. "I haven't worked since we shot this. I tried to really shake it all off," he told castmates at the roundtable. In October, Seventeen reported that Peters went home to Missouri. As he recalled to cast-mates at the roundtable, he tried to "watch comedies and romances and go back to St. Louis and see my family and friends and yeah, watch 'Step Brothers.'"