The Sport Barron Trump Prefers Might Not Be What You Think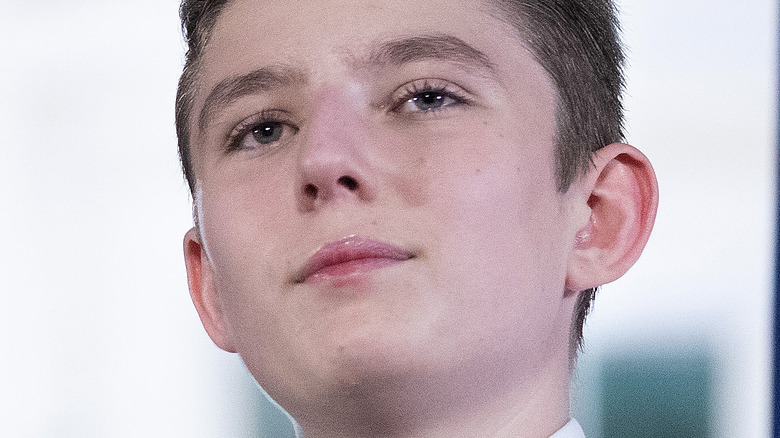 Chip Somodevilla/Getty Images
Is the NFL ready for another 4 years of Trump? The former president has a contentious history with the league, which includes feuding with Colin Kaepernick over his protest of racial inequality. While Kaepernick was Donald's scapegoat, his "take a knee" controversy led the former president to widely criticize the NFL, per The Washington Post. When the league announced in 2018 that all players must stand for the National Anthem, or risk being fined, Donald suggested this wasn't good enough. "You have to stand proudly for the national anthem, or you shouldn't be playing, you shouldn't be there. Maybe you shouldn't be in the country," he said, speaking with "Fox and Friends" (via NBC News).
The one-time leader further condemned the NFL for being "soft," per The New York Times. While on the campaign trail in 2016, he lambasted new regulations that the NFL had passed to protect players. "See, we don't go by these new and very much softer, NFL rules. Concussions — 'uh oh, got a little ding on the head? No, no, you can't play for the rest of the season' — our people are tough," he said (via The Washington Post). At a separate campaign event, Donald additionally dinged football for "becom[ing] soft like our country has become soft."
So, given his father's tough stance, no one expected Barron Trump to pick up the pigskin. However, the sport he does prefer may surprise you.
Barron Trump is a huge soccer fan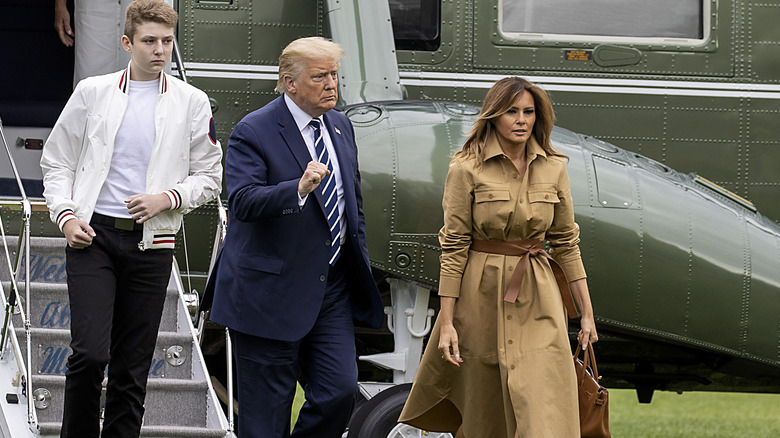 Tasos Katopodis/Getty Images
Like 3.5 billion other people on the planet, Barron Trump is a fan of the Beautiful Game. Rather than the kind of football you play with your hands, he plays football with his feet — and he's pretty good at it, too! In 2017, Bleacher Report noted that Barron was listed as a midfielder on D.C United's U12 squad. Fast forward to June, and Barron's skill with the ball has only increased. "Donald Trump's son plays football ... The new Peter Crouch?" one fan posted to Twitter, alongside a clip that showed Barron trapping and passing the ball. For reference, Crouch was a professional English soccer player who represented his country and played for top-flight teams within the English Premier League.
Naturally, The Don is aware of Barron's passion for soccer and does what he can to encourage his son. "[Barron] actually plays a lot of soccer. He's liking soccer," Donald told CBS' "Face the Nation." To inspire Barron, Donald and Melania Trump invited soccer icons like Wayne Rooney to the White House Christmas Party in 2018, per The U.K. Sun. At the time, Wayne had exited the English Premier League and was playing for Barron's favorite team, D.C. United. "Wayne is a huge name on DC United's team so obviously Donald invited [the Rooney family] because of his son and how much he loves the team," a source told the outlet.
What are Barron Trump's future soccer plans?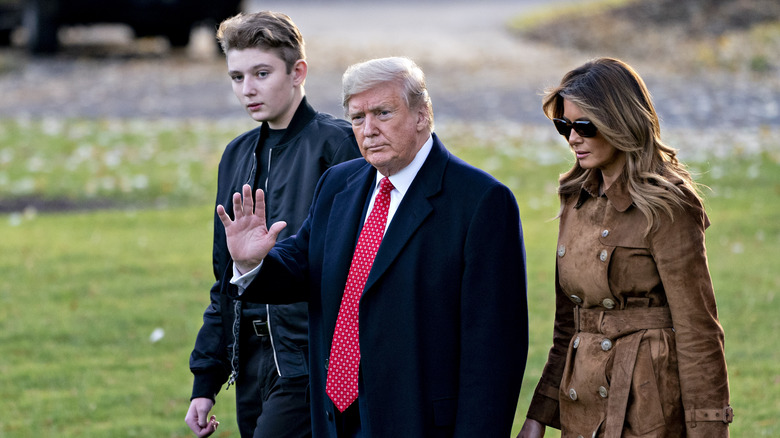 Bloomberg/Getty Images
Wayne Rooney isn't the only famous soccer player to rub shoulders with Barron Trump. According to The Washington Post, D.C. United players Patrick Mullins, Julian Buescher, and Marcelo Sarvas visited the White House during the White House Easter Egg Roll in 2017. Mullins, in particular, was impressed by Barron's awareness of the soccer landscape. "[Barron] was very knowledgeable about soccer, knew about D.C. United and was interested to know more. Little kid to have a passion for the game and to be knowledgeable and have a conversation with us, it makes me feel good about kids growing up playing the game," Mullins said. During his visit, Barron also kicked around the soccer ball with Sarvas' son.
Since 2017, Barron's love for soccer has continued to grow, even influencing his choice of school. Currently, he attends Oxbridge Academy, potentially for its renowned soccer program, per SportBible. His future with the sport is unclear, but if his dad has anything to say about it, The Don might like Barron to play professionally one day. Per SCMP, Donald spoke to FIFA president Gianni Infantino in 2018 about his son's aspirations. "When [Barron] heard [Infantino] was going to be here, he said, 'Dad, I'd like to meet him,'" Donald recalled. "Barron loves soccer. And soccer has to be one of the fastest-growing sports in the world." 
Keep your eyes peeled; we could be seeing Barron's name in the U.S. Men's National roster one day!