Inside Jay Leno's Friendship With Tim Allen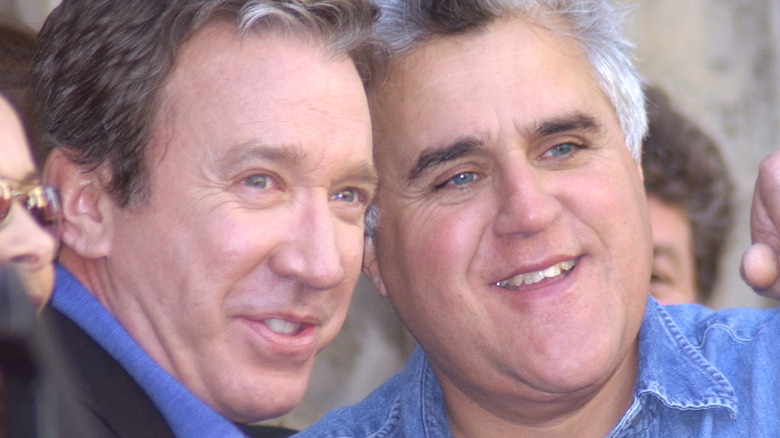 Featureflash Photo Agency/Shutterstock
Former "Tonight Show" host and car aficionado Jay Leno made headlines after news broke of his hospitalization for serious burns to his face and hands. Speaking with TMZ, he revealed some troubling details about the accident, in that while working on one of his coveted cars in his garage, gasoline accidentally sprayed on him and a spark ignited the gas, engulfing him in flames. The outlet reported that he has third degree burns to his face and hands that may require skin grafts, but his eyes and ears were spared damage. In a statement to Variety, he said, "I got some serious burns from a gasoline fire. Just need a week or two to get back on my feet."
One of Leno's friends who instantly reached out to him was "Home Improvement" legend Tim Allen. Speaking with USA Today, Allen revealed he called Leno on the phone at the hospital, saying that his dear friend is "doing well." When Leno admitted to his friend that his condition is "pretty bad," Allen says he joked back over the phone, "Do you have no central nervous system? I don't understand how're you talking on the phone." Allen then assured fans, "He's doing all right."
Leno and the "Santa Clause" star are longtime friends, and loved to gush about each other even before the accident. Their friendship might fly under the radar of gossip blogs and internet chatter, but they are the definition of later-in-life-friendship-goals. 
Tim Allen and Jay Leno bonded back during The Tonight Show days over cars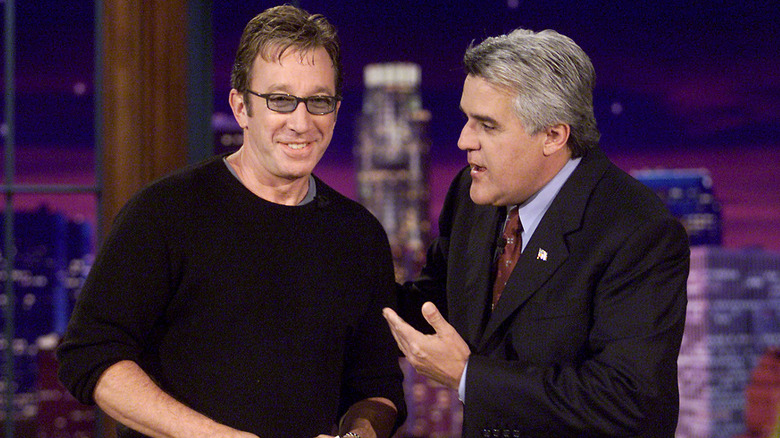 Kevin Winter/Getty Images
Jay Leno and Tim Allen have been close friends for many years, and it all began over their shared hobby. Leno is famous for having, like, a bajillion cars in his garage — okay, it's actually closer to 180, per Way.com. And Allen, who was a frequent guest on Leno's "The Tonight Show" in the 90s would often gab with Leno about models, makes, and engines. During one appearance, Leno and Allen were comparing notes about burning donuts (performing tight circles in a fast moving car), when the famous talk show host actually challenged the "Home Improvement" star to a burnout challenge right there. 30 years later, they were doing the exact same thing on "Jay Leno's Garage." 
They have a healthy rivalry, too. Allen often tweets subtle barbs at Leno, like this series of tweets in 2020, where he uses the power of photos to prove his car superiority. Despite a lot of the trash talk, the two truly have a bromance. When both appeared virtually via video-chat on "The Kelly Clarkson Show," they couldn't help but gush about each other. Allen called Leno a "a gentle, wonderful, listening actor," and Leno praised Allen's work ethic. "I mean, at one point he had the number one book, the number one movie, and the number one TV show all at the same time, which never ever happens!"
Jay Leno has many friends ... and foes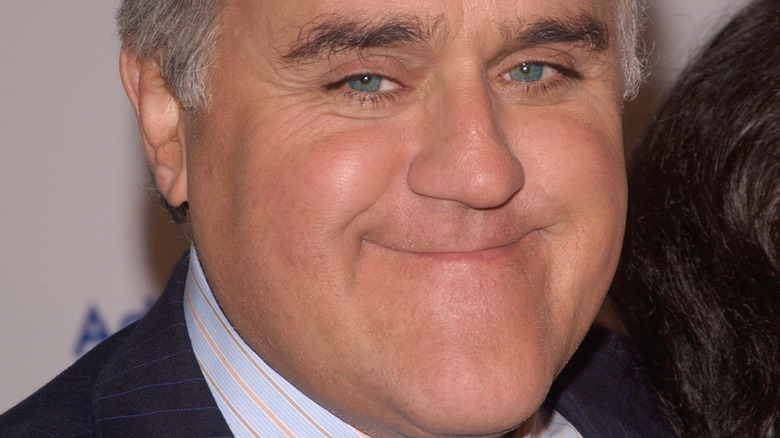 Featureflash Photo Agency/Shutterstock
Tim Allen isn't the only one to sing Jay Leno's praises. There are lots of other celebs who have had kind things to say about him, and even more who have raved about him as a Casanova. In 2016, former "The Talk" host Sharon Osbourne admitted that she once had a "flingy-wingy" as she called it with none other than Leno, which left the studio audience and her co-hosts stunned and delighted. Before they were famous, "The Nanny" star Fran Drescher and Leno were also an item, and throughout the years she was a staple guest on "The Tonight Show," including one appearance where she insisted they play a wild game of tonsil hockey for old time's sake. "Ya tell ya wife it's for the ratings!" Drescher assured him to much laughter. And kiss they did. 
On the other hand, there are also some celebs who aren't big fans of Leno. Who could forget the incomparably silver-tongued Jimmy Kimmel mocking Leno to his face on "The Tonight Show" after accusations Leno stole the show from Conan O'Brien? Of course, when Johnny Carson announced he was leaving "The Tonight Show," the late-night wars erupted between Leno and Letterman, and a feud was born. Fortunately, no matter how many rivals he has, at least Leno can always fall back on his friendship with Allen.