The Medical Condition That Caused Eric Church To Have Emergency Surgery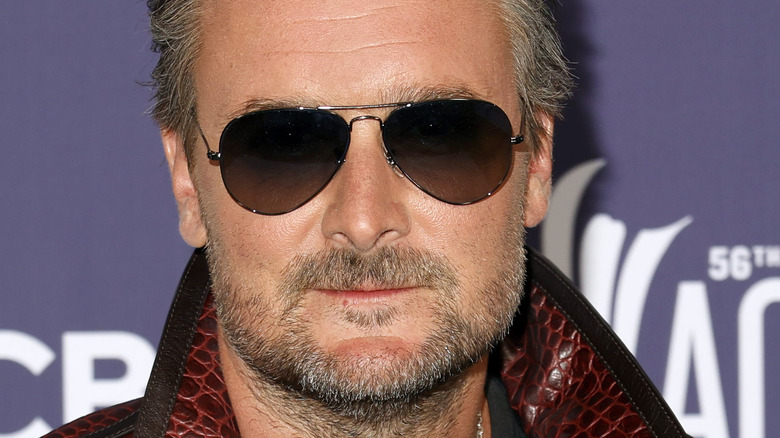 Brett Carlsen/acma2021/Getty Images
Eric Church has taken the industry by storm since bursting into the music scene with his debut album "Sinners Like Me" in 2006. The country singer from Nashville has released seven studio albums, two of which scored Grammy nominations for Best Country Album, namely 2011's "Chief" and 2018's "Desperate Man." He's also topped Billboard country charts with hits like "Drink in My Hand," "Springsteen," and "Raise 'Em Up," and sold out countless major shows all over the country. His latest album "Heart & Soul," which he put out in the spring of 2021 was both a commercial and critical success, winning Church more RIAA gold and platinum certifications and another Grammy nod for its lead single, "Stick That In Your Country Song."
But despite his apparent success, Church's life hasn't always been smooth sailing. In 2018, the country music star shocked fans when he revealed that he experienced a terrifying health scare that nearly ended his life. He said he underwent emergency surgery after doctors found an irregularity in his chest that was related to a birth defect. "I was thinking about my family and kids, and how I wanted to make it back home," he said in a cover story for Rolling Stone. Here was the medical condition that almost killed Erich Church. 
Erich Church had a deadly blood cot in his chest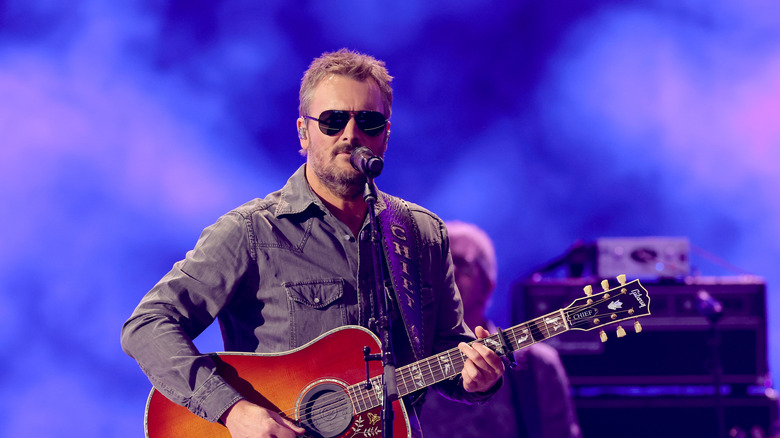 Kevin Winter/Getty Images
In 2017, Eric Church had a deadly blood clot in his chest, caused by a birth defect, as he told Rolling Stone. "It's called thoracic outlet syndrome," said Church, who didn't learn about the birth defect until he was hospitalized. "There's a major vein that runs through there, and when I would raise my arm, it would pinch it and damage the vein." Thoracic outlet syndrome occurs when blood vessels or nerves are compressed by the rib, collarbone, or neck muscles at the top of the outlet, according to John Hopkins Medicine. Having a cervical rib, or an extra rib extending from the neck can increase the chance of developing the syndrome. "The clot was where it tried to heal," explained Church. "But it kept backing up, backing up. And like any clot, when you get enough pressure, it's gonna blow."
Church was told he needed surgery immediately. "I said, 'Can it kill me?' And [the doctor] said, 'Today.'" He was admitted to Duke University Hospital in North Carolina where he had the surgery pronto. "They took me into the ICU and I thought, 'OK, I'm gonna go to bed, get up in the morning and do this thing," recalled Church, who was alone in the hospital. "But when I walk in the room, the surgical team is there and the [doctor's] in scrubs. He says, 'We're gonna go now.' That was really when it hit me. To them, I was going to die."
Erich Churc had another surgery to remove his top rib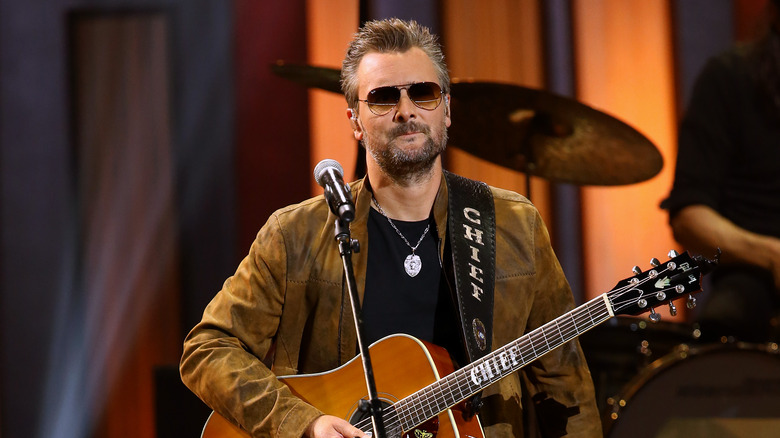 Terry Wyatt/Getty Images
Doctors said Eric Church was extremely lucky to learn about his health condition before it was too little, too late. "Normally, if you're athletic, you'll start having issues at 21, 22, 23," they told him. But people around his age (he was 40 at the time) usually "just fall over in the shower" and do not survive. Fortunately, his recovery from the surgery had been pretty swift, too; Church revealed to Rolling Stone that a week after he left the hospital, he returned so doctors could take out his top rib. He then spent the following weeks doing rehab and physical therapy, and by September 2017, he was already back on the road. "It was an interesting summer," he concluded. Church said he had two long white scars on his collars from the surgery, but other than that, he was perfectly fine. "I can still play guitar," he said. "And I play golf better than ever."
But while the country star did survive the major health scare, he ended up suffering a heartbreaking loss in his family soon thereafter. His brother, chef and songwriter Brandon Church passed away in June 2018 after suffering from multiple seizures and cardiac arrest, according to TMZ. He was only 36. His cause of death was later determined as complications related to chronic alcoholism, including myocardial hypertrophy, coronary heart disease, and liver damage or fatty liver disease, per People.