Why Katy Perry And Rihanna's Friendship Ended So Suddenly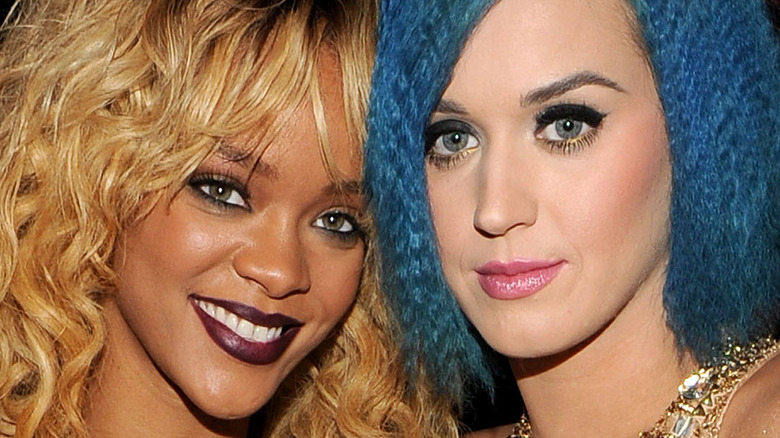 Larry Busacca/Getty Images
Katy Perry and Rihanna became besties in 2009 when they realized they had the same taste in purses. "[Rihanna] had this cool studded Valentino bag that had sparkly stuff on it," Perry told Elle (via Page Six). After complimenting Rihanna on her purse, the "Umbrella" singer offered to send Perry the same one. Although Perry thought Rihanna wasn't serious, she was pleasantly surprised when she received the purse in the mail. "I thought, 'Wow this is a woman of her word,'" Perry stated.
The two pop stars became so close that Rihanna threw Perry a lavish bachelorette party in Las Vegas prior to Perry's marriage to Russell Brand, per Radar. Perry, along with her BFF, celebrated with 25 other close friends. In a later interview with Elle, Rihanna gushed about Perry: "I'll tell you, you do not find people like her in this industry. She's gorgeous, charming and so unedited, it's scary. That's what intrigued me the most when I first met her. She said it like she saw it." (via OK!).
Although it seemed as if nothing would come between them, Perry and Rihanna had a falling out that ultimately ended their friendship.
Katy Perry disapproved of Rihanna's reconciliation with Chris Brown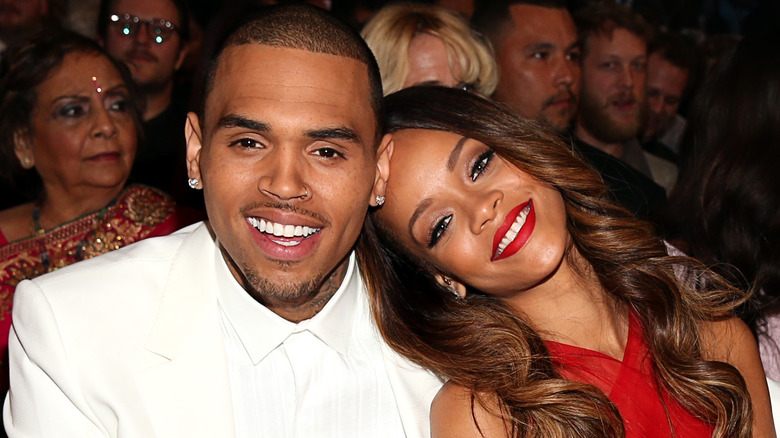 Christopher Polk/Getty Images
Katy Perry first hinted at a falling-out between her and Rihanna in 2012 after not seeing her pal since the MTV Video Music Awards, as reported by Marie Claire. "We've had dinner, and that's about it. I didn't reach out to her after the incident," she claimed. Perry seemed to be alluding to Rihanna publicly kissing her ex-boyfriend Chris Brown at the awards show, three years after he beat and hospitalized her, per Page Six.
A source confirmed to Us Weekly, "They aren't tight anymore because Katy doesn't approve of Rihanna dating Chris Brown." Although the two friends usually sat together during award shows, Perry and Rihanna were sitting apart during the 2013 Grammy Awards. Perry was in the front row with her then-boyfriend John Mayer, while Rihanna was further back with Brown.
In July 2013, Perry told Elle U.K. (via E! News) that she still cared for her former friend. "I love her and every time I see her, I'm reminded of the light that she has. There's a lot of dark in this business," she stated. The "Firework" singer then alluded to Rihanna's circle. "I know a lot of people out there with the most detrimental entourages — they are the root of their demise. It's really unfortunate but you can't save these people. My days of celebrity saving are over." Although Rihanna finally ended things with Brown in 2013, her relationship with Perry still suffered.
If you or someone you know is dealing with domestic abuse, you can call the National Domestic Violence Hotline at 1−800−799−7233. You can also find more information, resources, and support at their website.
Katy Perry and Rihanna blacklist each other at their events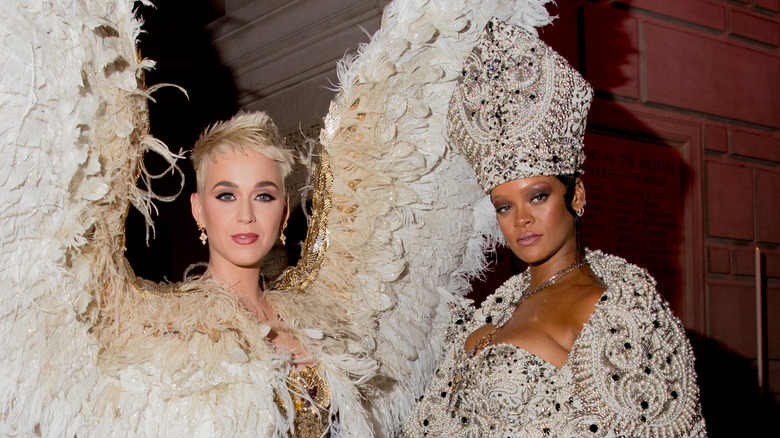 Kevin Tachman/Getty Images
Katy Perry and Rihanna came face-to-face again at the 2018 Met Gala. But when the former besties were forced to pose together, Rihanna's face made it evident she wasn't happy, per The Sun. "Because Rihanna was chairing the Met Gala, she had to pose with a lot of the celebrity guests but it was really uncomfortable when she was asked to have the photo with Katy," a source revealed. What made matters worse was that Rihanna reportedly left Perry off of the guest list for her after-party.
Perry snubbed Rihanna right back in 2019 when she left Rihanna out of her bachelorette party, this time for her engagement to Orlando Bloom. As reported by Mirror, Perry enlisted Shailene Woodley to organize her event and invited stars such as Ellie Goulding and Anna Kendrick. However, Rihanna was off the guest list. "There's no friendship between them. It's pretty sad. But Katy has found a new circle of friends," a source told the publication.
There may be hope on the horizon for Perry and Rihanna. After the Fenty Beauty mogul had her first baby with A$AP Rocky in May, Perry gushed to E! News, "I'm so happy for her and congratulations. I know that this time is so precious and it's just like a gorgeous, cozy time. It's a beautiful, magical time, so soak it all in." Perhaps the two stars can reignite their friendship and bond over babies this time around.