Here's What Really Happened When Hugh Jackman Met The Queen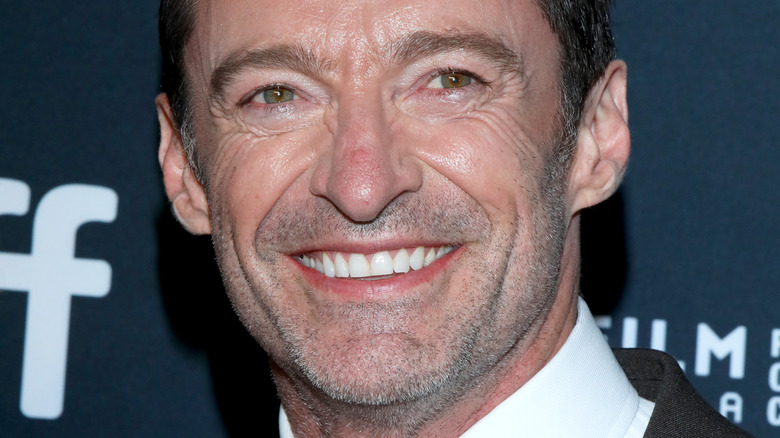 Jeremy Chan/Getty Images
Many Hollywood celebrities were huge fans of Queen Elizabeth II, who died at age 96 on September 8 after 70 years on the British throne. However, only a handful of them were fortunate to have met Her Majesty during her lifetime. One of those lucky few was Miley Cyrus, who shook hands with the queen backstage at the Royal Variety Performance in London where she sang back in 2009. "The Queen," Cyrus told French radio station NRD (via Irish Examiner). "Actually meeting her was scarier than the performance because I had to remember so much," she confessed. Madonna, on the other hand, had a much more pleasant experience meeting the queen at the "James Bond" premiere in 2002, despite Her Majesty not knowing who she was. "The queen asked me about Bond," Madonna told Reuters (via People). "I have never met her before, but surprisingly I wasn't nervous."
Another famous star who met the queen — and on more than one occasion — was Hugh Jackman. "We met twice," he revealed to BBC Radio 1 in 2019, before going on to recall a fun story from the first time he met Her Majesty. "It's one of my favorite stories that I haven't told in 20 years." Here's what happened when the "Logan" actor met the late queen.
Hugh Jackman managed to surprise Queen Elizabeth II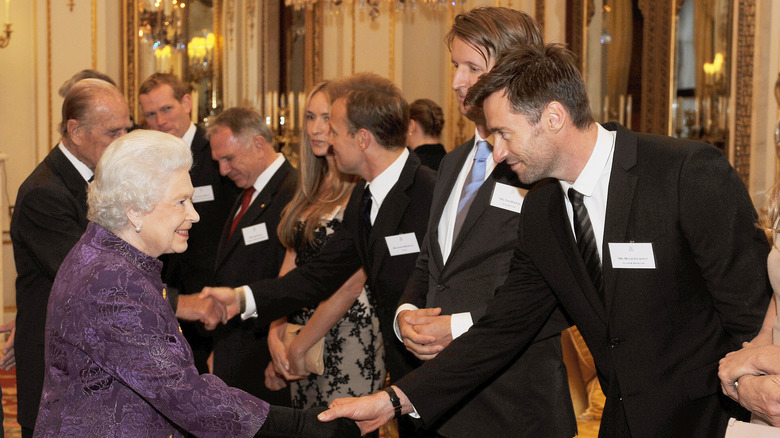 Wpa Pool/Getty Images
Hugh Jackman's first encounter with Queen Elizabeth II happened in April 1999, when he sang in "Oklahoma!" as part of the Royal Command Performance. At the time, it was a public holiday in his hometown of Australia where the whole country was celebrating the queen's birthday, according to the actor. But to his surprise (and amusement), Her Majesty had no idea that such an occasion even existed. "When she eventually came around to me, I was introduced as an Australian. She went, 'Oh, an Australian.' 'I said yes, I am. In fact, ma'am, today in Australia we celebrate your birthday,'" recalled Jackman on "The Tonight Show with Jay Leno" in 2003. "'Oh really?' And she looked at all her aides, 'Is that true?' And they all said yes." He went on to wish the queen a happy birthday on behalf of his people. "She said, 'Well, thank you.' And that was it and walked on," added Jackman.
Speaking with BBC Radio 1's film critic Ali Plumb, Jackman said he was "really motivated" by Australian cricket legend Dennis Lillee during his first meeting with the queen. Lillee famously broke royal protocol by trying to get the queen's autograph during the Melbourne Centenary Test in 1977, per Mirror. "Lillee was told you're not allowed to ask anything and thought, 'I'm never going to meet her again,'" said Jackman. "So when she came to him, he said, 'Can I have your autograph?' And she did it for him."
Hugh Jackman met Queen Elizabeth II at Buckingham Palace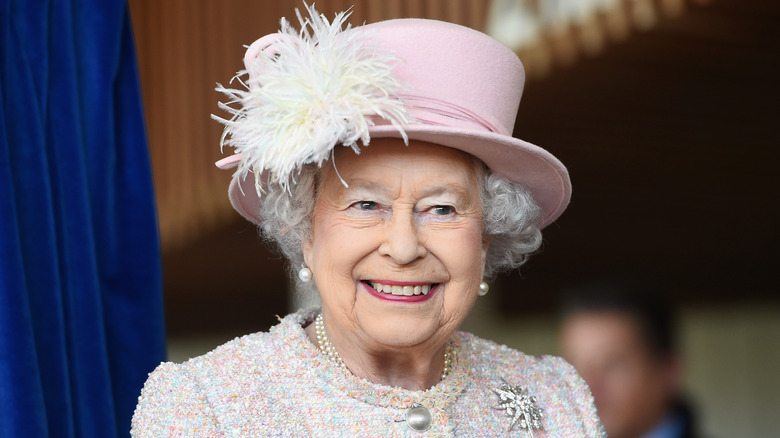 Stuart C. Wilson/Getty Images
The second time Hugh Jackman met the queen was in October 2011, ahead of her 11-day royal tour in Australia. The actor was among the few Aussie A-listers who were invited to a reception send-off hosted by Her Majesty and her husband Prince Philip at Buckingham Palace. Jackman was joined by model Elle Macpherson and "Neighbours" star Jason Donovan, per the Daily Mail. Speaking about his second encounter with the monarch, Jackman revealed (via E! News), "She was talking about the flight, about traveling. I wanted to ask her if she was stopping off, but I didn't think I was meant to ask questions. I did say, 'Have a great trip to Australia,' and she said, 'Thank you, I'm excited about it.'" Jackman also admitted that he felt rather nervous about being in the royal palace. "As an Aussie it feels weird — I'm just waiting to get thrown out," he joked. 
At the time, Jackman, who hails from Sydney, also spoke with the press about the reception Queen Elizabeth II should expect from his home country, stressing that they love her there. "The only issue I know is she cannot make every city," he told The Sydney Morning Herald. "Even the republicans, the ones in Australia who want to see Australia move on, still have great respect and love for the Queen. I've never heard anyone say different."