What Really Happened Between 'Weird Al' Yankovic And Madonna?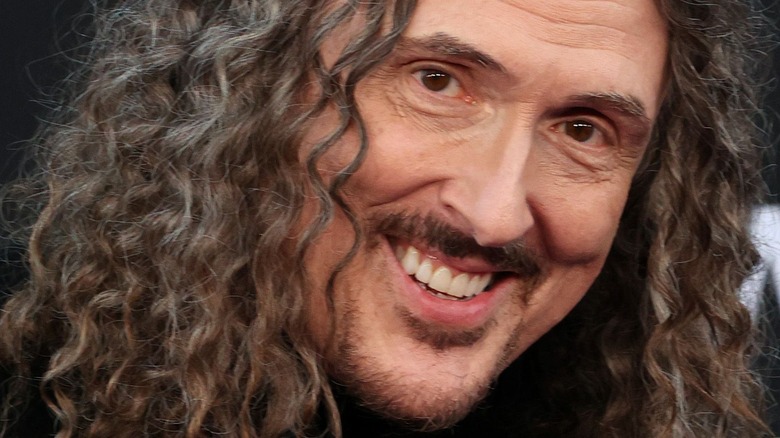 Kevin Winter/Getty Images
When thinking of musicians with interesting and varied lives, a few names may come up before you get to "Weird Al" Yankovic. However, the quirky satirist is receiving his very own movie, and in an interesting twist, Daniel Radcliffe will portray him. Titled "Weird: The Al Yankovic Story," released on Roku on November 4.
"[The film] is incredibly well executed," Radcliffe told Collider. He praised the way that the writers captured the parody element of Weird Al's persona. Instead of a straightforward retelling of his life, the film is a satire of both musicals and biopics. "They do not miss a trope, whether it's the angry father, the repressive parents, or the moment of instant inspiration when songs just ... Somebody literally says the words to a song, and they start writing it immediately." Radcliffe added that the script was "a great read."
"As far as we're concerned, Al deserves an EGOT, a Nobel Prize, and Sexiest Man Alive," said Roku Head of Originals David Eilenberg of making the film, via Decider. "We are forever honored that Al and everyone involved with this amazing movie made us their partner." While the film is hotly anticipated by all involved, the satirical nature leaves a major question: which parts of the story are true?
Weird Al opens up about relationship with Madonna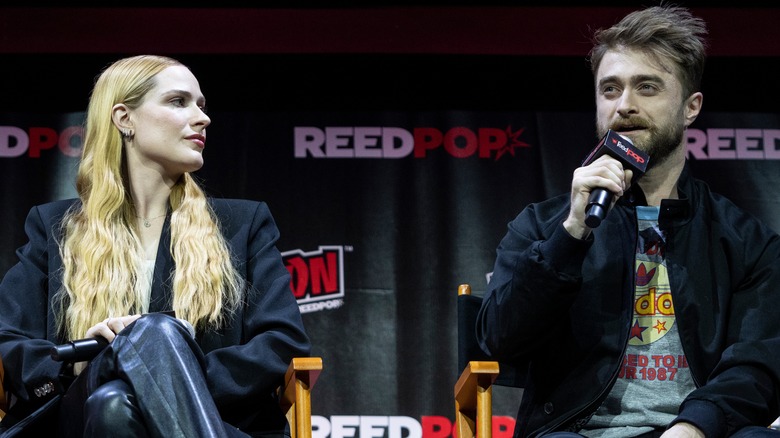 lev radin/Shutterstock
Interestingly, the plot of "Weird" sees Madonna — yes, that Madonna — collaborating with Weird Al Yankovic for "Like a Surgeon," her goal is to achieve the "Yankovic bump" which is a fictionalized version of how Yankovic's parody songs caused a surge in record sales for the songs he parodied, via Digital Media Talkies.
"There are a few little nuggets of truth spread throughout the biopic," Weird Al said, via Billboard. "Our relationship is platonic, by the way. The only time I actually met her was in 1985, and I talked to her for maybe, like, 45 seconds backstage. That's the extent of the whole relationship."
That being said, Weird Al didn't let the truth get in the way of a good story. "She's a huge part of the movie," he said of Madonna. While the two weren't real life paramours, Weird Al's story certainly hits all of those classic musical notes with more impact than with a substantial romance in play. 
Weird Al talks making a parody of himself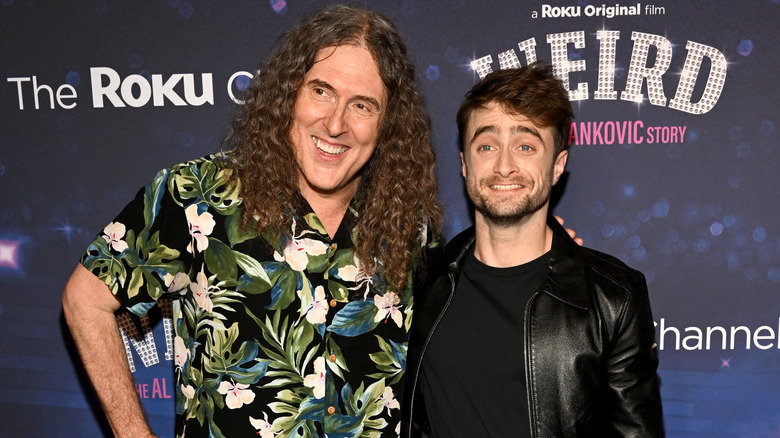 Slaven Vlasic/Getty Images
As mentioned, "Weird: the Al Yankovic Story" isn't actually a truthful biopic of "Weird Al" Yankovic. According to star Rainn Wilson, the movie was fabricated from the beginning, including his role of Doctor Demento  while the radio host was played off as a playboy, this was not accurate. However, filming party scenes was still enjoyable. 
"I had no idea who was showing up," Wilson told Collider, describing the scene. "And then all of a sudden, this cavalcade of stars was showing up at this house in the San Fernando Valley." The film featured several wacky cameos, such as Conan O'Brien as Andy Warhol. However, in reality, Weird Al wasn't much of a party man. He rarely drinks, and he's been married to Susan Yankovic since 2001, via Romper. Despite this, he was overjoyed to make the film and to have a little fun fabricating "his" story.
"I always hoped this movie would get made, but it's always a miracle when things do get greenlit," Weird Al said in an interview with The AV Club. "In particular, the music biopics always hit the same beats over and over. There are all these tropes in every single one. It's maddeningly familiar. So, we wanted to hit every one." As a result, not every note hit in the film comes out of the musician's actual life.
Regardless of the truthfulness behind the film, Weird Al approves. Isn't that what counts?