Why Daniel Radcliffe Has A Hard Time Watching Harry Potter Now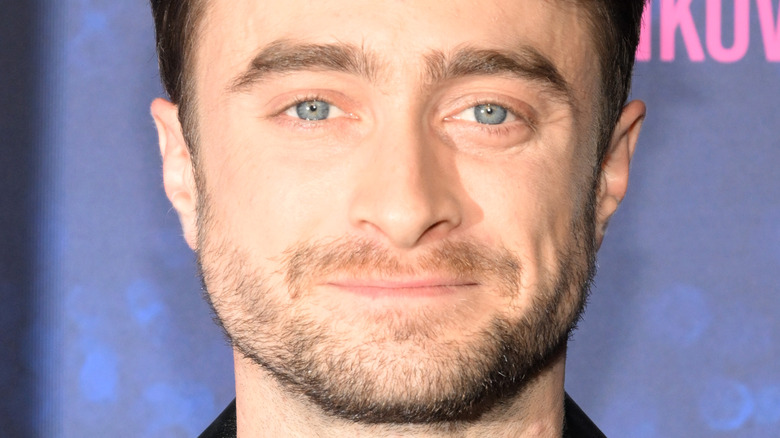 Slaven Vlasic/Getty Images
J.K. Rowling's "Harry Potter" series turned her into a self-made billionaire and greenlit movie adaptations that are beloved across the globe. In addition to being box office sensations, per GameRant, the films launched the careers of young stars Rupert Grint (Ron Weasley), Emma Watson (Hermione Granger), and Daniel Radcliffe (Harry Potter). Because the three protagonists were not quite teenagers when "Harry Potter and the Sorcerer's Stone" hit theaters back in 2001, they got a taste of international fame at an early age. Today, Radcliffe — who has been open about how he turned to alcohol to cope with the pressures of fame — does his best to avoid the spotlight.
In October, the actor spoke with Fox News about how he wishes for a different kind of experience for his kids. "Film sets are wonderful places. I think a lot of the time it can be wonderful for kids. But it's really the fame side of it that should be avoided at all costs," he shared. While Radcliffe has a complicated relationship with his stardom, he likewise has nuanced feelings about the films themselves. After all, the "Imperium" actor was literally growing up on-camera, and nobody likes to see reminders of their awkward teenage years. For Radcliffe, it just so happens that those growing-up years were also broadcast to the entire world! But is it self-consciousness that has him avoiding watching the movies that made him a superstar, or is it something else?
Daniel Radcliffe doesn't like to look back on his younger years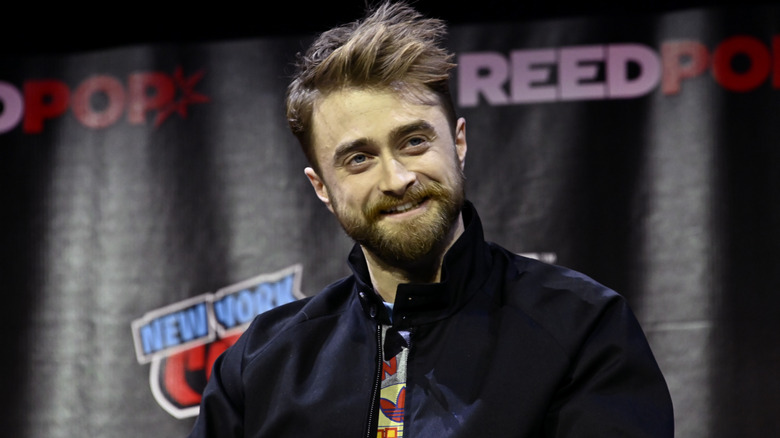 Astrid Stawiarz/Getty Images
It's been over a decade since "Harry Potter and the Deathly Hallows: Part 2" came out, but since the movies regularly make the rounds on streaming platforms and television, they've still got an audience. At least one person avoids watching them, though. In an interview on "The Jonathan Ross Show," Daniel Radcliffe said that after watching the "Harry Potter" movies at the premiere, he hasn't seen them since. "It's like passing around baby photos of yourself; it's not an enjoyable experience," he told the host.
Radcliffe remains critical of his acting in the films, especially "Harry Potter and the Half-Blood Prince," which he feels is his worst performance to date. "I remember watching it and thinking, 'Wow, there's been no growth.' You're watching a mistake you made every day for 11 months — that's the way I saw it," he told Playboy in 2015. The Brit's dislike of his acting skills may factor into his reluctance to re-watch the films, but he's since learned to give himself more grace. Speaking to CinemaBlend, Radcliffe explained, "If I was in my early 20s ... and I saw a bit of those films on TV, I would immediately switch over. ... I think as I am getting older, I am becoming more forgiving of my younger self, and a little more tolerant of, like 'Oh yeah, you were bad, but you were young. It's fine, you're sweet.' But nor do I seek it out."
Daniel Radcliffe won't be returning to the Potterverse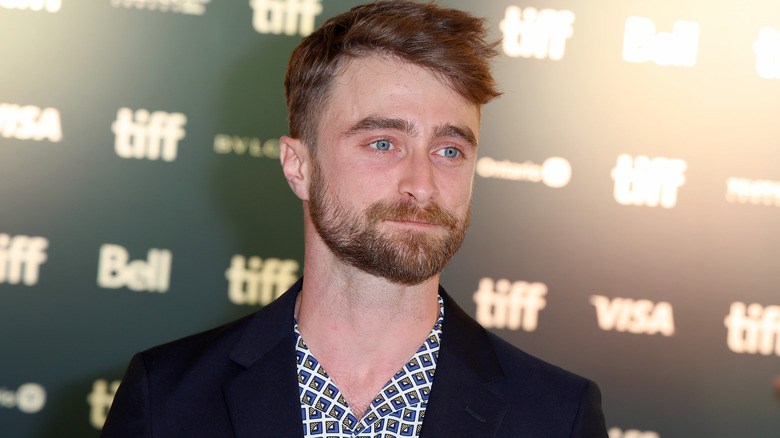 Leon Bennett/Getty Images
When actors star in an iconic franchise like "Harry Potter," they're forever associated with that character. Just think of Jennifer Lawrence as Katniss Everdeen in "The Hunger Games," or Kristen Stewart as Bella Swan in "Twilight." But Daniel Radcliffe has worked hard to distance himself from The Boy Who Lived. In a post-Potter world, he's taken on bizarre roles including a man with guns for hands ("Guns Akimbo") and a disturbed person who blinds horses with a hoof pick ("Equus"), via IMDb. It's un-Potterish, and that's on purpose, according to Radcliffe. Since "Harry Potter" left him in a financially lucrative position, "I have a kind of autonomy and freedom that any actor would kill for, and I would feel so dumb if I didn't use that," he told The Hollywood Reporter.
Additionally, Radcliffe isn't interested in appearing as Harry Potter in franchise spinoffs. When asked by The New York Times whether he'd appear in 2016's "The Cursed Child," he replied, "I'm getting to a point where I feel like I made it out of 'Potter' OK and I'm really happy with where I am now, and to go back would be such a massive change to my life. ... It's not something I'm really interested in doing right now." Currently, Variety reports that Radcliffe stars as Alfred "Weird Al" Yankovic in a biopic about the musician. Potterheads are out of luck, but they can still see Radcliffe in the "Harry Potter" 20th anniversary reunion special on HBO Max.