Inside Tamra Judge And Teddi Mellencamp's Friendship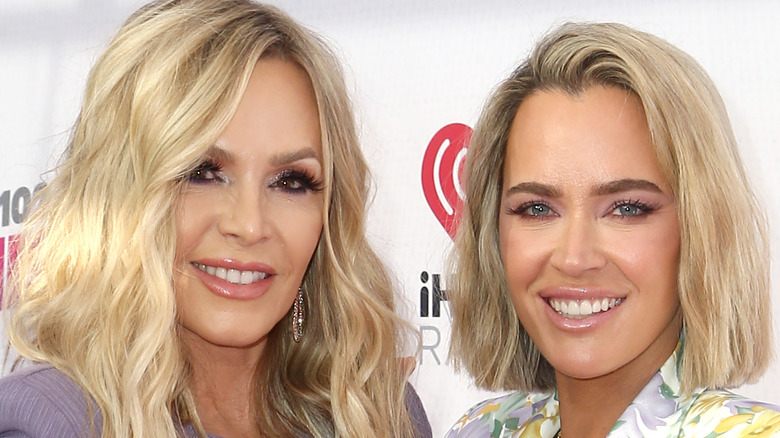 Tommaso Boddi/Getty Images
Tamra Judge and Teddi Mellencamp were stars of two different "Real Housewives" shows, but the two somehow became fast friends. Although they both live in Southern California, the reality stars didn't meet until 2018. As reported by Bravo, Judge and Mellencamp first met at Mariners Church in Mission Viejo. "Look who I ran into @teddimellencamp #GodsWork I've been wanting to meet this inspirational couple. Even more beautiful in person," Judge wrote on Instagram. Mellencamp posted the same photo, adding the caption, "Loved bumping into the pint-sized and baptized @tamrajudge at church today! Such a strong woman and even more beautiful in person."
Mellencamp was starring in "The Real Housewives of Beverly Hills" at the time, while Judge was in "The Real Housewives of Orange County." In 2020, Mellencamp was fired from the show after three seasons, per the Daily Mail. An insider told the publication, "The network has not been impressed with her performance on the show. They considered cutting her last season but gave her one last chance." The same year, Judge was also fired from her show, which hit her hard. "It's kind of like a death. I've been in the Bravo family for 12 years," she told Andy Cohen (via The U.S. Sun). After the two former housewives got over their respective firings, Judge and Mellencamp teamed up for a new project that allowed them to stay in the Bravo universe.
Tamra Judge and Teddi Mellencamp start a podcast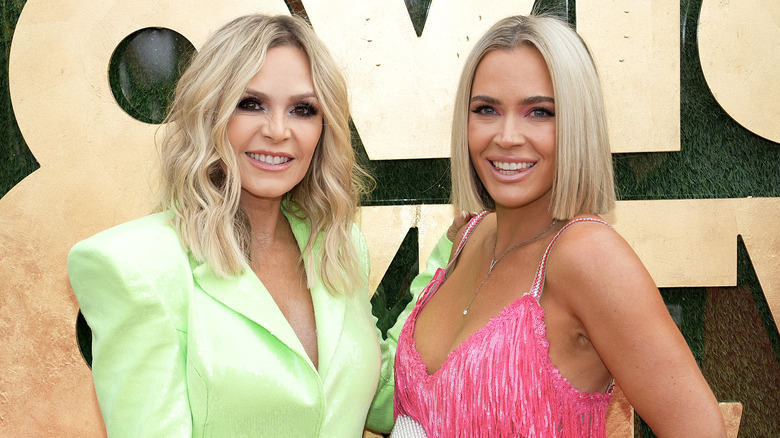 Jeff Kravitz/Getty Images
In December 2021, Tamra Judge announced the launch of her and Teddi Mellencamp's podcast, "Two Ts In A Pod," per Bravo. In a now-deleted Instagram post, Judge wrote, "Introducing Two T's in a Pod! Who better than two s*** stirring ex Housewives to spill the piping hot unfiltered tea than TNT, [Teddi] and yours truly? We're fired up and lawyered up!" Mellencamp then made her own announcement: "Two T's are definitely better than one, especially when you're spilling some, so can't wait for you to hear my new podcast ... We're using our experience in the trenches to give our hot takes and opinions (and we know Tamra HAS OPINIONS!!) on all things Housewives!"
Since the launch of their podcast, Mellencamp and Judge have had many "Real Housewives" stars as guests, such as "The Real Housewives of Dubai" star Chanel Ayan and "The Real Housewives of Atlanta" star Drew Sidora. Despite the star-studded episodes, "Two Ts In A Pod" received mixed reviews from fans. Many thought Mellencamp was biased and failed to call out some of her former cast mates, with whom she's friends in real life. Unsurprisingly, another former Real Housewife had an issue with Mellencamp, but for completely different reasons.
Vicki Gunvalson seems jealous of Teddi Mellencamp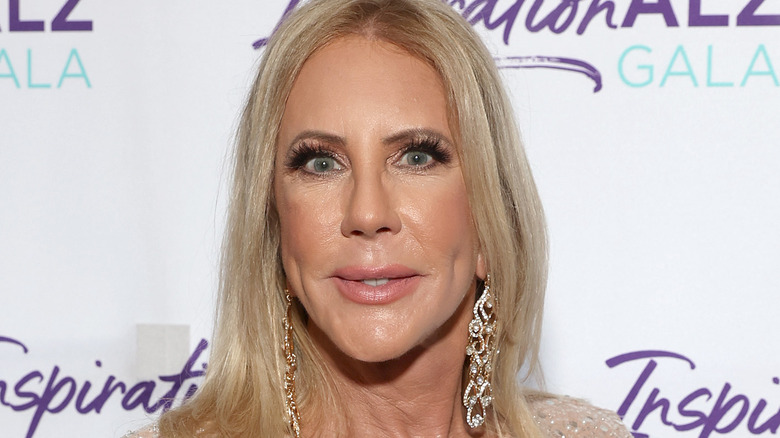 Jesse Grant/Getty Images
Vicki Gunvalson started a feud with Teddi Mellencamp when she stated in an interview, "I don't know Teddi Mellencamp but I don't like Teddi Mellencamp." As reported by Us Weekly, Mellencamp fired back, shading Gunvalson about her empty "love tank" and calling her out for trying to replace her on the podcast.
Mellencamp then tweeted, "Any other Bravo fans watching I Love That for You on Showtime with Vanessa Bayer? It's about a girl who scams her way into a job by lying about having cancer. Just feels so familiar." Mellencamp's jab seemed to make a reference to Gunvalson's ex-boyfriend Brooks Ayers, who had faked cancer to garner sympathy. Gunvalson responded with, "Wow...Low blow! You know nothing about what transpired with my x. This is why you only lasted 3 years... ME...14!" Mellencamp further incensed Gunvalson by replying, "Well if we're talking numbers, could you let us all know where you were on January 6?"
In a July episode of "Watch What Happens Live," Gunvalson and Mellencamp's feud got brought up and Judge was asked what it was like being in the middle of it. "Very awkward," she said emphatically. Gunvalson then yelled, "She asked me where I was on January 6th. That's an idiotic thing to say to somebody. I know where I was. I was in Puerto Vallarta." It seems as if Gunvalson is a bit jealous of Judge's friendship with Mellencamp and wants to be her former cast mate's No. 1 BFF.