The Strange Encounter Margot Robbie's Husband Had With Barack Obama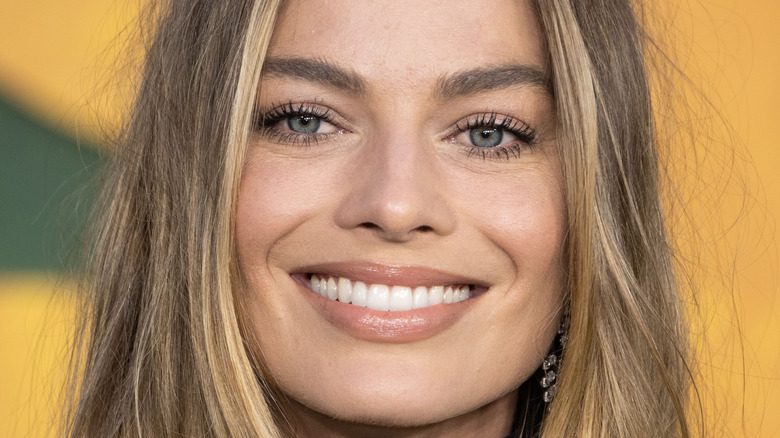 Jeff Spicer/Getty Images
Margot Robbie's career skyrocketed after starring alongside Leonardo DiCaprio and Jonah Hill in "The Wolf of Wall Street," per IMDb. The actor became known for her stunning looks and incredible talent that had her in some of the biggest films. Easily making Robbie an it girl in the Hollywood industry. Luckily for her, she didn't have to deal with all the madness that comes with fame alone, because her husband, Tom Ackerley, was by her side the whole time.
People reports the couple first locked eyes in 2013 on the set of the movie, "Suite Française." Unlike Robbie, Ackerley was behind the scenes, working as an assistant director for the film. The two hit it off and began their relationship just one year later. Robbie and Ackerley even decided to co-found a production company that created films like "I, Tonya" and "Birds of Prey." In 2016, the couple tied the knot. Since then, Ackerley has been by his wife's side as she won an Oscar, during red carpet events, and even meeting a president.
Because of Robbie's career, she and her husband had become familiar with meeting A-list celebrities. With the large number of celebrities that famous people meet, it can be rare for them to get starstruck. But, that doesn't mean that it never happens. And anyone, famous or not, would be starstruck by meeting former President Barack Obama. Especially if you met the president in a unique way like the way Robbie and Ackerley did.
Margot Robbie's husband met Barack Obama in short shorts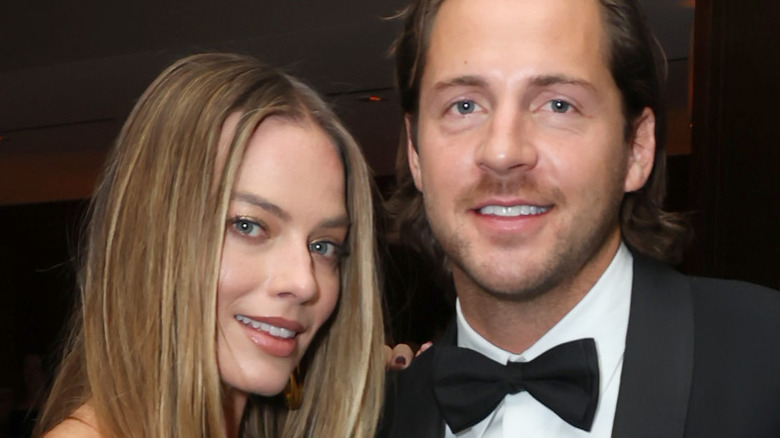 Phillip Faraone/Getty Images
After couples get married, they usually embark on a relaxing honeymoon. For Margot Robbie and her husband, Tom Ackerley, it was anything but relaxing.
Robbie spoke about her honeymoon on "The Ellen Show," sharing that she and her husband decided to take a trip to Tahiti. Instead of couples massages and laying by the beach, they took a different approach. Robbie said, "We go on to this island where you kind of live like Robinson Crusoe. There's just a shack that you stay in. And there's no electricity. And there's no mirrors or anything like that." The "Suicide Squad" actor and her husband lived like this for four days, so they were not in their usual glamorous state. Robbie told the audience the final part of the honeymoon was a "really nice hotel, like really luxury," per Insider.
When they arrived at the hotel, it was raining, so the couple decided to go to the gym. Robbie told Allen that her husband decided to put on some old gym shorts that may have been too short. Robbie said, "I can see everything. And he was like, 'Oh, come on. Who are we going to run into?'" Robbie agreed, and they decided to go to the gym, but when they walked in, they were shocked. Running on the treadmill was Ellen Degeneres, but that wasn't the biggest surprise because next to her was former President Barack Obama. Little did they know that the situation would get worse.
Tom nearly flashed Barack Obama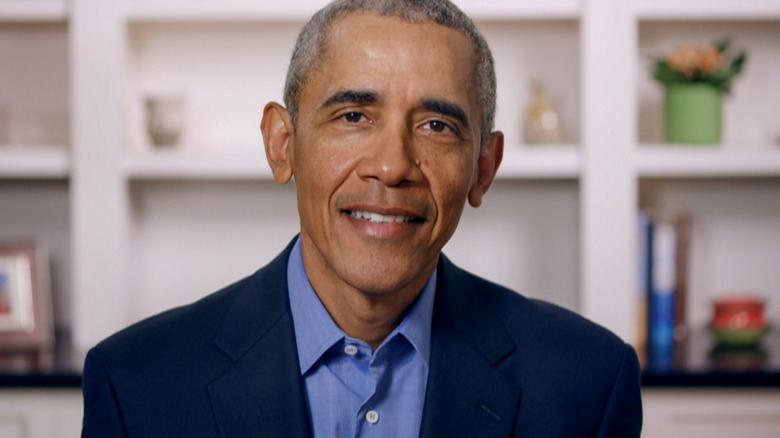 Getty Images/Getty Images
Margot Robbie and Tom Ackerley were mortified after meeting President Barack Obama. Coming off of living in a shack in Tahiti and with short shorts on the couple was completely embarrassed, per Insider. The embarrassment doesn't stop there for the couple because they had to participate in a stretching class.
Robbie explained in detail to "The Ellen Show" how her husband was doing his best to cover himself, but it got more difficult as the class progressed. Margot said, "Literally, this gym instructor keeps saying to Tom, "Tom, lunge. Lunge. You're not lunging.'" The whole time, Robbie could not stop laughing. It turns out, Robbie was not exaggerating because Ellen Degeneres confirmed that his shorts were some of the smallest shorts she's seen. The exercising stretches got so bad that at one point, Ackerley ended up grabbing a towel to cover the spot. Robbie shared, "And Ellen looks over and goes, 'Boy, those were the wrong shorts to wear today.'"
It was memorable for Robbie, because not only was the situation hilarious, but she also got to meet Obama. Turns out, the former president is a big fan of the "I, Tonya" star. He talked to Robbie about how "talented" he thinks she is as an actor. Now, this may have made up for the hilarious incident in Robbie's eyes, but probably not in her husband's. Degeneres even made sure the problem wouldn't happen again by gifting Ackerley longer shorts.