The Taylor Swift Song Fans Believe Is A Reference To Britney Spears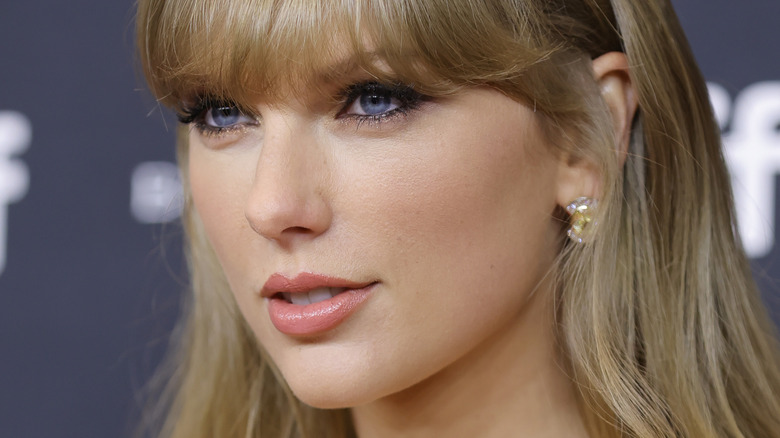 Amy Sussman/Getty Images
Taylor Swift has become one of the most popular singers of this generation. The "Anti-Hero" singer has been perfecting her craft since she first started to release music back in 2006 (via Biography). As she has grown, she has only amassed more and more fans. Swift has always had a close relationship with her fans. She famously loves to leave hints and clues for them in her music and social media posts, as per Today. Her videos, lyrics, and even her outfits can be secret messages from Swift to her devoted fans.
The Grammy winner has become the ultimate queen of these "Easter eggs" and has always had her fans awaiting to decipher the next hint. In 2022, Swift released her 10th studio "Midnight", which was filled with easter eggs. The pop star went on "The Tonight Show Starring Jimmy Fallon" and revealed that her music video for her song "Bejeweled" has so many hints she had to keep a PDF file of everything she teased.
Swift has teased her fans plenty and has also been known to pay tribute to those who influenced her career. As big as Swift gets she is always praising and in awe of those who helped pave her career. When she re-released her "Red (Taylor's Version)," which was also filled with tons of easter eggs, fans noticed Swift had made a subtle nod to another famous popstar. That famous pop star in question would be none other than Britney Spears.
Fans think Taylor Swift referenced Britney Spears' Lucky
DFree/Shutterstock
Taylor Swift decided to release rerecordings of her previous albums after music manager Scooter Braun obtained her music catalog (via Entertainment Weekly). Fans have gotten "Fearless (Taylor's Version)" and "Red (Taylor's Version)" albums rerecorded. Both have had their unique changes to the songs or visuals, and there was a particular song on "Red (Taylor's Version)" that got the attention of fans.
Nylon reported that Swift's re-recorded song, "The Lucky One" referenced pop icon Britney Spears. The song's premise is about becoming a star and how it's not what everyone makes it out to be. In the song, Swift sings, "And your secrets end up splashed on the news front page / And they tell you that you're lucky, but you're confused / 'Cause you don't feel pretty you just feel used." Many believed the original version was in honor of Joni Mitchell, who took a step back from the spotlight after her career blew up.
Now it seems like the new version of the song has taken on a whole other meaning. The outlet reported that the song's Spotify visual showed Swift referencing Spears' music video for her song, "Lucky." In the visual, Swift can be spotted combing her hair similarly to the way Spears did in the "Lucky" music video. This makes sense to fans as to why Swift referenced the "Gimme More" singer. Spears' song is also about how people believe fame is a dream when in reality it's not.
Britney Spears forgot she met Taylor Swift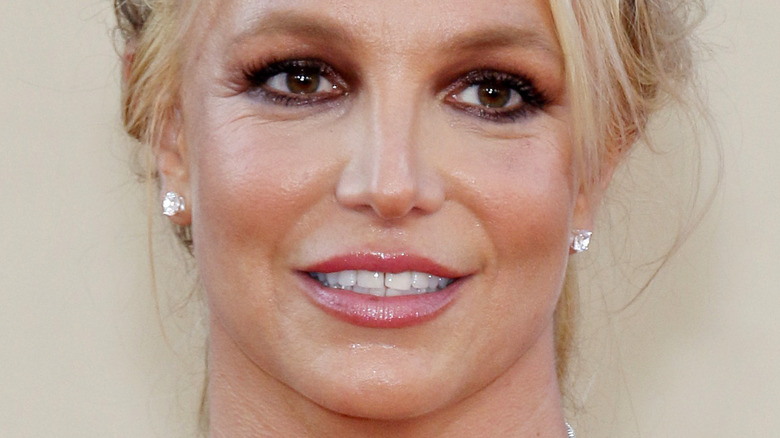 Tinseltown/Shutterstock
From one icon to another, Britney Spears has sparked some sort of influence on Taylor Swift. While the two aren't best friends they have met before, but it may be more memorable for one star versus the other.
In 2016, Spears was asked on the Kyle and Jackie O Show, an Australian radio program, if she would rather sit next to Swift or Katy Perry (via Billboard). During this time Swift and Perry were famously feuding over miscommunication on backup dancers, as reported by Entertainment Weekly. Fans were fascinated by which celebrities would take Swift or Perry's side. Well, Spears responded to the question by saying, "I don't know! I don't know, that's hard. They're both so cool. I've briefly met Katy Perry at the Smurfs movie premiere. Maybe because I've met Katy Perry, I would say, Taylor Swift, because I've never met her before." Spears was trying to be fair in the response she gave.
This would be a sweet gesture, but it quickly backfired because Spears had met Swift before. Not just once but twice. Billboard reported the two met at the 2008 VMAS and in 2003. The times that Spears had met Swift were well before Swift grew into the megastar everyone knows her as today. So, it's understandable why the "Toxic" singer didn't recall meeting her. Spears is a superstar herself and has met her share of famous people and at some point, it's sure to become a blur.