Inside Hallmark Stars Eric Winter And Roselyn Sanchez's Real-Life Romance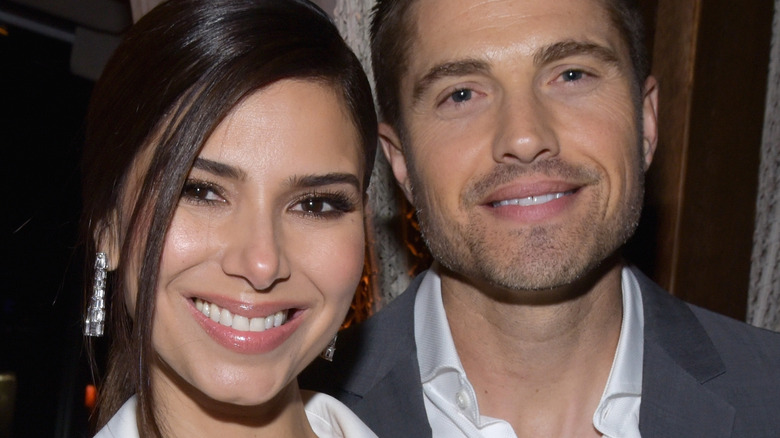 Tara Ziemba/Getty Images
If you're a true connoisseur of TV and film, then you probably know Eric Winter and Roselyn Sanchez's faces. Over the course of their careers, the actors have appeared in a slew of big name productions. In addition to starring in mainstream projects such as "Days of Our Lives," "Witches of East End" and "The Rookie," Winter is also a Hallmark veteran, who has four films under his belt. For Sanchez's part, she's starred in only one Hallmark film thus far, but she has seen much success for her roles in projects such as "Rush Hour 2," "Devious Maids," and "Grand Hotel."
In real life, Winter and Sanchez also play the role of husband and wife. According to People, Winter and Sanchez announced their engagement in January 2008. Less than a year later, they made things official and got married on November 29. The two, who share two children, were married prior to meeting each other. Winter's first wife was Allison Ford,to  whom he was married from 2001-2005. Sanchez, on the other hand, was married to Gary Stretch for three years ,from 1998-2001. 
Yet, despite not being each other's first (and only) spouses, Winter and Sanchez's love story is still super sweet.
Eric Winter and Roselyn Sanchez are relationship goals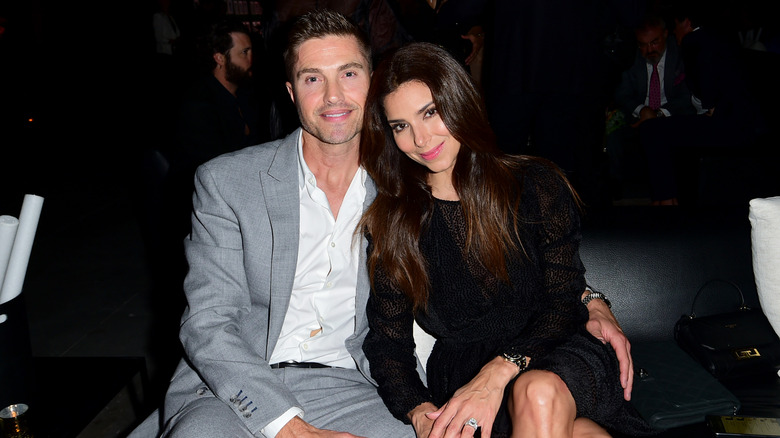 Vivien Killilea/Getty Images
According to InStyle, Eric Winter and Roselyn Sanchez first met in 2005. However, it took Winter three months to approach his would-be wife. "It finally crossed my mind to ask her out," Winter said. Per the publication, their first date (a sushi dinner) went off without a hitch so they followed it up with a weekend date in California. In 2007, after two years of dating, Winter proposed to Sanchez at midnight on Puerto Rico's Vieques' bay, per TV Guide. And instead of just buying her any old diamond, Winter designed Sanchez a custom-made ring that suited her taste. "I was very specific about what I wanted," shared Sanchez with PR Newswire. "Designer Michael Barin made it — a radiant-cut diamond and I wear it with two separate bands." 
According to a throwback Instagram photo by Sanchez, their wedding took place in Puerto Rico. "At our wedding in Puerto Rico... of course with two of my dogs," wrote Sanchez alongside a shot of them dolled up in wedding attire. Of course, the couple has dedicated countless social media posts to each other over the years, like the time Sanchez gave Winter a lap dance on the set of E! Latin America, or when Winter posted a sweet montage of their relationship. There's also the family-centered posts where Sanchez gushed about "the beautiful" memories they're going to have with their children. 
Eric Winter and Roselyn Sanchez work together on- and off-screen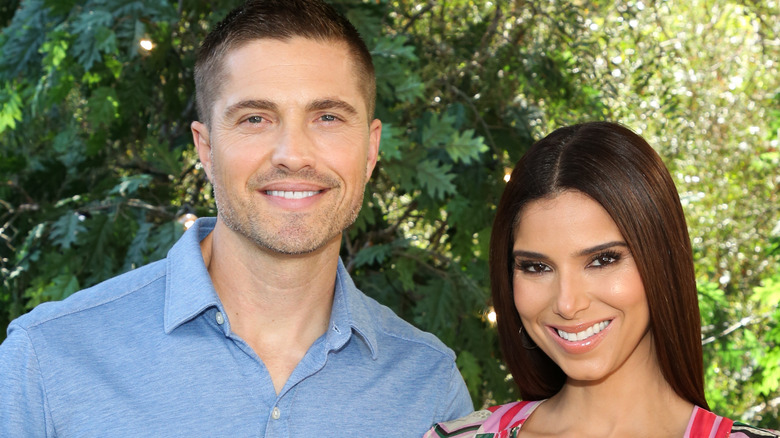 Paul Archuleta/Getty Images
Eric Winter and Roselyn Sanchez aren't just relationship goals; they're also business partners. In 2019, the lovebirds teamed up to star in Hallmark's "A Taste of Summer," marking their first time acting together. The film follows a woman (Sanchez) who moves to a coastal town and opens a restaurant in an effort to recapture passion long lost. While there, she crosses paths with a competitive former athlete (Winter), who also has his own restaurant. Of course, snark and romance ensue. Despite the initial tension between the characters, the couple enjoyed working together in real life, per Parade."[Eric and I] are happy that we are going to be able to sit down with our daughter and show her a movie that we did together," shared Sanchez. "It's just beautiful."
And now, Winter and Sanchez are working together in another creative capacity. According to Deadline, the couple, who own Road Entertainment, signed a production deal with Kapital Entertainment, owned by Aaron Kaplan. The companies have already scored their first sale: "HSI: Puerto Rico," which CBS snatched up. The publication also noted their foray into the world of book adaptations, with "White Smoke" by Tiffany D. Jackson being their first project. Additionally, Winter and Sanchez also wrote a children's book titled "Sebi and the Land of Cha Cha Cha," which centers on Latin dancing. The best part? They named the lead character after their daughter Sebella, according to HuffPost.