The Tragic Death Of Former NFL Star Quarterback John Hadl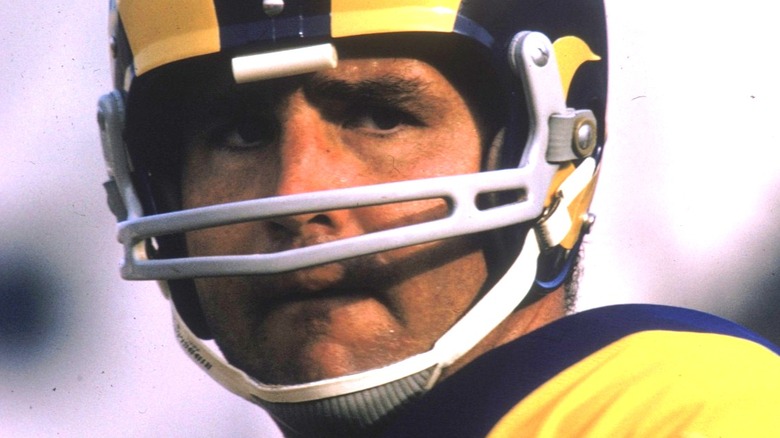 James Flores/Getty Images
The University of Kansas announced that John Hadl — the football legend who once played for the San Diego Chargers — died on Wednesday. He was 82 years old. A cause of death has yet to be reported. Hadl attended the University of Kansas in the late '50s and played as a star halfback before switching over to the quarterback position. "At halfback, I might have made it for two, three years, maybe," he said to The San Diego Union-Tribune about the crossover in a 1994 interview (via The New York Times). He added, "At quarterback, you can play a long time if you make it, and that's what happened." 
The athlete was responsible for much of the team's success and even set a university record for "the longest punt (94 yards, which still stands) and the longest interception return (98 yards, which stood until 2007)," according to the press release. After his impressive run at the school, Hadl played for the Chargers after being drafted in 1962 and stayed with the team for more than a decade, per Sports Illustrated. He then took his star power and played for the Los Angeles Rams, Green Bay Packers, and Houston Oilers before officially retiring in 1977. 
Though Hadl hung up his jersey, his career in sports didn't stop after he left the field. In fact, he was able to create another legacy for himself, but this time, as an iconic coach.
Fans react to the news of John Hadl's death
John Hadl — who unfortunately joined the growing list of celebrities who have died in 2022 — returned to the University of Kansas to work as an assistant coach before stepping into the role of an administrator and associate athletics director. "It's a lot of fun," he said during an interview for CBS 8 San Diego. "I see a lot of my old friends that I have played with, played against along with all our alumni and you know in different cities around the country," he continued. "It's really a good deal."  The football star served his position for more than 30 years before retiring in 2018. 
As Hadl's family mourns his loss, fans are also grieving his tragic death. "No matter how you knew him, Hadl was the best," one user tweeted. "As entertaining as he was interesting & a heck of a talent, Hadl was a terrific ambassador for KU." Another fan expressed his gratitude for being able to witness Hadl's greatness. "Thank you for everything you've done for Kansas football," he wrote. The athlete's former coworkers also chimed in to share their condolences for the late football legend. "I will forever miss my friend, John Hadl," a former colleague commented. "He was such an asset to KU in every one of his roles, and I am beyond grateful for having worked with him for many years." 
Although Hadl may no longer be here, his legacy will live on forever.