Teresa Giudice's Latest Radio Interview Went Left Quickly
Sam Aronov/Shutterstock
"The Real Housewives of New Jersey" fans know not to get on Teresa Giudice's bad side. Since Season 1, the fiery reality star showed that she can get pretty hot when provoked and became known for flipping tables on people. One of Giudice's sore points is mentioning her prison time, as Jackie Goldschneider learned in Season 9 (via Page Six). After Giudice argued that Melissa Gorga should force Joe Gorga to spend more time with their family, Goldschneider jumped in with, "With all due respect, do you really feel like your husband would be in jail right now if you could control what he did?"
The former attorney's comment caused Giudice to see red and she later said, "How dare she throw it in my face that my husband's away. Who the f*** does this b**** think she is?" Not one to forget a snub, Giudice started a rumor in a later season that Goldschneider's husband was cheating on her (via People).
It seems not everyone knows that Giudice doesn't like talking about her time "away" and when it was brought up in a November 2022 interview, the housewife gave the radio hosts a piece of her mind.
Teresa Giudice loses her namaste attitude on radio hosts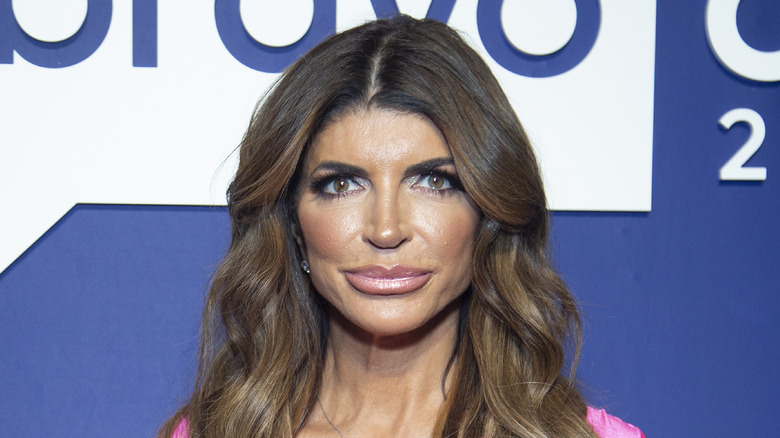 Santiago Felipe/Getty Images
Teresa Giudice called in on the November 28th show of "Billy & Lisa in the Morning" to discuss an upcoming appearance. Things started out "namaste" but took a turn pretty quickly. Host Billy Costa asked, "Teresa, we know you spent some time in prison, but you came out of prison and wrote a book — a bestseller — about your time in prison, and did it focus a lot on the food in prison?" Giudice's terse reply was, "Um, I really don't want to talk about that."
As the conversation went on, the "RHONJ" star wasn't letting Costa off the hook for his prison comment. "It's all about being positive, right? And not negative? You should learn some of that," she quipped. She later added, "I have a podcast called 'Namaste B******.' You should listen to it and learn how to be more namaste." After Giudice hung up, Costa's co-host Justin Aguirre defended Costa by stating that Giudice's book was mentioned because it was "huge." He also claimed, "They told us what to stay away from, and we stayed away from it," mentioning sensitive topics like Joe Gorga and the Balenciaga scandal. Costa also dubbed "the rudest person [he'd] ever interviewed."
When Andy Cohen was asked about the interview on his show "Andy Cohen Live," he proposed that the radio hosts had said something to set her off, per Page Six. He realized that they had mentioned her prison stint and his reply was, "Ok, well there you go. I knew it, so he started with the jail thing."