BravoCon 2022: Teresa Giudice Shades Joe And Melissa Gorga For Skipping Her Wedding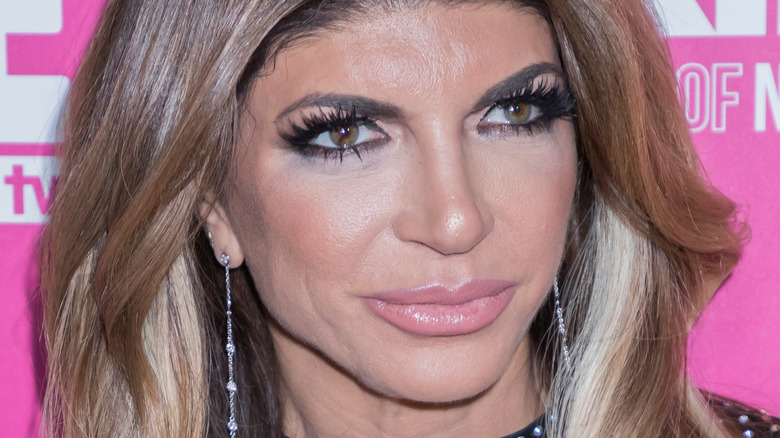 Sam Aronov/Shutterstock
Teresa Giudice isn't exactly the poster child for Zen. So it was inevitable when her brother and his wife nixed her nuptials, she was table-flipping furious. It didn't help when the real reason Joe and Melissa Gorga bailed on Giudice's wedding was revealed. Per Page Six, despite being invited to Giudice's big, fat East Brunswick wedding to Luis Ruelas, they opted to chillax on the Jersey Shore instead. Months later, Giudice is still throwing shade at them, which is better than throwing "fabellinis," at least.
Somehow, wherever Giudice goes, the drama follows. In fact, she's usually either causing it or right in the middle of it. A significant source of histrionics is Giudice's relationship with Melissa. The two have always had a contentious and rocky relationship, with Joe catching heat from Giudice for defending his wife. ScreenRant reports that the Gorgas accused Giudice of "being jealous of their happy marriage." Meanwhile, Giudice regularly blames Melissa for controlling Joe and instrumenting the fights between her and her brother.
So, nobody believed Giudice when she insisted it was no biggie that Joe and Melissa skipped out on her big day. "I found out a few days before my wedding that they weren't coming. I'm totally fine with it," Giudice claimed on her "Namaste B&tches" podcast, according to Entertainment Tonight. "I'm all about good energy, and whoever wanted to be at my wedding was there," she added. Yet at BravoCon 2022, Giudice continued shading Joe and Melissa for boycotting her marriage — not that she cared, of course.
Melissa and Joe Gorga are over Teresa Giudice's drama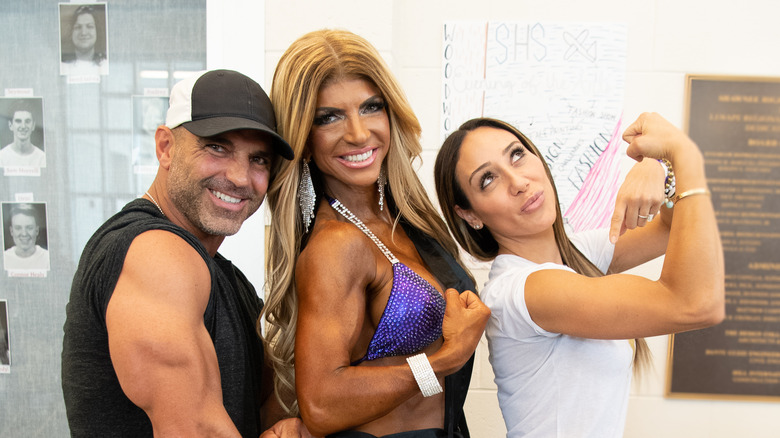 Dave Kotinsky/Getty Images
Teresa Giudice was throwing more shade than a total eclipse of the sun during the "Jersey Ladies & Their Men" panel at BravoCon 2022. According to a reporter from The List, her targets were Joe and Melissa Gorga. Their crime? Being two of the important guests who skipped Giudice's wedding to Luis Ruelas. The new bride had previously insisted that she was "fine" with what went down. However, she very clearly wasn't, and as usual, she was pointing the finger of blame predominately at Melissa.
"I was really hurt, obviously," Giudice admitted when asked about Joe swerving her rendezbooze betrothal. "He's my only family," she continued. "Family is the most important." However, Giudice quickly shifted into passive-aggressive mode and played the one-sided blame game with Melissa. "When different blood comes into the family, it changes things," Giudice added. "Fame and money. It does ruin families."
"I wish them well," Giudice concluded, convincing nobody in the room. Melissa certainly wasn't buying it. She has insisted that she's finally done and dusted with her sister-in-law and her non-stop drama. "I got off the roller coaster," Melissa told People. "I don't want to be on it anymore. We'll see what happens." The "RHONJ" star vowed that she was finished trying to appease Giudice, as Melissa claims she's always the one trying to play peacemaker. "Melissa has exited the building in that situation. I'm done," she admitted, saying both she and Joe were "tired" of everything.
Jennifer Aydin weighs in on Joe and Melissa Gorga skipping Teresa Giudice's wedding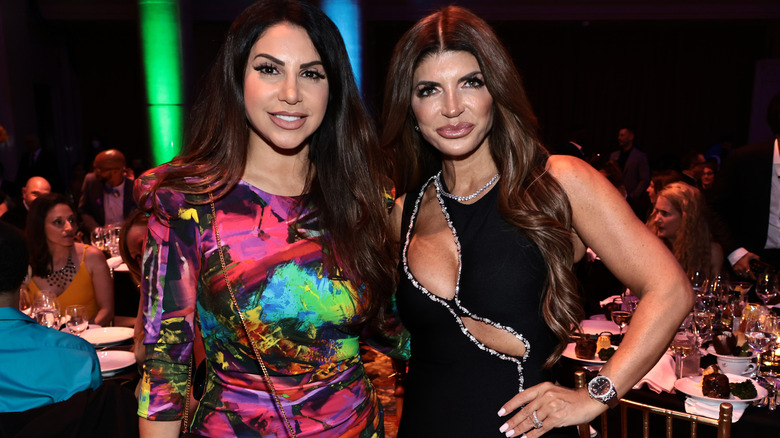 Jamie Mccarthy/Getty Images
Jennifer Aydin was also on "The Real Housewives of New Jersey" panel along with her husband, Dr. Bill Aydin, Teresa Giudice, Luis Ruelas, Dolores, and Frank Catania. Per Bravo, the mom-of-five "always puts her family first" and is "always ready to defend anyone, especially herself" and Giudice. According to the reporter from The List, she even willingly chose to weigh in on #WeddingGate despite Jennifer's marriage continuing to get more and more tense by the day itself.
At first, Jennifer attempted to sit on the fence as much as possible. Initially, Jennifer focused her comments on the family angle rather than the never-ending vicious feud between Giudice and Melissa Gorga. "I think they did what they had to do in that moment," Jennifer said of Melissa and Joe Gorga being wedding no-shows. "He is going to regret not going to his sister's wedding." She continued to talk about the importance of sticking with your tribe — no matter what. "You don't not show up for family," Jennifer declared.
However, as time passed, she appeared to shift firmly to being #TeamTeresa, and things started becoming more personal. Jennifer offered her two cents on what she believes to be Melissa and Joe's reality TV future and it doesn't look bright, according to the former jeweler. "They're holding on for dear life," Jennifer claimed. "They're going to say whatever they need to say to keep them on [the show]."