Is Kieran Culkin Close With His Brother Macaulay Culkin?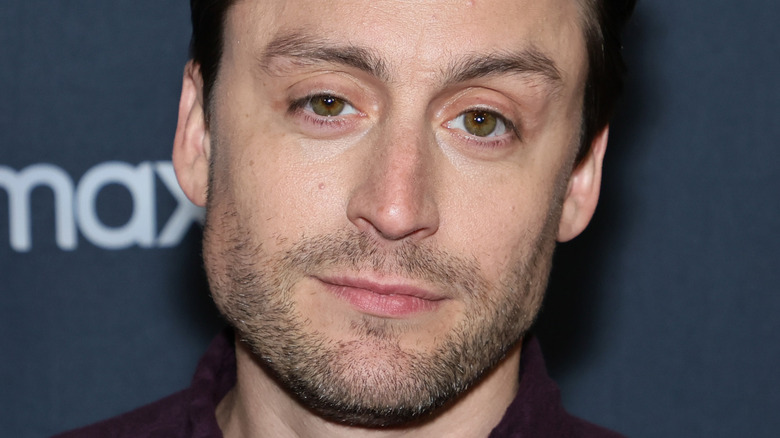 Theo Wargo/Getty Images
Macaulay Culkin was one of the biggest child stars of his time, and possibly of all time. But in recent years, Macaulay has taken a break from acting, and his brother Kieran Culkin has raked in the accolades. Kieran — who stars as Roman Roy on the successful HBO original series, "Succession" — was nominated twice for the Primetime Emmy category of Best Supporting Actor in a Drama Series for the role. He will continue to portray the pompous yet hilarious youngest Roy brother when Season 4 comes out in spring 2023.
The Culkins come from a clan of seven siblings, with many of them ending up in the movie-making industry. As stated before, Macaulay was the most well-known, but Kieran appeared alongside him in "Home Alone" as another McCallister kid. Kiernan's other popular roles include Matty Banks in "Father of the Bride" and scene-stealing Wallace in "Scott Pilgrim vs. the World."
It's unsurprising that their parental figures weren't the best, considering they were child stars starting in the late '80s. Hello! Magazine reported that Macaulay wrote in his 2007 memoir about seeking emancipation because their father, Kit Culkin, was "physically and mentally abusive." Kieran later told The Hollywood Reporter that their father "wasn't a good person and, yeah, probably not a good parent," but didn't receive abuse. He did, however, say his father was a "constant, unwelcome" figure who he didn't really view as "dad" and who "just reeked." These two brothers were close as kids, but are they still today?
If you or someone you know may be the victim of child abuse, please contact the Childhelp National Child Abuse Hotline at 1-800-4-A-Child (1-800-422-4453) or contact their live chat services.
Kieran Culkin and Macaulay Culkin both had children in 2021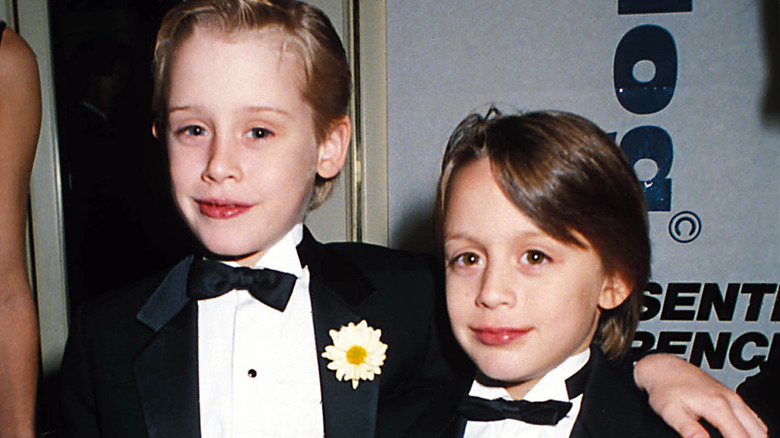 Dave Benett/Getty Images
In an interview with BunnyEars.com in 2021 (Macaulay Culkin is CEO of the site and host of the "Bunny Ears" podcast), Macaulay satirically ranked his siblings. Kieran isn't number one, but he did come in second instead of where "Mack" was going to rank him. "He was one slot lower, but then I rewatched 'Succession' over the weekend," Macaulay said. "He's just magnificent. If he gets a Best Supporting Actor nomination at the Emmys, we're revising this list." Unfortunately, Kieran did not win the Emmy and will not beat out their brother, Rory Culkin, for first place. Even though this list doesn't necessarily mean they're close, the brotherly love is apparent.
The two also had kids not too far apart. In August 2021, Kieran and his wife, Jazz Charton, welcomed their second child, per Page Six. And months earlier, in April, Macaulay Culkin and girlfriend Brenda Song welcomed their first baby. As Esquire reported, they named their son Dakota Song Culkin after Culkin's eldest sister, Dakota Culkin, who died in a pedestrian road accident in 2008.
Kieran told Access in October 2021 that he hadn't met Macaulay's son, but for a good reason. "I haven't actually met his son yet because he lives in California, and there's been work and a pandemic and all that stuff," Kieran said (via People). The family could have gotten together since, but either way, Kieran said he is not giving his older brother parenting advice.
Most of the Culkin siblings worked in Hollywood
As stated before, most of the Culkin kids have at least dabbled in entertainment. The Cut reported, Rory Culkin (the youngest) appeared in 2000's "You Can Count on Me" and in 2011's "Scream 4." And per Oldest.com, most of the Culkin siblings have done at least one movie or show. Again, Kieran and Macaulay Culkin appeared in "Home Alone" and "Home Alone 2: Lost in New York"; and their younger sister, Quinn Culkin, appeared in an uncredited role in the first film (via IMDb). Rory also appeared as a younger version of Kieran Culkin's character in 2002's "Igby Goes Down."
These familial or joint roles all make sense since the Culkin genes are so strong. Kieran told The Hollywood Reporter that he, Macaulay, and Rory would all be mistaken for one another as kids. He also talked about the weird, gross harassment Macaulay faced as a minor due to being the biggest child star at the time. And if you want to see them on-screen together again, Kieran is at least down to do so. He told Entertainment Tonight that he would be open to having one or more of his siblings on "Succession" one day. "Would love to see that. Yeah, I would be game for that," Kieran said. "That would be cool. Why wouldn't I be game? That sounds fun."