Why Steve Harvey Gave Up His Boxing Career Before Getting Famous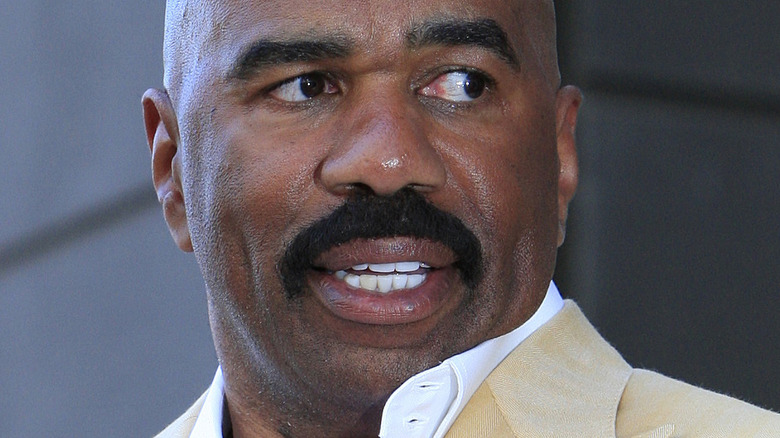 Joe Seer/Shutterstock
Steve Harvey has had quite the journey in his career. According to Biography, the West Virginia native started his career in the '80s as a stand-up comedian, performing in various comedy clubs before getting his big break on the '90s variety show "Showtime at the Apollo." From there, Harvey starred in his own television sitcom "The Steve Harvey Show" and was featured in Spike Lee's  "The Original Kings of Comedy" before going on to become a permanent fixture in American daytime television. Harvey currently hosts a few other shows, including the hit game show "Family Feud."
In addition to his hosting career, Harvey is a film producer and an established author with four best-selling books to his name. He's also founded his own entertainment company, Steve Harvey Global, and a charitable foundation with his wife, Marjorie. Truly a man who wears many hats! But while you may know all these about this TV host, what you may not know about him is that he has also dabbled in careers outside the entertainment industry. 
Before making it big, Harvey worked as an insurance salesman, a mail carrier, and even as a boxer! (Harvey sans his signature suit? With gloves on? In a ring? Interesting.) But what made Harvey hang up his gloves and pursue hosting instead?
An opponent stopped Steve Harvey from boxing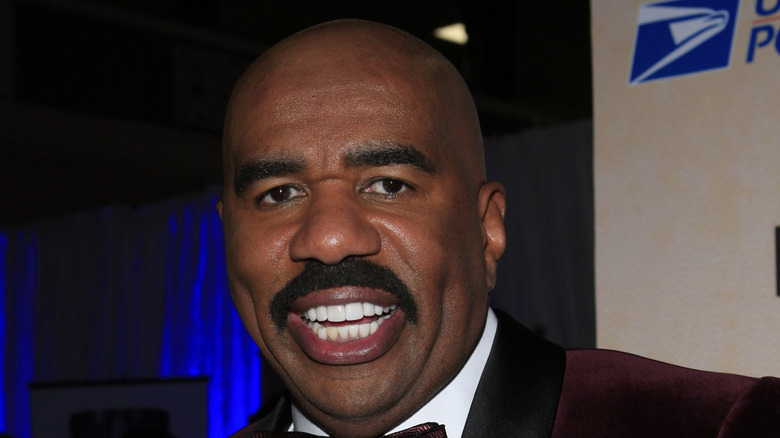 Joe Seer/Shutterstock
Frankly, not very much is known about Steve Harvey's boxing career as he rarely talks about that chapter of his life in public — until recently, that is. In 2020, the daytime host opened up about his boxing journey as he took in questions from audience members in between tapings of his show "Family Feud." When asked why he quit the sport, Harvey explained: "I didn't stop, a Puerto Rican hit me harder than I've ever been hit in my f***ing life." He went on to joke, "That motherf***er hit me so hard, not only did I not know where I was, I didn't know who I was."
It's unknown which Puerto Rican boxer forced Harvey to retire from the sport very early on. Nevertheless, it was an undertaking that Harvey was extremely proud of, often telling stories about it to his sons. One of his sons, Jason, was even inspired to start boxing lessons in his teens. "That was cool until he tried to show off in front of his girlfriend at the time. I've always told my sons, 'I'm the heavyweight champ of this house,'" Harvey captioned a hilarious animated video on YouTube. "Title shots are available 24/7. Whenever you think you can whoop me, let's go. He tried it!" An impromptu boxing match between Harvey and Jason showed that the comedian still had some moves for the ring! 
Steve Harvey remains a huge fan of boxing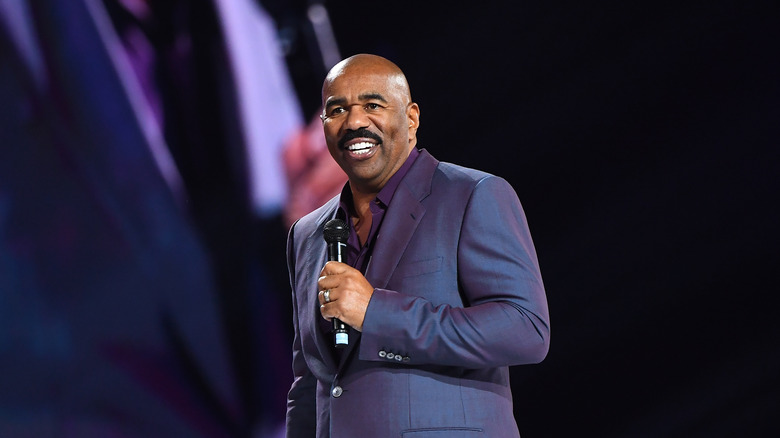 Paras Griffin/Getty Images
Though he never went pro, Steve Harvey has remained a huge fan of boxing. In fact, he was there when Floyd Mayweather Jr. beat Conor McGregor during their historic match held in Paradise, Nevada, in August 2017. Harvey sat just four rows back from the ringside — closer than the likes of Lebron James, Mike Tyson, and Sean "Diddy" Combs were, as noted by TMZ. According to the outlet, it was simply due to connections. Harvey and James are both clients of the Hollywood agency William Morris Endeavor, which paid for 250 seats and had to decide not only who went to the match, but where they should sit. Harvey very clearly won, as the host reportedly made more money for that firm than James at the time.
In addition, Harvey is also acquainted with some prominent individuals in the boxing scene, including legends Evander Holyfield, Riddick "Big Daddy" Bowe, and "Sugar" Ray Leonard, who have been contestants on "Celebrity Family Feud." Champions Mayweather Jr., Tyson, and boxing icon "Big George" Foreman — whom Harvey had grown up idolizing alongside Muhammad Ali — have also appeared on his now-canceled daytime talk show "Steve." 
While it's quite hard to imagine a world where Harvey would be squaring with any of these folks in the ring, one thing's for certain: not only can he throw a mean punch, but he can also deliver a mad punchline — and certainly not even the world's greatest boxers could do that!