Inside Floyd Mayweather's Latest Feud With Conor McGregor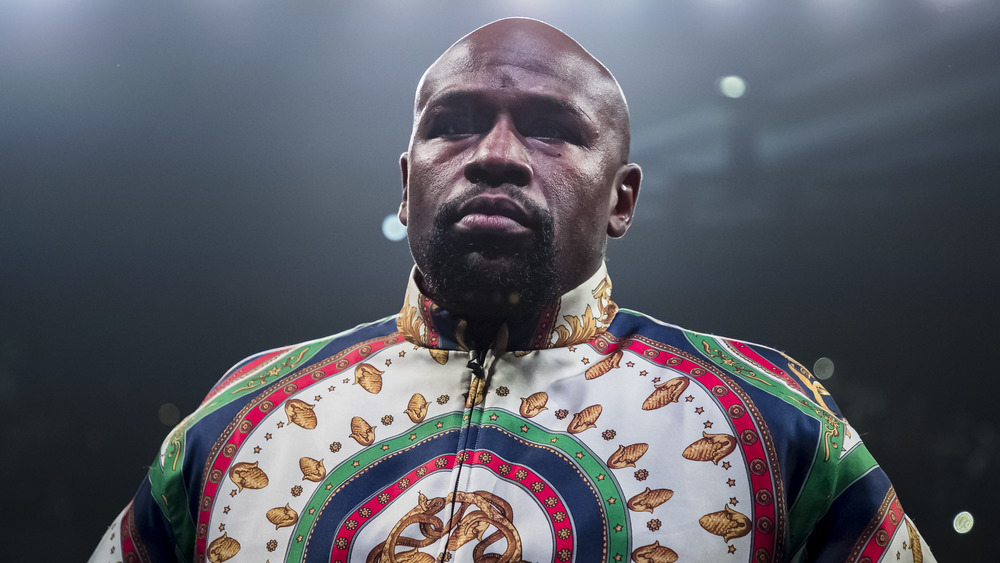 Scott Taetsch/Getty Images
Old feuds die hard. Retired champion boxer Floyd Mayweather has reawakened a more than five-year-old rivalry with UFC superstar Conor McGregor, following the latter's loss at UFC 257 on Jan. 23, 2021. The two's mutual disdain began, of all places, on Conan in 2015 when McGregor told host Conan O'Brien, "If you're asking whether I'd like to fight Floyd... who would not like to dance around the ring for $180 million?"
Mayweather's first response to McGregor, however, drew attention to a race-based difference in the two's divergent public perceptions, per his December 2015 Fight Hype interview. "They say he talk a lot of trash and people praise him for it, but when I did it, they say I'm cocky and arrogant. I'm telling you racism still exists," Mayweather opined.
McGregor took offense to Mayweather's suggestion, writing on Instagram in January 2016, "Don't ever bring race into my success again. I am an Irishman... I understand the feeling of prejudice." After the two signed a contract to fight in May 2017, they embarked on a take-no-prisoners press tour during which, according to The Guardian, Mayweather told journalists that McGregor "disrespects Black women" and "called Black people monkeys." (It didn't help Mayweather's decry of bigotry that he called McGregor a "f****t" at the same event.) 
After their big August 2017 bout, the two still traded the odd jab on social media, but largely maintained a quiet detente. What has caused Mayweather to come out swinging at McGregor again? Keep reading and let's find out!
Floyd Mayweather blamed racism for the different perceptions of himself and Conor McGregor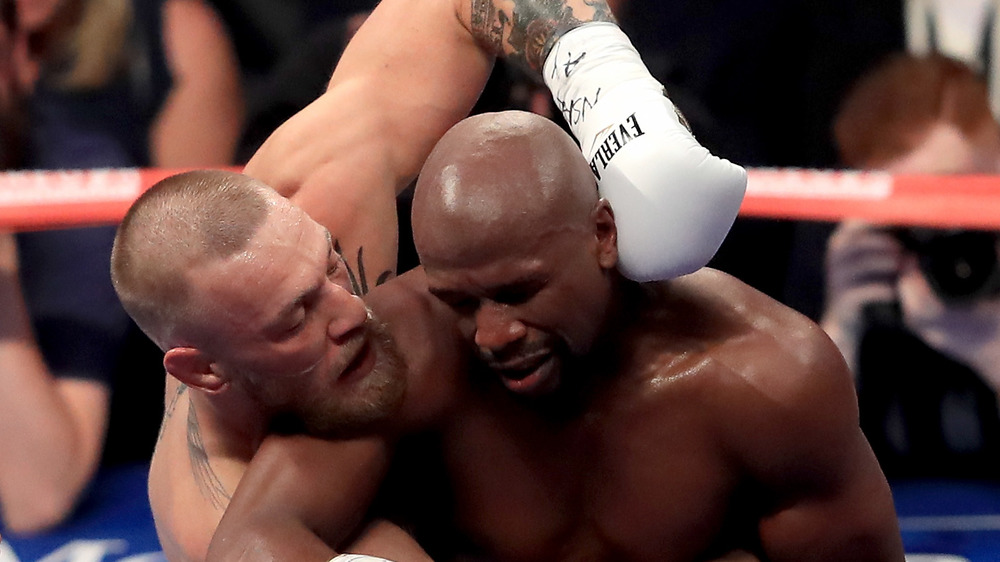 Sean M. Haffey/Getty Images
After Conor McGregor suffered a shocking second-round loss in his January 2021 UFC lightweight match against Dustin Poirier, Floyd Mayweather took to his Instagram to share his lengthy opinion on the matter. Sharing a post by @RingIQTVOfficial that reiterated Mayweather's previous stance — that he and McGregor experienced different reception in the media, despite employing the same loud-mouthed promotional tactics — Mayweather once again asserted that racism was to blame. "The world knows Con Artist McLoser can steal everything from me and be loved but I'm hated," the former boxer observed of his old nemesis, adding, "That just lets you all know that racism still exist."
"It's so sad that you can be a poor black kid from the ghetto that has dealt with racism your whole life and work extremely hard to put yourself and your family in a better position, and most of the hate comes from my own people," Mayweather continued reflecting on what he thought to a racial double standard for him and McGregor, hinting also at in-community animosity.
Mayweather also laughed at the idea of McGregor returning to boxing to face off against sport legend Manny Pacquiao, writing, "Nobody wants to see that, it's like my leftovers eating leftovers." Ouch... Perhaps, another rematch is due to truly settle the score for these two old foes.