Who Is Floyd Mayweather's Rumored Fiancée?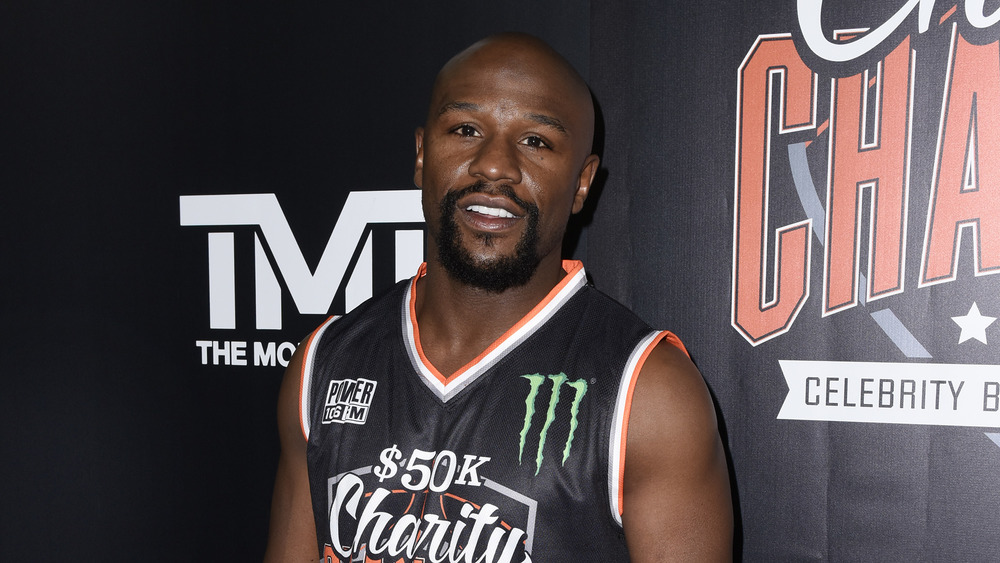 Vivien Killilea/Getty Images
It's a love story as old as time: a world-renowned athlete falls in love with a stripper, proposes, and they live happily ever after. Well, maybe, not quite. 
Boxer Floyd Mayweather has had a rough time recently. His daughter, Iyanna "Yaya" Mayweather, was arrested for allegedly stabbing her rapper boyfriend, NBA Youngboy. Mayweather's ex-girlfriend and mother to three of his children, Josie Harris, was found dead after an accidental drug overdose. It only makes sense that Floyd is looking for solace in 2021. Turns out that happiness was found in the arms of Anna Monroe, a dancer at his Las Vegas club Girl Collection. 
Reports are conflicting over whether the couple truly is engaged. Could the prizefighter have simply gifted Monroe a huge diamond ring that she coincidentally wears on her left hand? Keep scrolling to get to the bottom of this speculative romance.
Sources say Floyd Mayweather is not engaged but hopes for a baby
Floyd Mayweather and dancer Anna Monroe made headlines in mid-January 2021, but according to The Sun, Mayweather and Monroe had been quietly dating before they broke the news to Monroe's U.K.-based family on New Year's Day. One telltale sign that Mayweather is in it for real? Apparently, the boxing champ does not have a penchant for dancers and told Jimmy Kimmel in 2017, that he hadn't received a lap dance in more than 20 years. However, a video was released of Monroe grinding on Mayweather at his club, Girl Collection, per The Sun. 
Monroe was reportedly born in the United States but raised in England. She moved back to the States in her early twenties and met Mayweather at his club. The couple has jetsetted around the world and are believed to have been seeing each other for more than three years. Monroe also is a "#boymom" to her young son, according to Instagram, and if reports in The Sun are to be believed, Mayweather and Monroe are planning on having more children together. Monroe also reportedly plans to launch a beauty brows line and is building a website for her brand. 
But is there more to this story? TMZ reports that Monroe's rock is not an engagement ring but just an expensive present, with a source denying Mayweather and Monroe are even dating. As we like to say, let's check the receipts: Monroe's Instagram shows them with each other over the years, so it sure seems like congratulations could be in order!