Floyd Mayweather's Daughter Could Be Facing 99 Years In Prison
Iyanna "Yaya" Mayweather, the daughter of boxing legend Floyd Mayweather, could face up to 99 years in prison for an alleged stabbing incident that occurred in early April 2020 at the Houston home of rapper NBA Youngboy, her on-again-off-again boyfriend.
Mayweather was arrested on April 4, 2020 after the 19-year-old reportedly stabbed a woman named Lapattra Lashai Jacobs, the mother of NBA Youngboy's child, according to TMZ. The outlet reported that the attack took place in the early hours of the morning and began with a verbal argument between Mayweather and Jacobs. 
After telling Jacobs that she was NBA Youngboy's fiancée, Mayweather reportedly told his baby mama to leave the house. Instead, Jacobs told Mayweather to leave, which led to the encounter escalating in the kitchen of NBA Youngboy's house when Mayweather began stabbing Jacobs. Ultimately, Mayweather "stabbed Jacobs multiple times in the bicep," per TMZ. 
Though accounts differ as to what condition Jacobs was in once she was taken to the hospital, on April 6, 2020, TMZ reported that she was "in stable condition."
After being apprehended at the scene, Mayweather was taken into police custody and has since been charged with aggravated assault with a deadly weapon, with possible sentencing ranging from a $10,000 fine to up to 99 years in prison, per The Blast. After she was released on a $30,000 bond, Mayweather's lawyer, Kent Schaffer, told Bossip that she would "plead not guilty to the charges."
Schaffer told the outlet he expected his client to be "fully vindicated."
This isn't the first time there's been drama involving NBA Youngboy and Iyanna Mayweather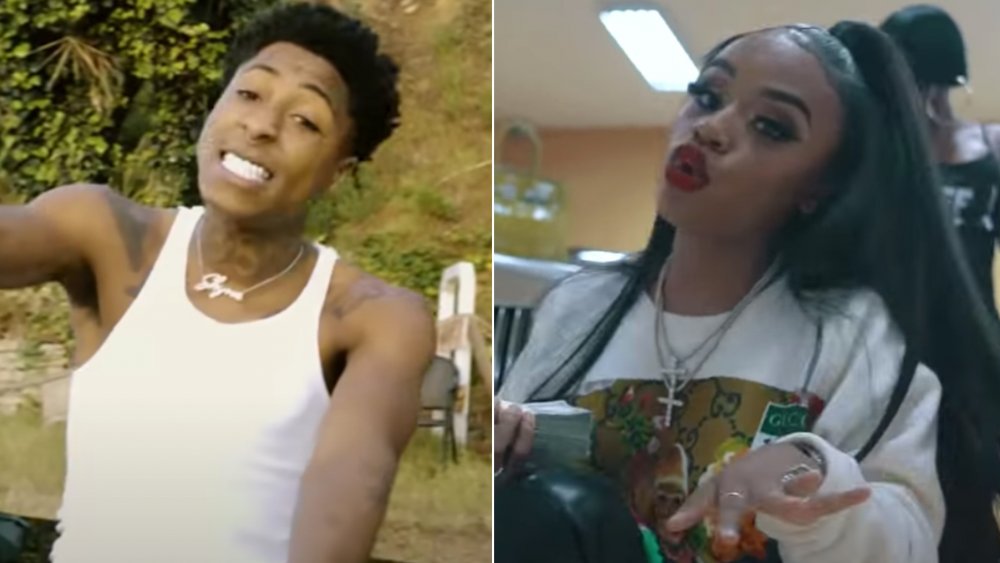 YouTube
The April 2020 assault seems to be the latest in a string of incidents that have plagued Iyanna Mayweather and NBA Youngboy's (birth name Kentrell DeSean Gaulden) relationship since it began sometime in late 2018. When the two (temporarily) called it quits in 2019, NBA Youngboy released a diss track about his then-former flame titled "Dirty Iyanna" — a remix of the Michael Jackson bop "Dirty Diana" — which subsequently debuted at 67 on the Billboard charts, per The Source. 
While the couple eventually got back together sometime in early 2020, it has been far from smooth sailing. In February 2020, Urban Islandz reported that Mayweather got into an altercation with a woman, who the site solely identified as "Youngboy's baby mama," outside of a hotel in Dallas. It is unclear if the unnamed woman from the February 2020 incident was Lapattra Lashai Jacobs. Needless to say, footage of the fight quickly made the rounds on the Internet.
Despite the fact that they have clearly had their ups and downs, it seems that NBA Youngboy and Mayweather are still going strong. Just days after the stabbing, Mayweather popped up on the rapper's Instagram Live, during which he referred to her as his "wife" (via BET).
Floyd Mayweather may have subtly commented on his daughter's incident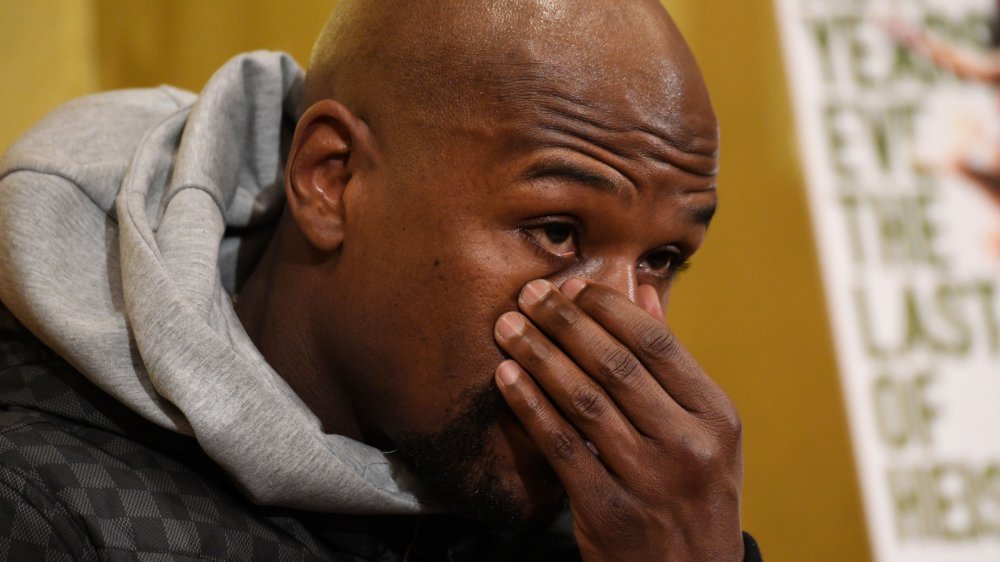 Toshifumi Kitamura/Getty Images
At the time of this writing, Floyd Mayweather has yet to speak directly to the press about his daughter's arrest and subsequent charges. That being said, the pro boxer took to Instagram on April 6, 2020, to post a video of him teaching his son, Kouran, how to box. While the video didn't directly address the incident with his daughter, the caption seemed to be a subtle form of commentary on the matter. "Never claimed to be perfect, but I strive to be the best father possible," the post read.
Unfortunately, this isn't the first time the Mayweather brood has encountered tragedy since the beginning of 2020. In March 2020, Mayweather's ex-girlfriend, Josie Harris – who was reportedly a survivor of intimate partner violence on the part of the legendary boxer – was found dead in her car outside her California home. Over the course of their relationship, Harris mothered three of Mayweather's four children — Iyanna Mayweather was not one of them.
That being said, it doesn't seem like 2020 is going to get any easier for the Mayweather family anytime soon as Iyanna is due back in court in August, per The Blast.