Ashton Kutcher's Twin Makes First Interview Appearance With His Famous Brother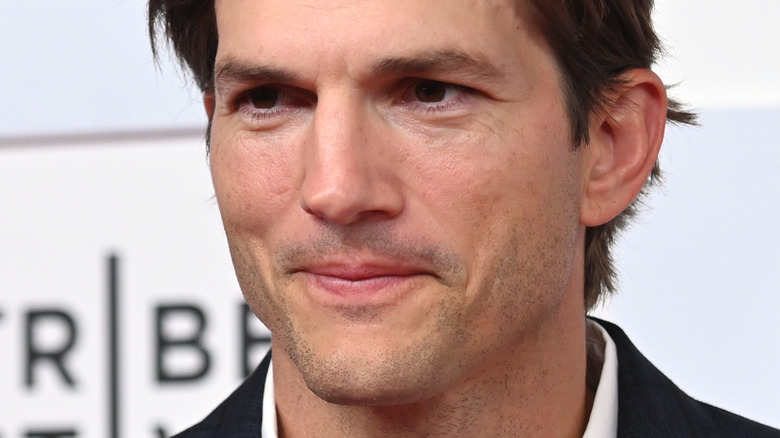 Noam Galai/Getty Images
Did you forget that Ashton Kutcher has a twin brother? If we're being honest, so did we. That's probably because unlike other celebrity siblings like the Hemsworth brothers, the Skarsgards, the Gyllenhaals, or the Wilsons, Hollywood isn't a family business for the Kutchers. So, Ashton's twin brother Michael Kutcher only makes rare appearances — if ever. 
Until now, that is. The teaser trailer for Paramount+'s upcoming reality show, "The Checkup with Dr. David Agus," offers a peek at Michael, who is doing a sit-down interview with his brother for the first time. The health-focused show will also feature episodes with Oprah Winfrey, Nick Cannon, Howie Mandel, Amy Schumer, and Jane Fonda, among other celebrities, who will open up about personal health challenges they've gone through with the doctor (and also the world). Cannon, for instance, is shown talking about his infant son who died of brain cancer. Schumer discusses her experience with hyperemesis gravidarum. How did Ashton and Michael's appearance go, however?
Ashton Kutcher's twin brother appears on a new show
Along with his twin brother Michael Kutcher, who has cerebral palsy (CP), Ashton Kutcher shares on Paramount+'s "The Checkup with Dr. David Agus" his experience with a rare autoimmune disorder. According to E! News, on August 8 Ashton was diagnosed with vasculitis — a disorder which involves blood vessel inflammation, according to the Mayo Clinic, which can restrict blood flow and cause tissue and organ damage. 
"I was unable to walk and then suddenly I can't see," Ashton tells Dr. Agus in the clip. Later, the doctor appears to be walking Ashton and Michael together through some scientific information in a lab. In a voice-over, Dr. Agus explains, "We educate people from the ground up about what's going on with their health journey." Near the end of the teaser, with tears in his eyes, Ashton grasps the knee of his brother sitting next to him on the couch. 
It's especially moving to see both brothers doing such a big interview together about health because Michael was not always so open about CP. In a 2021 interview, Michael told Today that when Ashton talked about his diagnosis in a televised interview in the early 2000s, he was upset. "I was very angry. Very angry. I remember speaking to him about it," Michael said. "I didn't want to be the face of CP. I never talked about it."