Who Is Captain Kerry Titheradge On Below Deck Adventure?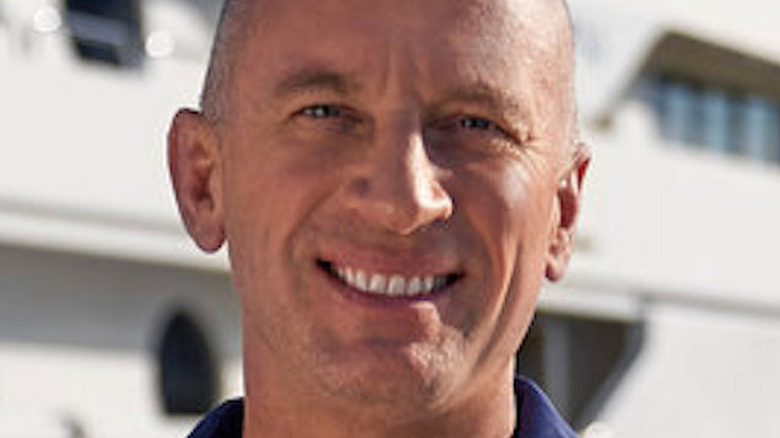 Vincent Cerone/Bravo
Shiver me, timbers! A new "Below Deck" spin-off has set sail, and this one promises real adventure. The latest in the Emmy-Award-nominated franchise documents the ups, downs, and all-arounds of the crew and charter guests aboard the luxurious motor yacht Mercury. In a press release, NBC vowed that "Below Deck Adventure" will take viewers on an "unforgettable experience along the picturesque landscapes rich in Vikings history."
Unlike previous iterations, "Below Deck Adventure" features "thrill-seeking charter guests looking to push their limits." However, just like all those before it, the new show includes plenty of drama, thrills, explosive fights, feuds, and some serious FOMO scenery. In addition, there's extreme flying and nail-biting paragliding around spectacular ice glaciers, soaring mountains, and cave diving in the freezing-cold waters of the Norwegian Fjords.
"Below Deck Adventure" also introduces fans to a fresh crew. Among the newbies are Chief Stew Faye Clarke, a Londoner who's a super competitive world traveler and stern taskmaster; Deckhand Nathan Morley, a lifelong water lover who's been at sea since 18; and Chef Jessica Conde, who's more used to cooking up warm and toasty delights (like those served on "Below Deck Mediterranean") than dishing up produce from the glacial and frosty Scandies. Most importantly, a new skipper is aboard, steering the Mercury through the scenic but terrifyingly narrow and twisting fjords. Luckily, he's got plenty of experience under his epaulets. So, who is Captain Kerry Titheradge on "Below Deck Adventure"?
Captain Kerry on Below Deck Adventure is firm friends with Captain Lee
Captain Kerry Titheradge in "Below Deck Adventure" is used to navigating his way through rugged seascapes. According to Bravo, the Aussie has "decades of experience in waters all over the world." Captain Kerry spent two of those decades steering yachts, so the Mercury is in safe hands — which is just as well because traversing the dramatic Norwegian Fjords is among the world's most demanding sailing challenges. Equally as challenging, perhaps, was dealing with the inevitable scandalous relationship drama on "Below Deck" and the many crew clashes.
In theory, Captain Kerry should have known what he's letting himself in for, though, as he has a decade-long bromance with "Below Deck" skipper, Captain Lee. Captain Kerry said that after he was offered the Bravo gig, he reached out to Captain Lee for advice. "I gave Lee a call and asked him, would he do it again if he had to redo his time?" he shared during a BravoCon 2022 interview. "He said, 'One hundred percent.'"
According to Captain Kerry's bio, he's a "disciplined and fair leader." However, his patience was stretched to the limit during Season 1. The seasoned skipper was forced to "relearn to trust his team" following the actions of a rebellious and defiant crew member. As if he hasn't got enough on his plate trying to keep the yacht intact while sailing through a UNESCO world heritage site (per Visit Norway).
Captain Kerry Titheradge keeps it drama-free on land
Buckle up your life vests, "Below Deck" fans, because it looks like you're sailing into choppy waters. "There's a lot of drama going on. There's some people that I wish I fired," Captain Kerry Titheradge told Bravo about Season 1 of "Below Deck Adventure." The skipper said he had "no regrets" but warned things can get pretty heated despite the freezing temperatures. He also shared it gets steamy onboard. "There's a lot of action in the hot tub," Captain Kerry admitted.
"Let's have fun," he said in the show's preview. "I want the crew to know they have my support, but I'm not like a helicopter dad." Well, he's going to need to intervene at some point. Stews Oriana Schneps and Kasie Faddah have serious beef from working together previously. As they compete for the same job, tensions worsen.
Bosun Lewis Lupton and the three deckhands — Nathan Morley, Michael Gilman, and Kyle Dickard — tried to play peacemaker as "conflicts come to a head," but we'll have to wait to see how effective their attempts are (per NBC). Luckily for Captain Kerry, life's plain sailing once he's back on land. The father of two regularly shares pics on his Instagram of happy family times and leisurely cruises. Captain Kerry also works as the CEO of Yachting Concepts, which he launched in 2003. "His passion is being on the water in any capacity," the website states.